Sports News
'Super League' fallout reaches into Boston's tight-knit soccer community
"A lot of people were angry or sad, and a lot of that still exists today."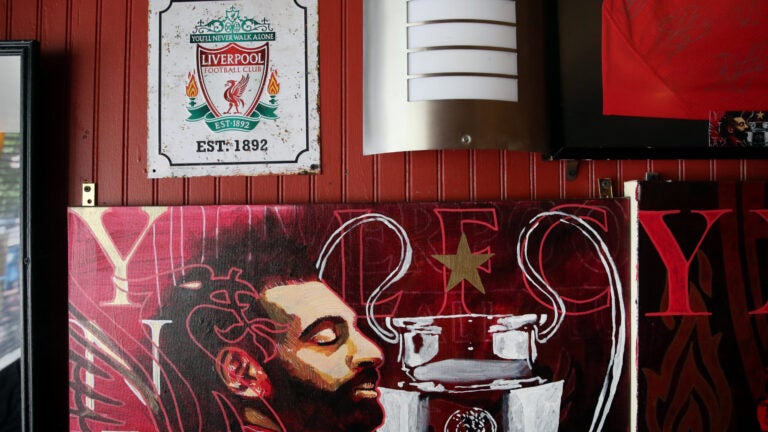 Amid the still ongoing fallout from European soccer's "Super League," the ill-fated, short-lived effort of a select group of top soccer teams to form an exclusive and lucrative breakaway league, it's easy to overlook the local impact of an international story.
For most of the world, any Super League-related mention of "Boston" has been an almost unanimously derisive reference to Fenway Sports Group, the international consortium that owns Liverpool Football Club. FSG, led by its principal owner John W. Henry (who also owns Boston Globe Media Partners, including Boston.com), was at the center of the Super League drama from its shocking start on a Sunday in April through its even more shocking and swift collapse just days later.
But not unlike the drama at the heart of the Super League story itself — in which fans railed against the moneyed interests of a handful of wealthy owners conspiring behind closed doors — there is more to Boston's soccer scene than a single billionaire.
In fact Boston, known for its passionate fandom of local teams, is also home to a vast and vibrant community of European soccer fans. LFC Boston (the local supporters club of Liverpool), is the largest group. According to the club — based out of Phoenix Landing in Cambridge — it has a paying membership that reached as high as 700 prior to the coronavirus pandemic.
Membership to a supporters group means more than simply having a designated spot to watch games (when it isn't a pandemic), or chat on social media about the various affairs of a soccer team located on another continent.
It can mean community akin to family.
"I made most of my friends via LFC Boston," recalled Tim Treacy, who founded LFC Boston in 2006 after moving to the city to study for a PhD at Boston University. "You had that connection of Liverpool, a passionate support, waking up at 6 a.m. on a Saturday to go to the pub to watch them, having breakfast together. Over the years they become your family."
And as Treacy explained, the familial ties have become literal in more than a few cases.
"I know so many couples, I've lost count now, who actually met because of LFC Boston who ended up getting married," said Treacy. "I've been to many of those weddings."
Treacy also noted that alongside the weddings, there have been funerals too.
"Close to a decade ago, we had our first funeral," said Treacy. "One of the early members of the club, he passed away. The entire supporters club went to his funeral in Cambridge. I actually played the organ at it. We had someone else in the club who sang. His family flew in from Liverpool and they were looked after, even though none of us knew them. We picked them up at the airport, we helped them out with expenses, we were able to drive them anywhere they needed to go, and just be with them for the entire week that they were here."
It speaks to the club's close ties, which — as supporters point out — reflects the long-standing values of Liverpool Football Club itself.
And LFC Boston is far from the area's only supporters club. Others have popped up in the last 20 years, driven by the same passion, finding the same sense of community along the way.
"A better part of the last 13 years socially in some way or another has been guided by Chelsea in a lot of ways," recalled Ben Horner, a Northeastern graduate who founded local Chelsea supporters club Boston Blues.
That entire communities of fans can grow for European teams across the world illustrates soccer's globalization in recent decades.
"I think by and large, over the last 10 years or so, the American soccer fan has had an incredible experience," said Horner. "It has been easier than ever to get access to top leagues across the globe."
Beyond mere access to watching games, global fans have become an increasingly prioritized source of revenue for Europe's biggest teams (several of whom were founding Super League members).
As Horner pointed out, part of the Super League's premise — reimagining European soccer's landscape as a more concentrated competition for its most marketable teams — was a plan to tap further into worldwide interest.
"At the end of the day, there's a really strong case to be made that all of this is geared towards the American market, the Asian market, the African market, the market that is not the ones who would be paying to go [to games] week in and week out," Horner said of the Super League. "I almost feel like it's been turned on its head from where it might have been 10-15 years ago where the American soccer fan was viewed as a bit of an oddity to where we are now where there is a lot of American buying power that has been considered in these decisions."
But there was a problem for the architects of the Super League, who — whatever their assumptions or expectations may have been on how the announcement would be received — were clearly counting on eventual support from international fans.
As it turned out, overseas fans didn't want it either.
In the hours after the Super League was formally announced, LFC Boston member Sam Mathius spoke to Boston.com in an environment where — at the time — it appeared Liverpool were set to charge headlong into the maligned new competition.
"It doesn't make me question it," Matthias said of his fandom, "it makes me say by the end of the week if they don't backtrack, I'm going to cancel my membership. I'm not going to watch any games. I'm just not going to be able to support the club."
For Mathius, like millions of fans, the idea of the Super League was antithetical to what drew them towards their club in the first place.
The root of the problem was how the league would've operated: A select group of teams (some of which are not even among the leaders in their respective domestic leagues this season) would've become permanent members, with no promotion or relegation — a central pillar in most of world soccer.
It was perpetual membership in a league that would pay billions in revenue and convey a sense of permanent elite status on certain teams, whether they earned it on the field or not.
"It's just such a bad idea and it's such an idea that really goes against the core of what makes football the best and what it is," said Mathius. "It's a people's game. It's a game that is accessible to everybody, or at least should be. So when you create something that's closed off and only open to elites, it really just isn't what football is about. It's just shocking to the system for real football fans across the world."
Mathius' revulsion at the Super League typified the reflexive response from fans around the globe. They took to the streets to protest.
And the anger went beyond fans, reaching into virtually every corner of society. The Super League met resistance from former players in the media, politicians, and other wealthy sports leagues (with the most vociferous denunciations coming from UEFA and FIFA). Even Amazon Prime Video issued a statement of "concern."
In the end, what killed the Super League was a more complicated story than a straightforward narrative of fan opposition by itself.
Still, the effect that the Super League has had on fans might be its greatest (if unintended) legacy. Where there may have once been unconditional passion and support, fans have had to create additional space in their collective consciousness as they view clubs with a growing sense of skepticism.
As Mathius explained, fans need to remain vigilant, as they fear another version of the Super League will come.
"These are greedy, smart people, and they'll just try this again in a few years, so fans need to keep the pressure up," he said after Liverpool had announced their withdrawal.
Treacy, speaking shortly after Liverpool shared a video apology from Henry, noted that the context of the last year (and the ongoing COVID-19 pandemic) has already begun a process that the Super League fallout may accelerate.
"I think everyone has figured out a lot about themselves during the pandemic, and what they want out of life," he said . "Who and what is important for them to bring from outside of their life into their lives. I think a lot of people have been wondering the last few days about Liverpool. I think they'll continue to.
"If something you are so emotionally and financially invested in has had such a mostly positive impact on your life can also go this negative — and this negativity is not going to go anywhere anytime soon — just how much mental space do you have to bring that into your life?" he added. "I'm not sure I know the answer to that today, but I know people are grappling with that. As we talk about mental health matters, this had a lot of people suffering. A lot of people were angry or sad, and a lot of that still exists today. It was all needless and pointless, and it shouldn't have happened. I think only time will tell."
Get Boston.com's browser alerts:
Enable breaking news notifications straight to your internet browser.