Sports News
3 things to know as the Revere-based Boston Renegades return to the field
The Patriots gave the women's tackle football team multiple shoutouts Saturday.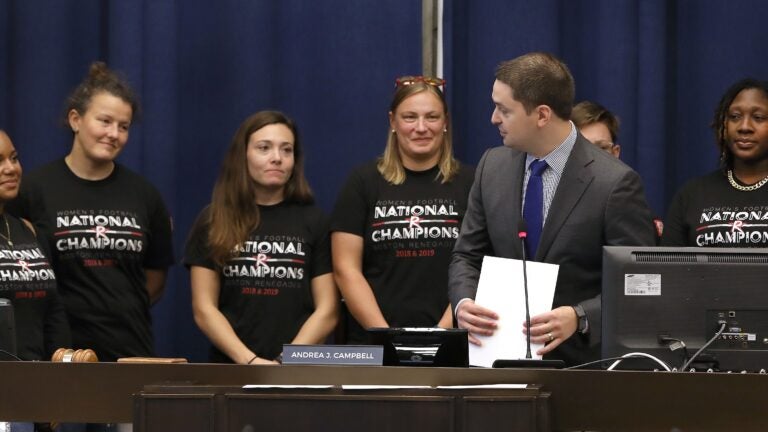 For the first time since the pandemic began, the Boston Renegades are back in action.
The Renegades, a five-time national champion women's tackle football team based in Revere, will host the Detroit Dark Angels on Saturday at 6 p.m. for their first of five regular-season games before the playoffs begin in late June.
Boston won it all in both 2018 and 2019 and is making its long-awaited return to Harry Della Russo Stadium after the entire 2020 season was canceled.
Here are three things to know about the Renegades as the Women's Football Alliance season gets underway.
Our first game since the pandemic is TODAY and we are pumped! Attendance rules and guidelines will be a little different than before, though. Visit our Game Day web page for all the important details about visiting Harry della Russo Stadium today! https://t.co/nuNlMXmARP pic.twitter.com/I5ez9xRniX

— Boston Renegades 🏈 (@GoRenegades) May 8, 2021
Many players on the roster grew up in Massachusetts.
Stephanie Pascual (Lawrence), Kyshani Dummott (Canton), Allison Cahill (Uxbridge), Lauren Yung (Southborough), Sarah Tully (Chelmsford), Shannon Singletary (Brockton), Jessica Belsito (Millbury), Katie Lowerre (Sharon), Katie Falkowski (Sandwich), Chanté Bonds (Brockton), Briannah Gallo (Peabody), Charlene Casey (Lawrence), Vanessa Aukshuna (Chelmsford), Jen Tamilio (Salem), Erica Adams (Braintree), Amanda Alpert (Saugus), Allie Genereux (Greenfield), Deanna Walsh (Somerville), Nicole Gordon (Dracut), Kelcie Kennedy-Smith (North Attleboro), Bielka Liriano (Boston), Steph Jeffers (Barnstable), Danielle Fournier (North Andover), Alex Troncoso (Boston), Hillary Crook (Mansfield), Emily Beinecke (Concord), Christina Riggieri (Worcester), Denise DiCesare (Lynn), and Avi Fanini (Lynn) are all from Massachusetts.
Pascual, Cahill, Crook, and Beinecke are captains, along with Laura Pula.
The Patriots gave them multiple shoutouts Saturday.
Fullback Jakob Johnson, cornerback Jonathan Jones, and linebacker Josh Uche wished the Renegades good luck.
"You're going to crush this season," Johnson said.
"Get ready to go fight for a championship," Jones added.
From our squad to yours.

Good luck, @GoRenegades! pic.twitter.com/nPU0HqNAUu

— New England Patriots (@Patriots) May 8, 2021
Why thank you, @Patriots! Kickoff is at 6 pm. Details at https://t.co/MpBdLTaiN6 https://t.co/3sRYD3OwDc

— Boston Renegades 🏈 (@GoRenegades) May 8, 2021
The team has laid out logistics for those interested in attending.
Spectators are allowed to attend, with a maximum of 125 people due to the COVID-19 pandemic.
The games are first-come, first-served, a mask is required, and entry is free. Donations are accepted.
The Renegades will have limited merchandise, food, and beverages available during the game. Stadium blankets, stadium seats, hats, and masks will also be for sale at the stadium, and all other merchandise is available online.
ICYMI Our 2021 season schedule! pic.twitter.com/zttJKTtoqf

— Boston Renegades 🏈 (@GoRenegades) April 7, 2021
Empanada Dada will provide food and drinks, and Granite Coast Brewery will supply alcoholic beverages. Bathrooms will be open, but there will be no meet-and-greet with the players for safety reasons.
Those interested in watching the game online can check it out on their Facebook page or learn more at bostonrenegadesfootball.org.
Get Boston.com's browser alerts:
Enable breaking news notifications straight to your internet browser.