Sports News
After 2 amputations and a pandemic, Morgan Stickney is headed to Tokyo
"Even though I had lost both of my legs, I just got back in and was happy to be in the pool."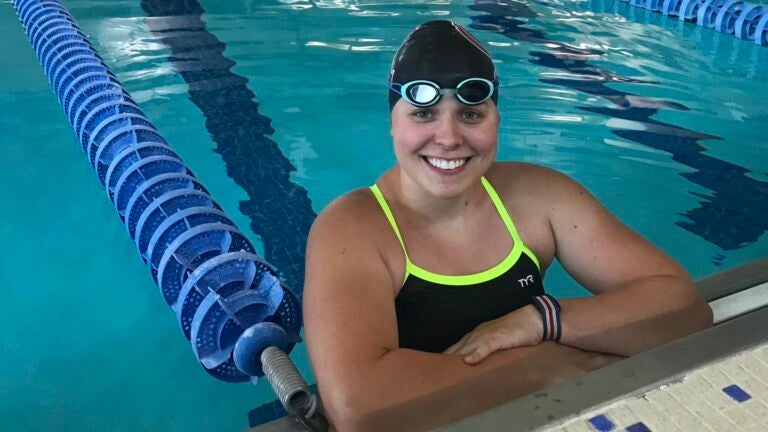 Morgan Stickney was relearning how to walk and swim when the COVID-19 pandemic began to emerge in early 2020.
The 24-year-old from Bedford, New Hampshire, was recovering from her second amputation in two years. And she was hopeful that she would soon be spending most of her time back in the place that made her most happy — the pool.
Her first dips as a bilateral amputee were a "huge" shock and adjustment, she said.
But what hadn't changed was her love for the water.
"I just loved getting back in, and even though I had lost both of my legs, I just got back in and was happy to be in the pool," Stickney said.
But the arrival of lockdowns due to the worsening pandemic soon forced Stickney back onto dry land.
The swimmer, who began dreaming of being an Olympian when she was 13 and had her sights set on recovering from her surgeries in time to compete at the 2024 Paralympics, was not deterred.
"I just decided, I was like, 'You know what, I've lost a lot of muscle,' and I decided to just start working out at home during the lockdown," Stickney said. "So I was working out two to three times every single day."
It was a challenge, but Stickney became even more determined to stay on track when it was announced that the Tokyo games would be postponed a year due to the coronavirus pandemic.
"I thought I had a legitimate shot," the 24 year-old said. "So I was like, 'Why not put everything into it?' And so I just started training as much as I could."
Her determination in and out of the pool won her a spot representing Team USA at the Paralympic Games in Tokyo at the end of August, competing in the 400-meter freestyle and the 50-meter freestyle.
Stickney said it still feels surreal to have achieved her dream, that she will be heading to compete as a paralympian just shy of two years after beginning her life as a bilateral amputee.
"I don't even think it's fully sunk in yet," she said.
Stickney has wanted to go to the Olympics since she was a teen, and appeared well on her way as an able-bodied swimmer. By the time she was 14, she was ranked in the top 20 in the country in the mile.
But when she was 15, an injury to her left foot altered the course of her athletic career. She endured years of pain and surgeries that kept her from swimming before an infection led to the amputation of her left leg below the knee in May 2018.
She got back into the pool as soon as she could, and began training with the hope of competing at the 2020 Paralympics.
It seemed she was on track. But in early 2019, another injury, this time to her right foot, led to the discovery of a rare vascular disorder in which the blood vessels in her lower leg were contracting and shrinking down, cutting off the blood supply to her foot, causing pain and preventing the injured bone from healing.
The condition forced the amputation of her right leg below the knee in October 2019.
Stickney thought she would be unable to compete in Tokyo in 2020.
Until the announcement came at the end of March 2020 that the games would be delayed a year by the pandemic.
"I was so excited," Stickney said. "It was kind of a little bit weird though because they announced it and all over social media there's all these people who have been training for the last four years and they're in just such shock and such disbelief. And there's just so much grief that comes along with it, and I was kind of the total opposite."
Stickney threw herself into training, but she tried to keep a low profile. Only those close to her knew she was working toward the postponed games.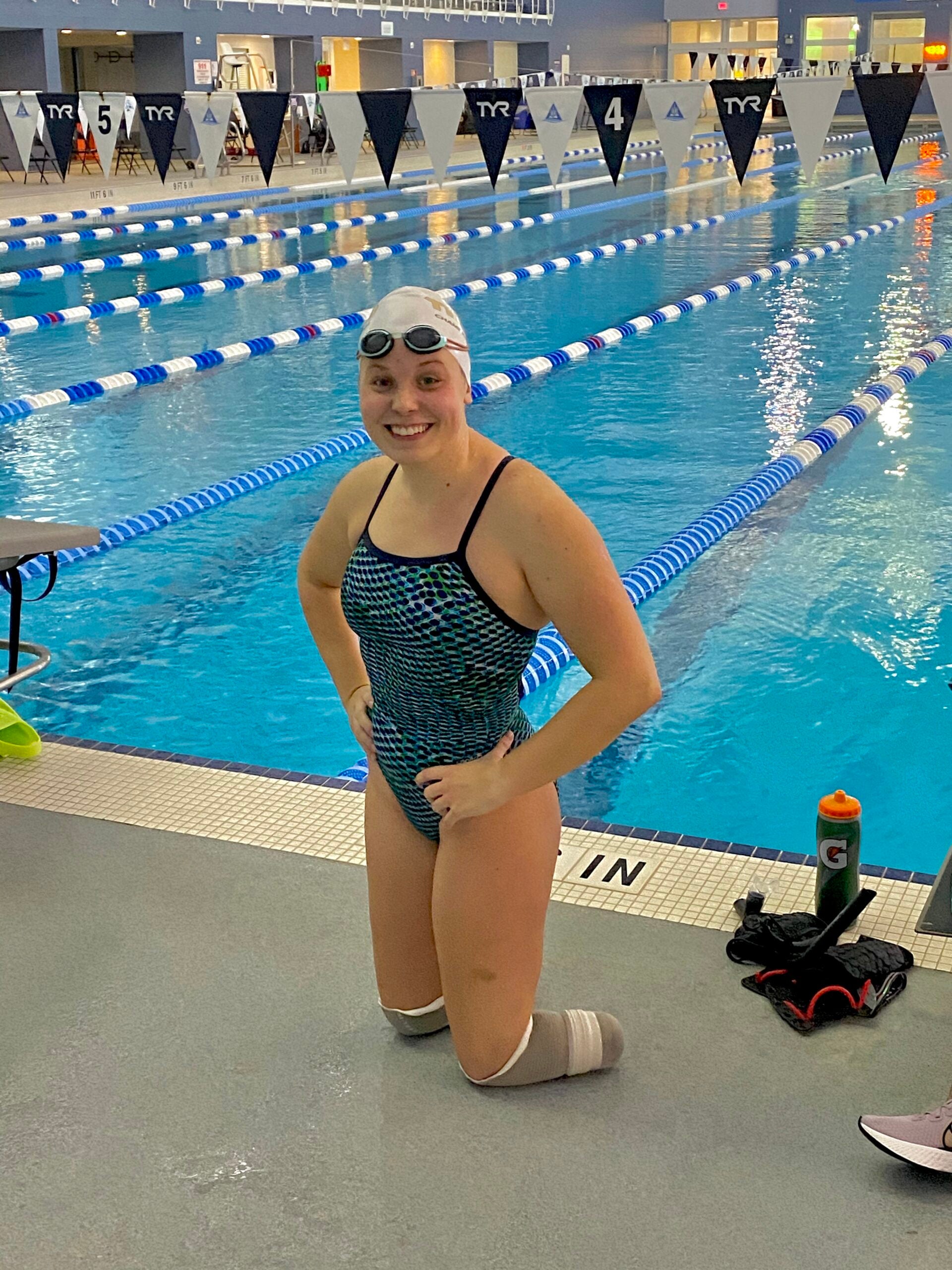 She kept up her training at home from March to May 2020. By June 2020, COVID-19 restrictions began to ease. She traveled to North Carolina to continue her training in the pool.
The 24-year-old said it didn't feel like there was a lot of pressure on her over the last year during the training because she'd just lost both her legs and it was a new experience for her, competing as an S8 swimmer.
But all the unknowns associated with the pandemic presented a challenge to navigate. She had to work to be aware of what was going on, such as the lingering debates over whether the games would take place to the progress of the vaccine rollout, but not let them distract or drag her focus from swimming.
"I think the biggest thing for me is I'm so grateful for everyone in my life," she said. "I really wouldn't be where I'm at without the amazing people in my life. And so I'm just thanking them and trying to spend time with them before I go to Tokyo and just training as hard as I can to see where I can go."
When she learned last week over a Zoom call in Minneapolis that she had made the team, she put down her phone and screamed. She hugged her mom, and they both cried.
"I was just so thankful and grateful that I made the team," Stickney said.
The 24-year-old is gearing up for the competition, but she knows when she gets back from Japan she'll have to undergo another surgery to fix some complications from her amputations.
She already knows once she is recovered, she will be ready, once again, to get back into the pool as soon as she can.
She already knows she wants to compete again in 2024, and her experience over the last few years have taught her not to give up.
She hopes it's a lesson others may take away from her own journey.
"Who knew 12 years ago that I would be standing here today and going to Tokyo and representing the best country in the world?" she said. "So I would just never give up on those dreams and just continue working hard for the dreams. And if you put in the work, then you can see yourself succeed."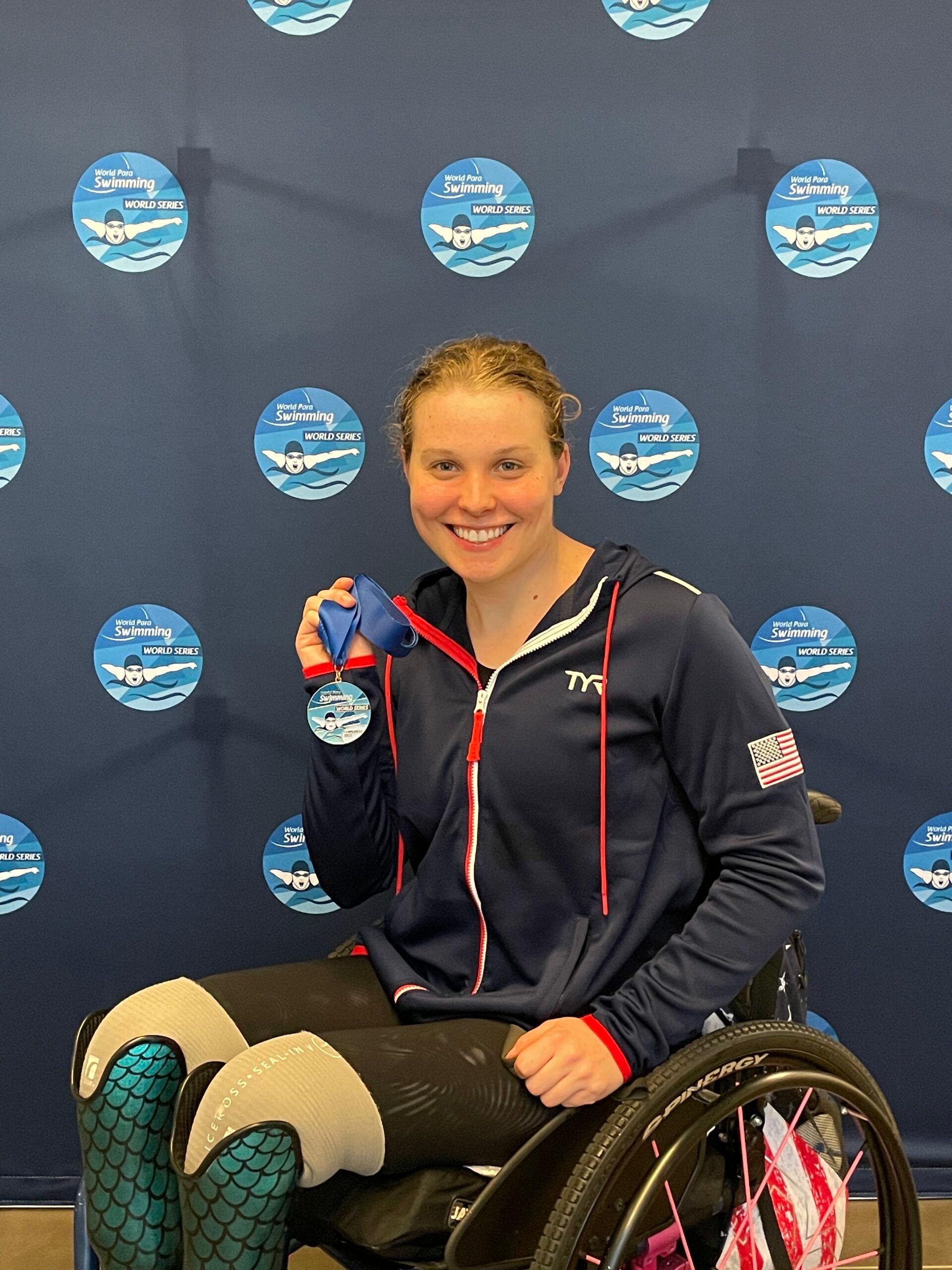 Newsletter Signup
Stay up to date on all the latest news from Boston.com