Sports News
The Mass. House passed a sports betting bill. It faces an uncertain reception — and timeline — in the Senate.
The House and Senate bills differ on college sports.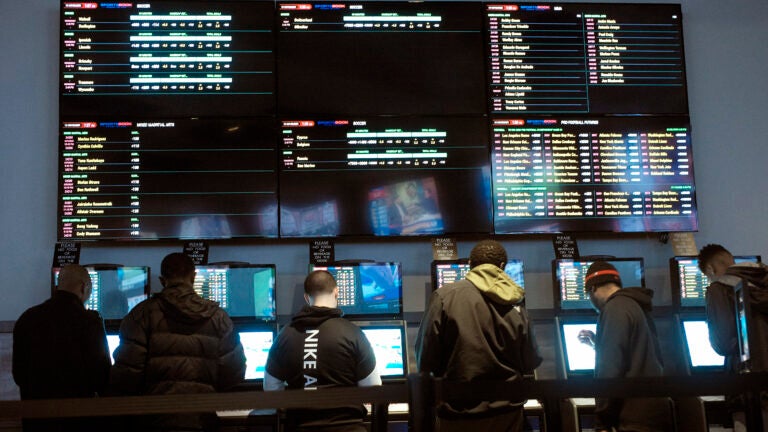 The Mass. House passed a sports betting bill (H. 3977) by a 156-3 margin on Thursday, sending the bill to the Senate where it faces an uncertain future.
The bill — which would legalize sports betting for anyone at least 21 years of age who is physically present in Massachusetts — allows wagers on professional sports, esports, video games, car racing, and college sports (with a specific exception regarding prop bets on individual college athletes).
It enables both in-person betting at casinos and also provides up to three licenses for mobile betting services. A 12.5 percent tax would be applied to in-person bets, while mobile betting would see a 15 percent tax.
Rep. Jerald Parisella, chair of the Committee on Economic Development, noted that the tax is lower for in-person betting because of additional expenses that casinos face. Expert analysis indicates that more than 80 percent of bets placed would probably come from mobile.
"Also," Parisella added, "we hope to drive business to those retail operators because it will have ancillary benefits, economic benefits of job appointment, and also if somebody goes into the casino, they might buy food, they may by drinks, they may bet on the roulette tables. So it provides additional economic benefits."
In all, Parisella said that a "conservative estimate" points toward the state raising $60 million annually from sports betting taxes.
"As it gets matured, we believe those numbers could rise," he said.
Along with the apparent popularity of the concept of legalizing sport betting in the state — a recent poll showed 61 percent of Mass. residents favor it — is the reality that each of Massachusetts's neighboring states (with the exception of Vermont) has reached some level of sports betting legalization.
"Some may say that this is bringing sports betting to Massachusetts," noted Parisella. "The fact is that our Massachusetts residents are already betting on sports. They're either taking that short drive up to New Hampshire or to Rhode Island, where it's legal, or they're also going on their phones and using offshore applications, those sportsbooks, to bet or they're also going to a bookie. But what this does do is it brings it out of the shadows and into the light, and makes it legal in Massachusetts."
Still, the highest hurdle that the bill faces remains the Senate, which blocked an attempt by the House to pass sports betting in 2020. After an economic development package — which included legalizing sports betting — was passed by the House 12 months ago, the Senate eventually passed the bill, but without the sports betting component.
Recent signs have been more encouraging from the Senate.
"I think people are ready to do this if it's done the right way," said Sen. Eric Lesser in a recent interview with NESN.
Lesser's bill (S. 269) is currently in the Ways and Means Committee and has been identified as the version that the Senate might pass.
Should the Senate pass Lesser's bill (or some other version of it) — different from the House's H. 3977 — a six-member conference committee would then have to work out a compromise version that both legislative bodies could agree to.
One clear difference in the two bills is in relation to college sports (with another being the House's allowance for credit cards to be used for placing bets, which the Senate does not).
Lesser's version in the Senate prohibits betting on college sports while the House version legalizes it (with that specific exception regarding bets on individual college athletes).
"We believe it's appropriate to allow college betting for a number of reasons," said Parisella. "First of all, it brings it out of the shadows. We want to make sure that issues like the [point] shaving scandal that happened at Boston College a number of years ago doesn't happen."
Parisella added that college betting is a popular choice for gamblers, citing the NCAA's annual March basketball tournaments.
How exactly the difference in approach to college betting will be resolved remains to be seen, as there is no clear indication of the Senate's timeline.
Lesser noted that the Senate "will, may, or may not take something up."
Senate President Karen Spilka has been noncommittal on the subject, telling Bloomberg Radio in March that she would "wait to see what kind of bill we end up with." Her office hasn't commented on the issue this week.
Should a bill attain passage through the Senate, it would also need Gov. Charlie Baker's signature. Previously, Baker has been a proponent of sports betting, having filed a bill of his own in 2019. That bill, much like the Senate's current version, prohibited betting on college sports.
Get the latest Boston sports news
Receive updates on your favorite Boston teams, straight from our newsroom to your inbox.