Sports News
Barstool Sportsbook passes preliminary suitability vote for Mass. sports betting license
Mobile sports betting in Massachusetts is scheduled to begin in March.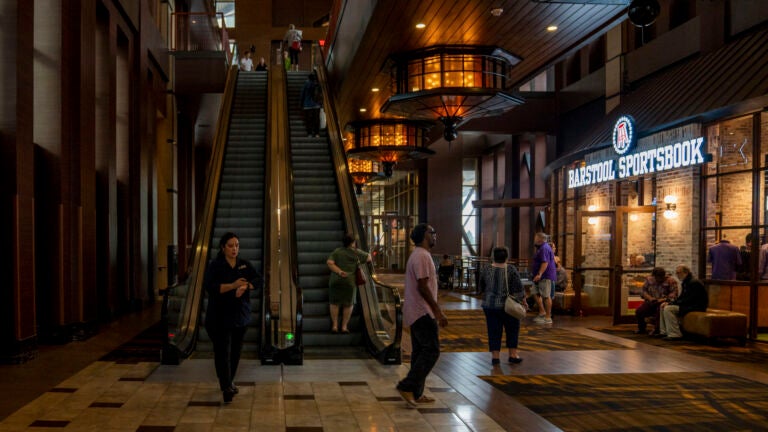 Penn Sports Interactive (PSI), which operates Barstool Sportsbook, received preliminary approval from the Mass. Gaming Commission (MGC) for a temporary mobile sports betting license on Wednesday following a lengthy suitability review.
The final vote was carried unanimously, though only after it was initially delayed from December and several conditions were attached.
"Penn Sports Interactive [doing business as] Barstool Sportsbook has shown by substantial evidence that they have satisfied the criteria set forth in general," read Commissioner Eileen O'Brien in making the motion, adding also that the approval is still just for "preliminary suitability."
In-person sports betting will begin in Massachusetts on Jan. 31, with Encore Boston Harbor, Plainridge Park Casino, and MGM Springfield already approved for temporary Category 1 retail sports betting licenses.
Penn Entertainment, which owns a portion of Barstool Sports (and will reportedly take full ownership in February as part of a 2022 deal), applied via PSI for a Category 3 mobile sports wagering operator license tethered to Plainridge Park Casino (which Penn also operates). Mobile sports betting is scheduled to begin in Massachusetts in March, though no specific date has been set.
The conditions included with the motion note that PSI must:
Agree to make efforts that no one under the age of 21 attend any of the live Barstool College Football Shows
Cooperate fully with the MGC's Investigation and Enforcement Bureau (IEB) conducting an investigation "without limitation" into Barstool Sports Inc. in connection with branding
Provide updates to IEB "relating to the Illinois matter that was discussed in executive session"
Provide diversity goals on their supplier spending
Supply diversity goals for workforce
The process of Barstool Sportsbook being granted the preliminary approval was far from smooth.
"I still have the concerns that I have in terms of the branding with Barstool Sports Inc. and what is now even [stronger] branding because you are the Barstool connection…back to Penn and sports betting in Massachusetts," commissioner O'Brien told PSI spokesperson Benjie Levy during Wednesday's session.
The final result was the second condition attached in approval. As O'Brien explained, PSI will cooperate "without limitation" in an investigation conducted by IEB into "the branding efforts of Barstool Sports Inc. in connection with the branding of Penn and PSI."
During previous sessions, several MGC commissioners expressed reservations about Barstool Sports, and specifically its founder, Dave Portnoy.
"When we talk about Mr. Portnoy putting out all this money or losing, some of the comments he's made in the past fly in the face of responsible gaming," MGC commissioner Brad Hill said during a December hearing regarding Plainridge Park Casino's temporary Category 1 license application. The comments were made in reaction to a New York Times piece from Nov. 2022 which chronicled Portnoy's extensive gambling losses and self-professed status as a "degenerate gambler."
The casino was eventually granted temporary approval, though with similar conditions regarding a further IEB investigation.
Commissioners pointed to additional incidents regarding Barstool Sports, which was originally founded by Portnoy in Massachusetts. One was a $250,000 fine that Penn Entertainment paid after the Ohio Gaming Control Commission cited Barstool Sportsbook for violating its regulations in Nov. 2022 after its then-upcoming launch was promoted at a live show at the University of Toledo.
Another occurred in 2021, when Penn paid a $10,000 fine from the Indiana Gaming Commission over a "questionable" TikTok posted by a Barstool Sports employee describing gambling losses.
"We know that we're not perfect, and have made mistakes in the past," Penn Entertainment executive Michael West told commissioners in Tuesday's meeting. "We own those mistakes. We've learned from them. And we strive to continue to be an industry leader in responsible gaming."
The discussion of the incidents continued during an MGC "executive session" — which are not open to the public — with PSI representatives on Wednesday.
Sports betting was officially legalized in Massachusetts in the final moments of the state's 2022 legislative session, though much of the responsibility for implementation was turned over to the MGC to build a regulatory framework. The current MGC process has granted temporary licenses in the hopes of speeding up the rollout of legalized sports betting, with an official granting of full licenses potentially coming after additional IEB review.
Along the three casinos approved for temporary Category 1 licenses, the MGC has now approved or "found suitable" four mobile operators for temporary Category 3 licenses, including PSI: WynnBET, BetMGM, and Caesars Sportsbook. More hearings for additional applicants are scheduled for later in January.
Newsletter Signup
Stay up to date on all the latest news from Boston.com