Sports News
Novak Djokovic beats Stefanos Tsitsipas for 10th Australian Open, 22nd Grand Slam
Djokovic tied Rafael Nadal for the most Grand Slam titles ever won by a man with his victory on Sunday.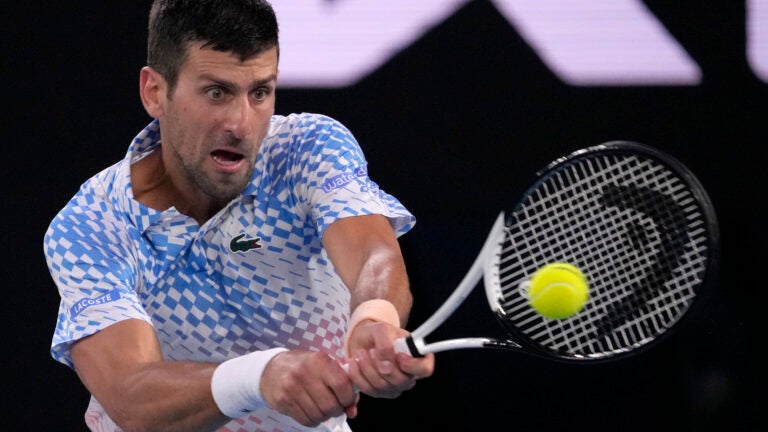 MELBOURNE, Australia (AP) — Novak Djokovic found this trip to Australia far less complicated, and far more successful, than that of a year ago.
Unable to enter his best event in 2022 after being deported from the country because he was not vaccinated against COVID-19, Djokovic accomplished all he could have wanted in his return: He resumed his winning ways at Melbourne Park and made it back to the top of tennis.
Only briefly challenged in the final on Sunday night, Djokovic was simply better at the most crucial moments and beat Stefanos Tsitsipas 6-3, 7-6 (4), 7-6 (5) for a record-extending 10th Australian Open championship and record-tying 22nd Grand Slam title overall. As a bonus, Djokovic will vault from No. 5 to No. 1 in the ATP rankings, a spot he already has held for more weeks than any other man.
"I want to say this has been one of the most challenging tournaments I've ever played in my life, considering the circumstances. Not playing last year; coming back this year," Djokovic said, wearing a zip-up white jacket with a "22" on his chest. "And I want to thank all the people that made me feel welcome, made me feel comfortable, to be in Melbourne, to be in Australia."
And a moment later, he uttered a statement that is truly significant, given all the 35-year-old from Serbia has done on a tennis court: "This probably is the, I would say, biggest victory of my life."
Djokovic stretched his unbeaten streak in Melbourne to 28 matches, the longest run there in the Open era, which dates to 1968. He adds trophy No. 10 to the seven from Wimbledon, three from the U.S. Open — where he also was absent last year because of no coronavirus shots — and two at the French Open, to match rival Rafael Nadal for the most by a man.
Only two women — Margaret Court, with 24, and Serena Williams, with 23 — are ahead of him.
This was also the 93rd ATP tour-level title for Djokovic, breaking a tie with Nadal for the fourth-most.
"I would like to thank you for pushing our sport so far," Tsitsipas told Djokovic.
Djokovic was participating in his 33rd major final, Tsitsipas in his second — and the 24-year-old from Greece's other one also ended in a loss to Djokovic, at the 2021 French Open.
Superior throughout on this cool evening under a cloud-filled sky, Djokovic was especially so in the two tiebreakers. He took a 4-1 lead in the first, then reeled off the last three points. He led 5-0 in the closing tiebreaker and, when it finished, he pointed to his temple before climbing into the stands, where he pumped his fist and jumped with his coach, Goran Ivanisevic, and other members of the entourage, then collapsed, crying.
When Djokovic returned to the playing surface, he sat on his sideline bench, buried his face in a white towel, and sobbed some more.
Little doubt this is of no solace to Tsitsipas, but there is no shame in failing to defeat Djokovic in Melbourne. Challenging his dominion on those blue hard courts is every bit the monumental task that taking on Nadal on the red clay at Roland Garros is.
Perhaps surprisingly, Tsitsipas was willing to engage in the kind of leg-wearying, lung-searing back-and-forths upon which Djokovic has built his superlative career. How did that work out? Of points lasting at least five strokes, Djokovic won 43, Tsitsipas 30.
Then again, on those rare occasions that Tsitsipas did charge the net, he likely regretted the decision, because Djokovic often conjured up a passing shot that was too tough to handle.
The trophy for which they were playing was displayed on a pedestal near a corner of the court, and both men would get within reach of it whenever wandering over to towel off between points at that end. So close, yes, but for Tsitsipas, never truly close enough.
It's not as though he played all that poorly, other than a rash of early miscues that seemed to be more a product of tension than anything.
It's that Djokovic was, put simply, too unyielding. Too accurate with his strokes, making merely 22 unforced errors, 20 fewer than his foe. Too speedy and flexible chasing shots (other than on one second-set point, when, running to his left, Djokovic took a tumble).
Djokovic pushes and pushes and pushes some more, until it's the opponent who is something less than perfect on one swing, either missing or providing an opening to pounce.
That's what happened when Tsitsipas held his first break point — which was also a set point — while ahead 5-4 in the second and Djokovic serving at 30-40. Might this be a fulcrum? Might the outcome's tilt change? Might Djokovic relent? Might Tsitsipas surge?
Uh, no.
A 15-stroke point concluded with Djokovic smacking a cross-court forehand winner that felt like a statement. Two misses by Tsitsipas followed: A backhand long, a forehand wide. Those felt like capitulation. Even when Tsitsipas actually did break in the third, Djokovic broke right back.
There has been more than forehands and backhands on Djokovic's mind over the past two weeks.
There was the not-so-small matter of last year's legal saga — he has alternately acknowledged the whole thing served as a form of motivation but also said the other day, "I'm over it" — and curiosity about the sort of reception he would get when allowed to go to Australia this time because pandemic restrictions were eased.
He heard a ton of loud support, but also dealt with some persistent heckling while competing, including applause after faults Sunday.
There was the sore left hamstring that has been heavily bandaged for every match — until the final, that is, when only a single piece of beige athletic tape was visible.
And then there was the more complicated matter of his father, Srdjan, being filmed with a group of people with Russian flags — one with an image of Vladimir Putin — after Djokovic's quarterfinal. The tournament banned spectators from bringing in flags of Russia or Belarus, saying they would cause disruption because of the ongoing invasion of Ukraine. Djokovic and his father said it was a misunderstanding; Srdjan thought he was with Serbian fans.
Still, Srdjan Djokovic did not attend his son's semifinal or the final.
No matter any of it, Djokovic excelled as he so often has, winning 17 sets in a row after ceding one in the second round last week.
"He is the greatest," Tsitsipas said, "that has ever held a tennis racket."
Get the latest Boston sports news
Receive updates on your favorite Boston teams, straight from our newsroom to your inbox.