Sports News
Tiger Woods is back. He's still a work in progress.
The world's 1,294th-ranked golfer arrived at the tee box Thursday afternoon.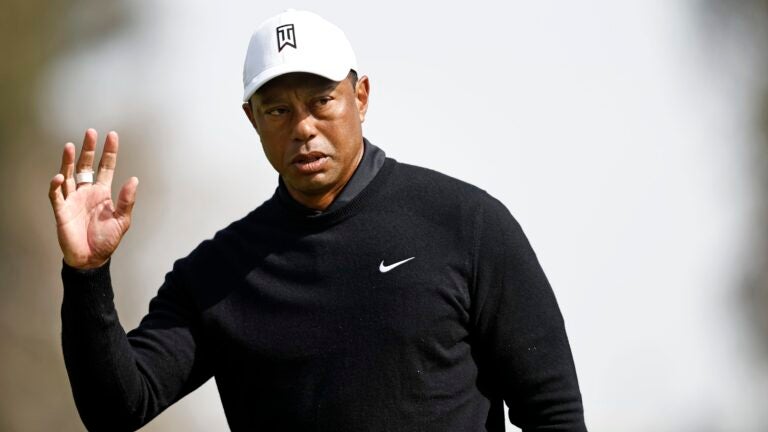 The world's 1,294th-ranked golfer arrived at the tee box Thursday afternoon. The No. 2 player, Rory McIlroy, was there, too. So was Justin Thomas, ranked seventh.
But the 47-year-old man wedged between William Nygard and Marcos Montenegro in the Official World Golf Ranking still believed, however fantastically, that he could win the Genesis Invitational, a tournament he had never conquered.
For all of his scars, that man, Tiger Woods, had barely changed his approach to the mental battleground that so often separates the sports elite from the rest. His birthday in December did not openly blunt the competitiveness that raged so intensely for so long that it helped define an entire professional sport; his disappearing acts from golf did not extinguish his hopes of upending his rivals' ambitions.
What Woods cannot mask — indeed, what he does not even try much to mask — is that every competitive round is effectively 18 holes of rehabilitation research and development. There are days when the experimentation works better than others. He shot a 2-under-par 69 on Thursday and then a 74 on Friday, with each stroke and step at Riviera Country Club a data point in his team's quest to make a rebuilt body hum to a higher-than-normal standard.
"The communication between myself, my staff, my training team, it's an ebb and flow daily trying to figure out the right tape job, the right angles, the padding that we need. That all changes from day to day," Woods said after Thursday's round. "Look at where we were last year. It has completely changed, and it will continue to change."
By Friday afternoon, after a round marked by poor putting, Woods was also confronting the fallout from another self-inflicted distraction: his passing of a tampon package to Thomas after the older man outdistanced the younger one off the tee, a gesture that was condemned by many as sexist and juvenile.
"It was supposed to be all fun and games, and obviously it hasn't turned out that way," Woods said on Friday, when he said the episode amounted to "just friends having fun."
"If I offended anybody in any way, shape or form, I'm sorry," he said.
Less than two years ago, the notion of Woods walking a course with Thomas, or anyone else, in PGA Tour competition seemed distant. Professional golf does not ordinarily pair well with a quick recovery from a car wreck, particularly a wreck that nearly cost one of the sport's finest players a leg, and the physical toll of competition has appeared immense.
At Augusta National Golf Club last April, when Woods played the Masters Tournament to make his post-wreck return, he said he would face "lots of treatments, lots of ice, lots of ice baths, just basically freezing myself to death" before the next day's round. After he withdrew from the year's next major tournament, the PGA Championship, where he was 12 over par after three rounds, he abandoned his plan to play the U.S. Open because, as he put it later, there was "no way physically I could have done that." At the British Open in July, after he missed the cut, he said it was "hard just to walk and play 18 holes."
"People have no idea what I have to go through and the hours of the work on the body, pre and post, each and every single day to do what I just did," he said then. About four months later, after he concluded that he could not play a low-key event in the Bahamas because of plantar fasciitis, he acknowledged without elaboration that his year had included undergoing "a few more procedures because of playing."
Beyond the surgeries, his 2022 results were at once brilliantly defiant — he did, after all, play nine rounds at major tournaments less than two years after he sustained open fractures of the tibia and fibula of his right leg — and newly humbling. His best finish was 47th at the Masters, his worst outing at Augusta National since 1996. (He bounced back from trouble particularly well in those days: He won his first green jacket the next year.)
This year threatens, but does not necessarily promise, more of the same. Now, Woods said this week, an ankle is his greatest menace.
"Being able to have it recover from day to day and meanwhile still stress it but have the recovery and also have the strength development at the same time, it's been an intricate little balance that we've had to dance," said Woods, who nevertheless declared that he is still very much a shotmaker when his endurance matches his ambition. "But it's gotten so much better the last couple months."
Riviera, the course west of downtown Los Angeles where Woods played his first PGA Tour event in 1992, when he was a 16-year-old amateur, is but another laboratory, an in-the-spotlight version of the practice complex in his backyard or Medalist Golf Club in Hobe Sound, Florida. Just about every day, he says, he is striking balls, and he is doing plenty of chipping and putting. When he grows weary, he mounts a cart — something he cannot do on the PGA Tour — but he has seen his outings go from a few holes to 18.
"It's just a buildup, and it's built up fantastic to get to this point," he said. "Then, after this event, we'll analyze it and see what we need to do to get ready for Augusta."
There will be much to do since, so far this year, he has not walked 72 holes across four consecutive days, and Augusta is among the most topographically rigorous destinations in golf. But Woods, who intends to maintain a dramatically curtailed playing schedule in the future and is not expected to compete before the Masters in April, believes that his own record means he should not be counted out, not yet.
"There was a touch and go whether I would be back after my back fusion," he said, referring to the complex operation he had in 2017 after failed back surgeries and a need for opioids. "I didn't know if I was going to walk again after that and I came back and had a nice little run. Same thing with this leg: I didn't know if I was able to play again and I played three majors last year. Yes, when you get a little bit older and you get a little more banged up you're not as invincible as you once were."
But the nature of golf, he insisted, makes it possible to ignore ordinary retirement timelines for athletes.
"There's no contact, I don't have 300-pound guys falling on top of me," said Woods, who is still dealing with the plantar fasciitis that sidelined him in the autumn. "It's just a matter of shooting the lowest score. We have the ability to pick and choose and play a little bit longer."
That is true. Arnold Palmer played his 50th and final Masters in 2004, when he was 74. Gary Player appeared in 52, his last when he was 73.
This week in California, moments after Woods made clear he would not be looking to match Player or Palmer at Augusta, a reporter asked Woods to peer into the future. "If you're 60 and you don't wake up with the irrational belief 'I could win this tournament,'" the question went, "could you still enjoy any of it?"
Maybe — maybe — someday, the response effectively went.
"If I'm playing in the event I'm going to try and beat you. I'm there to get a W, OK?" he said. "So I don't understand that making the cut's a great thing. If I entered the event, it's always to get a W."
Reality looms, though, and his next sentences showed it.
"There will come a point in time when my body will not allow me to do that anymore, and it's probably sooner rather than later," he said. But, he said, simply acting as an ambassador for the game is "not in my DNA."
Until then, his research and development will continue. He started Thursday's round with a 4-foot putt for a birdie. Three bogeys surfaced as the afternoon progressed — and so did three consecutive birdies to end the afternoon.
"As soon as I get back to the hotel, it's just icing and treatment and icing and treatment, just hit repeat throughout the whole night," Woods said.
Friday's five-bogey showing suggested that there were more tweaks to be made. But when darkness led officials to suspend the second round on Friday evening, Woods was just inside the projected cut line.
Get the latest Boston sports news
Receive updates on your favorite Boston teams, straight from our newsroom to your inbox.