Sports News
How Boston.com sportswriters answered the debate over Boston's greatest sports comeback
In the end, Boston.com writers agreed with readers that there was only one correct choice.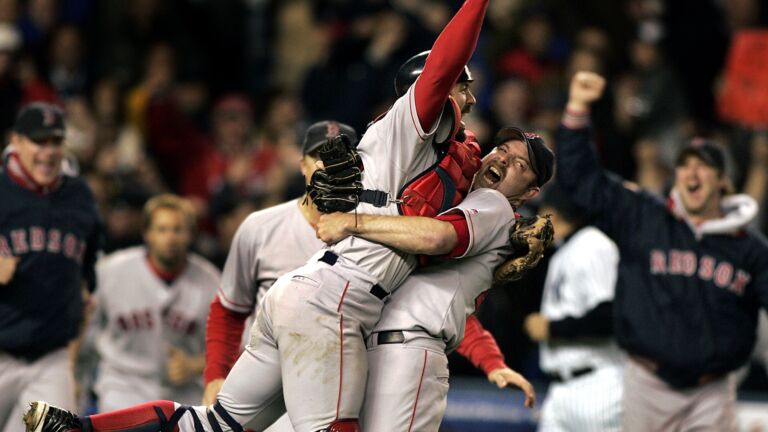 It's the definition of a "good" problem for Boston sports fans: Which of the miraculous comebacks stand tallest in the reflection of history?
And even though Boston.com's recent bracket of the region's greatest sports comebacks featured 16 iconic examples, the final was only ever going to be one matchup: The Patriots' 28-3 comeback in Super Bowl LI vs. the Red Sox rally from a 3-0 deficit in the 2004 American League Championship Series.
Readers made their choice, opting for the 2004 Red Sox. But in the spirit of bracket season — and all of the enjoyable speculation that accompanies it — we figured why not let Boston.com sports staff make their picks as well?
Here's what our group thought about this debate:
Chad Finn, columnist
This is actually a very easy choice in the context of history. The Patriots' comeback from down 28-3 in the third quarter of Super Bowl LI against the Falcons will probably stand as the greatest comeback in NFL history. For it to happen, pretty much everything needed to go right … and from Julian Edelman's insane catch, to Donta Hightower's sack of Matt Ryan, to James White becoming a force of nature, it did.
But it was also the Patriots' fifth Super Bowl victory since 2001. Their legacy as the premier NFL dynasty was safe had they lost 28-24 or something.
The 2004 Red Sox comeback against the Yankees, on the other hand, changed everything. Everything. It exorcised all ghosts. It made an 86-year drought somehow worth the wait. It shut up that Yankees fan the next cubicle over. And the tension built and built and built over four consecutive wins. The mindset after the Game 4 win: "At least we won't get swept." Game 5: "Hmmm, this is getting interesting, but they're probably just teasing us.'' Game 6: "Holy cow, they've got a chance … but wouldn't it be just like them to win three straight and then lose Game 7." Game 7: "I cannot believe this happened in my lifetime."
It's '04. Absolutely, no doubt, no debate. But that '16 Pats comeback is a heck of a runner-up.
Jon Couture, columnist
Oh, to have to choose between two genuinely legendary moments. No wonder everyone hates us. Thing is, I don't think this is that tough a choice, and not just because I'm a Red Sox who was at all seven games live. (Shout out, New Bedford Standard-Times.) A comeback over four nights versus one over one. A comeback against a rival over one versus an essentially random foe. But more than that…
The Patriots were established gold before Super Bowl LI. It was their fifth Super Bowl win. It wasn't even the first of their second act as a dynasty, having won No. 4 two years before. If anyone was going to be capable of a 25-point rise on one night, on one massive stage, we knew they were.
In 2004? The Curse was still a thing. Twelve months earlier, Grady Little and Game 7 had replanted the seed that maybe, truly, the Red Sox would never do this. It certainly felt that way down three games, and even at points during all four of the wins. It ended that week, even before the World Series against St. Louis.
28-3 was unforgettable. 2004 was transformational.
Eric Wilbur, columnist
The Red Sox' comeback in '04 ended 86 years of torture. The Patriots' comeback in Super Bowl LI ended a stretch of two seasons without a Super Bowl.
What's the debate again?
Khari Thompson, staff writer
The 2004 ALCS comeback started the rebirth of the Red Sox as a championship-winning franchise. It was against the hated Yankees, with an 86-year-old curse waiting to be broken. It's the greatest Boston comeback of all-time, and the moment that hooked me as a Boston sports fan as a nine-year-old.
What an incredible rebound from watching Aaron Boone take Tim Wakefield deep to end the season the year before. The 28-3 game is a fantastic memory, and will be a hilarious thing to troll Falcons fans about until the end of time. But that game was more about Atlanta choking than New England winning. It simply doesn't measure up to what the '04 Sox did.
Conor Ryan, staff writer
This is a BRUTAL call — and I won't bemoan anyone for picking one over the other. But I'm gonna go with the 2004 ALCS. Yes, 28-3 was improbable and absolutely bonkers — but Brady orchestrating a triumph on that stage was just the cherry on top of an already unchallenged resume.
*Whispers* If you want a scorching hot take, I think Super Bowl XLIX was a far better game.
But the 2004 ALCS was the Red Sox finally getting over the hump on the road to baseball immorality — something that many of us in New England had ever seen before. Not only was a 3-0 comeback never pulled off in baseball, it was something straight out of a movie script, considering the opponent. For the first time in a long time, the underdog managed to drop the heavyweight champ to the mat, and on the greatest stage imaginable.
Add in the drama and emotion hanging over the city with every game and noteworthy moment (Dave Roberts steal, David Ortiz extra-innings heroics, Curt Schilling, A-Rod slapping Arroyo, postseason hero Mark Bellhorn, Damon's grand slam) and you packed up a franchise's worth of highlight moments in the span of just a week in October. Unbelievable.
Trevor Hass, sports producer
Man, this is quite a heavyweight battle. It's an intriguing question, and certainly one folks can interpret and answer in multiple ways. The Patriots' epic comeback against the Falcons still doesn't make mathematical sense. Down 28-3 late in the third, a team has no right to even find its way into a game — never mind win it. The funny part is that so many people went to bed in disgust and never saw it. They missed one of the most spectacular surges in sports history.
But it isn't the best comeback in Boston/New England history. That honor belongs to the 2004 Red Sox. They were finished. No team had ever done it. They were up against the mighty Yankees. It wasn't possible. Then Dave Roberts stole second, and it magically morphed into the best comeback this city has ever seen. The Patriots' comeback might have been more exhilarating, like a rock concert, but the Red Sox' comeback unfolded like a jazz concert with a dramatic finish.
It touched your soul, carried more weight, and meant more to the region. The Patriots had already won four Super Bowls this millennium. The Red Sox hadn't won a World Series in 86 frickin' years. That series changed lives. It made people believe that no obstacle is insurmountable.
Conor Roche, sports producer
It has to be the Red Sox' 2004 ALCS victory, right? Just the fact that they were the first team to come back and win a series after trailing 3-0 (and remain the only to do it) in baseball's long history is impressive enough.
But there are several other elements that add to its specialty. They were crushed in their own ballpark in Game 3. They were on the brink of elimination in Game 4 and were nearly there again in Game 5. Games 6 and 7 took some special, gutsy performances from players all over the roster in order to win.
And it was against the New York Yankees! The team that had owned the Red Sox for basically 86 years prior to those four games, including a devastating ALCS victory the year prior.
The Patriots' Super Bowl LI comeback victory was special in its own right. But the Red Sox' comeback in '04 holds a weight that very few sports moments ever could.
Gary Dzen, sports editor
My choice of winner between the 2004 Red Sox' ALCS triumph and the Patriots' 28-3 Super Bowl comeback is a personal one. On October 16, 2003, a year before the Sox' epic comeback, the Red Sox and Yankees faced off in a memorable ALCS Game 7. While I caught the game live, I technically started watching around 2 a.m. on October 17, on the freezing rooftop of a convent in Rome, where I was studying abroad.
I was bleary when Grady Little left Pedro Martinez in too long for an eventual three-run Yankees 8th inning, and downright devastated when Aaron Boone took poor Tim Wakefield deep in the 11th. The viewing setup on the roof was poor — tiny laptop, crappy internet connection decades before before streaming was a thing. The company? A bunch of smarmy college kids from New York, as obnoxious as you'd think. This singular experience, coupled with a healthy inferiority complex earned by rooting for a team that was never supposed to win anything again, made the '04 comeback that much sweeter.
Peyton Doyle, sports co-op
I'm going to have to go with the 2004 ALCS here. While I better remember Super Bowl LI, I grew up a Yankees fan surrounded by friends who cherished the Red Sox and they never let me forget about 2004. Sometimes I would go over to a friend's house and his dad would just play the clip of Dave Roberts stealing second and take time to pause and explain its significance.
Nothing will be as impressive to me as that 3-0 comeback simply because of how often the people around me told me how impossible it should have been. A series flip like that may never happen again and that's why it should go down as the greatest comeback in Boston sports history.
Hayden Bird, staff writer
Well then, that was less of a "debate" than I originally anticipated it would be. And yes, I'm writing this after having gathered and read what my colleagues wrote.
Though I pondered a contrarian take, I suppose I'll speak my truth and complete the unanimity of the verdict: The answer is the 2004 Red Sox.
As an idealistic high schooler in that time, what I remember was grappling with the dueling concepts of thinking they had absolutely no chance down 3-0, yet being unable to outwardly acknowledge it. Boston lost Game 3 by a lopsided 19-8 scoreline, which if anything flattered the Red Sox. I watched in between sets of a concert my punk rock band was playing that night (what a time). I didn't (and couldn't) give up on them publicly. Quite the contrary, I decided to prominently wear Red Sox gear the next day. But in my own mind, I was absolutely positive they would lose.
The ensuing comeback was magical as a standalone sports moment. I watched those games hanging on every pitch into the early hours of the morning. I distinctly recall being utterly unprepared for an extremely ill-timed math test the day after Game 7 (and that the only question I got full points on was a bonus asking who the ALCS MVP was).
Yet like so many, I felt that it also taught me higher lessons of resilience, perseverance, and never giving up even against a bully who was on the verge of yet another win. As incredible as the Super Bowl LI comeback was, it lacked the near-religious quality of the region-wide joy that the 2004 Red Sox rally inspired.
So while time has moved some distance away from that iconic October, it's good to know its impact has not been forgotten.
Get the latest Boston sports news
Receive updates on your favorite Boston teams, straight from our newsroom to your inbox.