Sports News
Kobe Bryant's 'little Mambas' are still playing, for him and each other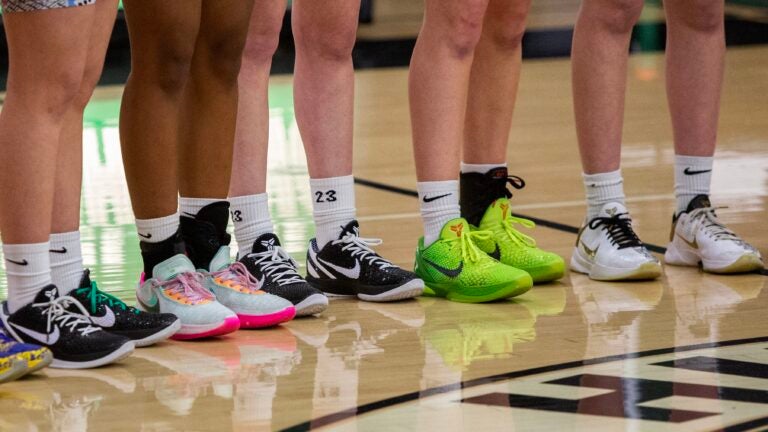 NEWPORT BEACH, Calif. – Every year they gather at the jetty here, teenage girls in matching black hoodies, their toes clinging to the edge of the rocks as the Pacific crashes into the shore below. They cling to each other, too, crying quiet tears into each other's shoulders as they toss eight flowers apiece into the ocean.
"Everything we do is for the eight," Amalia Holguin says of their mantra, which, naturally, is also now a hashtag: #4The8.
Since Jan. 26, 2020, it's a bond these eight girls have shouldered as much as they've shared. On that date each year, when the sun begins to set, they remember what was lost when a helicopter plunged to the ground and one of the most famous basketball players in the world died alongside their best friends, their friends' parents and another coach. The flowers leave their hands, and they again become teammates, and family, in time.
A red poppy for Gianna Bryant, because red was her favorite color. The bright pink Gerber daisy for Payton Chester. A light pink dahlia for her mother, Sarah. The yellow Gerber daisy for Alyssa Altobelli, because she was an Oregon fan. Orange for her father, John, who coached baseball at Orange Coast College. The white hydrangea for his wife and Alyssa's mother, Keri Altobelli. And a lilac Hawaiian hibiscus for Christina Mauser, the coach whom they called "MOD," as in mother of defense.
For Kobe Bryant, the Los Angeles Lakers great known as the Black Mamba – and the co-founder and CEO of the Mamba Academy, where the girls learned to work on their games and dream their dreams – a light purple and black poppy.
"It's just really therapeutic," says Emily Eadie, 16, who curated the floral arrangement.
The photo apps on their phones remain loaded with images of those practices and tournament victories, holiday gatherings and beach parties. They've filled scrapbooks and photo albums that never get dusty because they're flipped through so often. "Mamba 8," their black and white wristbands all read, as the flowers are strewn in the sea.
In the first two ceremonies, the tide came in and the flowers were swept back to shore. Every time they want to move forward, it seems, the mourning and pain return. They return to the shore anyway, waiting for the current to carry those flowers toward the horizon.
– – –
Eleven girls can say they were coached by Kobe Bryant. Three were on that helicopter. The remaining eight feel fortunate they were once part of his plan to build them a basketball nirvana.
"A great opportunity that no one else has besides us girls [had]," says Kat Righeimer, 16. "So we soaked up every moment, every lesson that he taught us."
Bryant retired in 2016, his ferocious will and relentless pursuit of Michael Jordan's greatest player baton having led to five NBA championship banners and two Lakers jerseys hanging in the rafters. He soon found an outlet in coaching, pouring his passion into being a #girldad to his second daughter, Gianna. She shared his competitive fire and love for the game. By investing in her and her basketball buddies, Bryant got the chance to teach in the gym lessons he found more challenging to instill at home.
Kobe being Kobe, this wasn't just about putting together a great AAU team; he had a master plan. He sought players whose personalities and playing styles complemented one another. His plan, according to the girls' parents and his associates, was to drill them on fundamentals and methodically cultivate their skills and intangibles. By the time they were high school seniors, the plan went, they'd be state champions and AAU national champions, able to pick the colleges of their choice. A select few, he was sure, would play in the WNBA.
Vicki Lamkin, Zoie's mother, says, "Kobe knew what he was doing when he brought us all together."
As a player, Bryant had a reputation for being a single-minded loner. But for Gianna, he created a warm, tightknit atmosphere. Siblings were included. Emily's mother still has a text message from Bryant after their last Christmas party together.
"He said that he was so incredibly blessed to have such an extended family," Allison Eadie says. "But, you know, he created that family. And because he created that family, the girls were able to continue on."
Five of the eight players were able to follow through on Bryant's plan to play at Sage Hill School, a nearly $45,000-a-year private school founded in 2000 with a strong academic reputation and little athletic prominence. Bryant had considered Mater Dei High School, the private sports powerhouse in Orange County. But something about creating a new standard at Sage Hill appealed to him.
Jim Righeimer, Kat's father and the former mayor of Costa Mesa, wanted his youngest daughter to attend Mater Dei, where his older daughter Morgan went. Kat's mom set her husband straight with a simple question: "How can you deny your daughter six years with Kobe?" That morning, Jim let Bryant know he changed his mind. "We're in 1,000 percent."
– – –
Located on a rangy hill in Newport Coast, with sandy brown brick buildings and scenic views, Sage Hill has a charming, 28-acre campus. Bryant, a Harry Potter fan, affectionately referred to the place as "Hogwarts."
Inside the gym on a recent February evening, inspirational signs such as "Embrace Our Journey" are taped on black padded walls, and the bleachers are halfway filled, mostly with parents and friends, waiting for Sage Hill's last regular season game to tip off.
As the Lightning's 12 girls take the court, the five Team Mamba alums lead the way – a team within the team, a little like Michigan's Fab Five from a generation ago.
"Em," as Emily is known, is a team captain, a steadying, reliable presence on and off the court whose play and academic performance have drawn interest from Ivy League schools. Kat, who has also drawn interest from Division I schools, stretches the floor with her range and sets the tone with her optimism. Annabelle Spotts does her work in the low block and generally maintains a stoic approach on the court. When the team needs a timely stop or shot, Zoie steps up. They understand their roles, complement each other, and get the expected contributions.
Those four enrolled at Sage Hill seven months after the crash and, as sophomore starters last season, led the school to its first state title. There were comebacks and buzzer-beaters and an instant-classic championship game. Coming back from down 13, the Lightning took their first lead on Em's reverse layup with a minute left. Kat helped seal the dramatic 51-47 victory with clutch free throws. The players mobbed each other at midcourt to celebrate.
"It was just a great milestone, especially to do it with these girls," Annabelle says. "Basketball has allowed me to meet my family. So it's just more than a game."
This year, Sage Hill moved up a classification, testing its reign as state champions against some of the larger powers in California. With a win over Portola tonight, the girls can add the school's first girls' basketball league title to the green and white state title banner that already hangs.
To help them get there, they were able to finally welcome Amalia, a promising freshman who was a mere fourth-grader when Bryant found her. He had told his then-12-year-old girls that he was going in search of some size. But he showed up to practice one day with a little blonde 10-year-old with a nice jumper, and plenty of moxie, and told anyone who was perplexed by the addition, "We'll grow a big."
(Team Mamba, the AAU team, did later add a big: Mackenly Randolph, daughter of former NBA player Zach Randolph. But she attends Sierra Canyon, a basketball power in Los Angeles that is closer to her home.)
Amalia remains the little sister, shy but playful. "Our fourth-grader at heart," Annabelle calls her. She keeps the team loose with a celebratory dance after a big play while staying ready to attack the opposition with the same zeal – all as she chomps on her bubble gum. On Instagram, Amalia goes by "Junior Mamba," and she is the only member of the team who wears one of the jersey numbers Bryant once wore, donning his international No. 10.
"She was the missing piece," Zoie says of Amalia.
Despite a height advantage, Sage Hill gets off to a slow start against Portola. But there's calm on the floor, as if they know a push will come. And it does. The Lightning eventually celebrates a 36-point victory by simply trusting in each other.
"The biggest thing that Coach Bryant wanted us to do is don't be like robots on the court," Kat says. "Like, just figure it out yourself."
The next day, the Mamba girls meet for lunch at The Mustard Cafe. They munch on salads and avocado toast and gab about teachers and class assignments before an afternoon skills training session with former NBA player Darren Collison. Given their last coach, the girls' commitment didn't surprise Collison, an 11-year NBA veteran.
"I know how hard he works. And I felt like if you can be around Kobe, with his mental disposition, then you can do a lot," says Collison, who has trained notable players like Zach LaVine, Chet Holmgren, Jalen Green and Evan Mobley.
Em, Zoie, Kat and Annabelle show up wearing their lime-green Kobe Grinches, the signature Nikes Bryant preferred for Christmas Day games. Amalia packs for a slumber party later that night at Em's house but doesn't get the memo for the footwear: She's in the black and white Kobe 6 Mambacita shoe, with Gianna's No. 2 near the heel.
They spend an hour at a caged half-court gym in Lake Forest doing drills on ballhandling, shooting and finishing contested layups with both hands. Collison and his crew offer professional pointers on how to get separation from defenders, including little tricks referees won't catch given their hand position.
Afterward, Collison congratulates the girls on winning the league title but adds, "You haven't done nothing yet." Amalia looks at him, eyebrows pressed with confusion. But before Collison can explain what he means, her teammates help by shouting an old Kobeism:
"Job's not done!"
– – –
Friday night frees up when Sage Hill Coach Kerwin Walters cancels practice, a reward for their win over Portola. They load into Em's black Volkswagen Tiguan to watch Sage Hill's boys' team play. At a postgame ice cream run, Amalia tries to befriend kids circling on an electrical bicycle, in hopes she'll get a chance to ride herself. She strikes out.
They get back to Em's house a little after 10 p.m. Annabelle, Amalia, Em, Kat and Zoie climb into a huge mattress on the floor of the living room and watch the most recent remake of "The Great Gatsby," starring Leonardo DiCaprio. Em and Kat read the book in English class earlier this year. The movie was good, Em says, but "the book was better."
They wake early the next morning for a 7 a.m. weight training session. Em loads them up once again, cruising along the coastline as the sun crests above the Pacific. They stop for doughnuts before arriving at their destination: the Laguna Beach studio of Brennan Ghassemieh, Kobe Bryant's former personal trainer.
Ghassemieh began working with Team Mamba shortly after Bryant took over as coach. After six years, Ghassemieh knows them well enough to push them hard while keeping the mood light, with dance music from the Weeknd blaring in the background.
On this chilly (for Southern California) morning, they're still wearing hoodies and coats for the opening stretching exercises. The giggles that precede the workout disappear once it begins.
Sage Hill recently named Ghassemieh an assistant coach, a nod to his bond with the girls, which intensified after the crash. Ghassemieh was supposed to be on the helicopter that day, his seat taken at the last minute.
"I'm just hoping to do right by him," Ghassemieh says of Bryant, adding that the girls have "helped me just as much as I've helped them."
"The types of processing that you're going to need to do with events like this, in the end, you can't do it alone," he says. "And we're grateful to not have to."
– – –
Something was off that cloudy Sunday morning in 2020. They had been waiting too long for Bryant, Mauser, their three teammates and the others to arrive at the Mamba Sports Academy, the 100,000-square-foot training facility in Thousand Oaks where they had a tournament that day.
Jon Spotts, Annabelle's father and one of Bryant's business partners at the academy, summoned the families to a conference room above the courts, where he announced that Bryant's helicopter had crashed. The full details weren't known, he said, but there were probably some fatalities.
"A lot of these girls didn't even know what the word fatalities meant," Allison Eadie says, adding that these were "people that they had just been playing with on the court the day before."
Panic fell over the room, and soon a parent was reading the news on TMZ. Screams could be heard through the door.
Coach Bryant used to joke about all the weddings this extended family was going to attend. Now he was gone. He had preached to always show up, to never be late; now every friend's tardiness would bring a surge of anxiety. You're not supposed to die on your way to a basketball game.
The Academy happened to have a therapist on hand, and a representative from a nearby church came to pray with them. They spent hours weeping and praying. Finally, Spotts ordered transportation for every family to make it home, sparing them from driving nearly two hours in a fog of bewilderment and sadness.
Lene Righeimer wasn't at the gym that morning, but embedded in her brain is the image of her daughter returning home, her eyes red and watery. "I remember seeing Kat come out of that bus like a wet cat," she says, "I told her that no matter what, you're going to be okay."
The Righeimers had experienced grief some 16 years earlier, when their 4-year-old daughter, Rebecca, died of a heart ailment. Kat never got to meet Rebecca, but her picture still hangs in a hallway of the home, and her parents always shared stories about what she was like.
"There is something that they say in our grief group that a person can die twice," Lene Righeimer said. "Once, when they die a physical death, and the second time they can die is when you stop talking about them."
– – –
Team Mamba, the AAU program, shuttered after Bryant's death. The girls scattered, finding homes among some of southern California's top programs, including three at Team Why Not, a program backed by Clippers star Russell Westbrook.
Their coach, Marlon Wells, happens to have a runaway favorite NBA player: Kobe Bryant. Kobe's signature shoes. Kobe's jersey. Shirts. Jackets. Wells is often decked out in Bryant gear, leading him to wonder last year, during a bus ride to an AAU tournament, whether he was risking causing the girls pain with his constant reminders of their mentor.
So he asked them. "And they were like, 'Oh, no – we love it!' " Wells says.
That enduring affinity for Bryant is reflected in their own footwear. Amalia, Annabelle, Em, Kat and Zoie wear his signature Nike sneaker at almost every game. They have several pairs of Kobes, but their preference, given Sage Hill's green and white school colors, is those Grinches. By the end of this regular season, the girls had to switch sneakers because the tread was so worn.
Bryant's words still ring in their ears, pushing them at times when they least expect. If a player missed an easy layup, Bryant would always tell them, "Finish your breakfast." Em says she will repeat that phrase to herself while on the court, but also when she has a challenging assignment in school.
Every time Kat leaves her bedroom, the last image she sees are two black wooden plaques on the wall. One is Bryant's 10 Rules for Success. The other is how Bryant defined the Mamba Mentality.
"Haters are a good problem to have," it reads. "Nobody hates the good ones. They hate the great ones."
To them, he wasn't Kobe or the Black Mamba. He was Coach Bryant: The one who threatened to make them run sideline to sideline 17 times if they smiled on the cover of Slam Magazine. The one who tried a Zen-like approach on the bench, calmly letting them figure it out – until he unleashed with the occasional scream. The one who demanded they give their all to the game, while focusing on what they were doing to get better, not what he had done or how he'd done it.
"He was such a real person that you would just kind of forget that he has fans all over the world," Annabelle says.
Bryant's level of fame became apparent only when they traveled to AAU tournaments and had to take the back entrance to avoid a mob. Or when large crowds gathered around their courts to catch (and record) a glimpse of a legend in his element. Team Mamba was also guaranteed to get the best effort from their opponents.
Yet despite the attention it brought, Bryant was dedicated. Most days, an associate said, Bryant would finish practice and show up to his Kobe Inc. offices in Costa Mesa around 8 p.m. or later, a bag of basketballs draped around his shoulder. He'd then spend three or four hours working on a film or book project. Bryant rarely missed practice. The times he did, he checked in through FaceTime.
"He never made it seem like he wasn't going to be there," Em says.
His pupils reciprocated, arriving early and staying late. Amalia's mother, Flora, says Bryant once explained how that extra work accumulated, leading to marked improvement. It was the same work Bryant did, he reminded her, when others were resting or enjoying the fruits of their labor.
Plus, he told her, he always had to work on Christmas Day. "I know you used to watch," he told her. She smiled and replied, "I did."
The girls received basketball lessons but were also able to get a unique peek into Bryant's playful side. Em recalls Bryant taking the team to a WNBA game between the Los Angeles Sparks and Las Vegas Aces and asking the players to choose sides. Those who picked the losing team would have to eat chicken feet, pig intestines and scorpions later that evening. Em chose the Sparks, who lost.
"I'm not going to lie, like, it wasn't the worst thing," she says of the food. But she could do without the scorpion.
The team once went go-cart riding for a birthday party. Afterward, Bryant started talking about his own experience driving. He called on Alyssa and asked, "What do people do when they see a yellow light?"
"Slow down," Alyssa replied.
"No," Gianna said, "you punch it!"
The players laughed. Coach Bryant nodded approvingly.
The girls and their families have kept most of their memories private, declining to post pictures from team dinners, or of Bryant belting out "Happy Birthday" after practice while one of the girls blew out a candle on a cupcake. Bryant once told the parents, "You can either be a friend or a fan," his way of telling them not to exploit their relationship with a Hall of Famer for some likes on Facebook or Instagram. Understanding their fortune in having one of the all-time great basketball players teaching the game to their daughters, the choice was simple.
"We always pinched ourselves," Jim Righeimer said.
– – –
They were just middle-schoolers when their coaches and teammates died. Roughly six weeks later, the pandemic hit. At the exact moment they needed repeated hugs from one another, the girls had to socially distance.
Ghassemieh did individual workouts through Zoom until Amalia asked if he could have all the girls together on the video calls. But understanding the importance of keeping them together, some of the parents later found whatever facilities or tournaments that they could. The game was more than a sanctuary; it became their lifeline.
"I think they can all agree basketball is like our everything," Em says.
Their friendship has become everything else. After the win over Portola, Annabelle tries to reminisce about Payton, her best friend since kindergarten, who died in the crash. But she gets too emotional for the words to come. Em wraps her arms around Annabelle and brings her in, allowing Annabelle to collect herself. Nothing needs to be said. Even if no one else ever gets them, they get each other.
"I don't know what I'd do without them," Kat says. Zoie, one of the few Black students at Sage Hill, puts it this way: "These girls are definitely like extra sisters."
They play for those who are no longer with them, trying to navigate and perform through the pressures of social media and the spotlight that comes from their association with one of the greatest players to ever pick up a basketball.
Bryant spent the final few years of his life mentoring his basketball admirers, promoting the women's game, and making sure the wisdom he acquired while aspiring for greatness wasn't wasted in his mind. What he instilled in these girls extends his legacy. The weight of those responsibilities could at times be a burden, but it has also provided a purpose to the ones left to honor him and their friends.
"Not only were they given the chance to be taught by the very best, they're able to continue on with the goal," Allison Eadie says, "They didn't just throw their basketball shoes aside. They just they kept going out there."
Coach Walters credits their resilience for making his job easier: "They inspire me."
But for Flora Holguin, there are also the what-ifs whenever she takes a step back to appreciate what her daughter has accomplished. "I think if Kobe were still around, where would they be? What would they be doing? Like, where would their basketball level be?"
– – –
It's dusk when they gather at the ocean's edge again this time, on Jan. 20, 2023. Their season, in the end, wouldn't go as planned, ending with a loss to Mater Dei in the state playoffs. And for all the reminders of what Coach Bryant always said – that their journey was about progress, not perfection – sometimes even progress feels hard.
"We go through the year just trying to live our normal life," Zoie's mom says. But Zoie "just crumbled and was like, 'Oh, mom, I don't know how I can keep doing this.'
"It's hard because everybody expects so much from them."
But their ritual carries on, as they suspect it always will. Deep down, they all know they can't let those who still mean so much to them die a second death.
Zoie, Emily, Amalia, Kat, Annabelle. Ellie Robinson and Annika Jiwani, two other Coach Bryant protegees who don't go to Sage Hill, surprise the five who do, showing up at the cliffs and wrapping their former teammates in hugs. There in spirit this year, because it conflicts with a game: Mackenly Randolph.
The eight survivors of Team Mamba. #4the8.
One by one, they toss their flowers into the ocean, just like they have in years past. But this time, the girls notice, instead of sweeping the flowers back to shore, it carries them out to sea, out toward the descending sun.
Get the latest Boston sports news
Receive updates on your favorite Boston teams, straight from our newsroom to your inbox.