Sports News
Free Jacks eye championship run as Major League Rugby looks to continue patient growth
New England's rugby team is on an eight-game winning streak and has already clinched a playoff spot.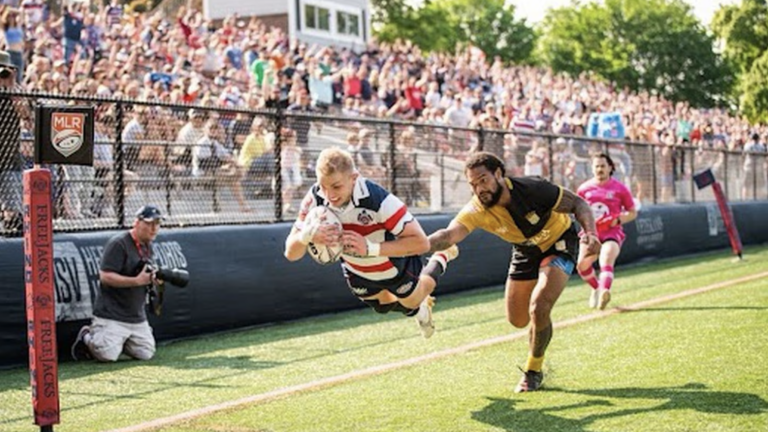 In what has been a disappointing spring for some New England sports fans — amid the playoff demise of both the Bruins and Celtics — one local team has managed to keep on winning.
The New England Free Jacks, the locally-based Major League Rugby team, have not lost since March 31. In the ensuing eight-game winning streak, the Free Jacks — who play home games at Quincy's Veteran Memorial Stadium — have outscored opponents by an impressive 326-85 margin. With a 12-2 record, New England has already clinched a No. 1 playoff seed and a place in the Eastern Conference Final.
It's the second year in a row that the Free Jacks have strung together a lengthy run of wins, but head coach Scott Mathie feels much better about the state of his team in 2023 than he did 12 months ago.
"Last year we broke the record for the most consecutive wins in a season," Mathie told Boston.com in a recent interview. "I always felt like last year we were scraping through a couple of those games, like really tight ones. But I've felt as we've gotten on a roll this year, we've won a lot more convincingly."
"I definitely think we've got a better squad together," he added. "We've got more depth. We've got more to our game than last year. I think the streak comes from that."
Mathie took over as Free Jacks coach in 2022, guiding the team — now in its third full MLR season — to a 13-3 record, falling to Rugby New York in the Eastern Conference Final. The 40-year-old played professionally in both England and his native South Africa before switching to coaching nine years ago. Despite having never been to Boston before taking the job, Mathie said he's taking a liking to the area and its sports-obsessed population.
"I know everyone's on about them being Mass*****," he joked, "but it's one of those places where they might seem mean on the outside, but are really genuine, loyal people on the inside. Once you get to know them, I think they're really warm to you. It's one of the most fascinating sports cities I've ever been to. I've never seen more passionate people like this for their city in terms of sports."
Attendance numbers remain comparatively modest, but have risen steadily over time. A recent game in May saw a team record 3,442 cheer New England to a 50-3 rout of Old Glory DC.
The other part of the team's Quincy setup has been a recent expansion of the club's infrastructure around the stadium.
"We are in a new facility now, which allows us to be even more professional," Mathie pointed out. "There are all these things that have been added. Each year there's been a step towards a more professional, and ultimately a more high-performance environment."
One of the byproducts of increased investment — some players are fully professional while others remain semi-pro — has been an uptick in the talent on the roster. Mathie praised the commitment of ownership, which helped the club persevere through a difficult inaugural MLR campaign in 2020 when the COVID-19 pandemic abruptly forced all games to be canceled five weeks into the new season.
Former Patriots players Patrick Chung and Nate Ebner are the club's most recognizable owners, and continue to hold minority stakes in the team. Mathie added that they remain "part of the fabric" of the club. Ebner, notably, played rugby at the collegiate level and represented Team USA at the 2016 Summer Olympics in rugby sevens.
Being able to draw better quality players has been a huge factor for both the Free Jacks, and other MLR teams around the country.
"The longer the league goes on, the more interest and the more marketing ability you have to put that league out to the rest of the world," Mathie explained. "So then it garners more interest and more players are keen to come over because the story's all good. There's more stability. That means you're able to attract a better quality of player."
Looking ahead, the Free Jacks have two more regular season games (June 11 against the Seawolves in Seattle, and June 18 at home against the Houston SaberCats). After that, New England will begin its bid to navigate the playoffs and win the first championship in team history.
Beyond that, Mathie is hoping to see the continued growth of the league and its professionalism. While most of the players currently hold seven-month contracts — the length of the MLR season — he wants to be able to have year-round training capability like other major leagues.
"I would say at the moment, because it's a seven month contract, it's still not where we want it," he acknowledged. "Guys can come out of college and they can come into this program and get paid for that period, which is great for their growth, but it's the other four or five months that you really need guys in our program to develop them.
"So as the league progresses and it grows and more money comes in, you'll be able to pay them more full-time contracts, which obviously will be massive for their development and growth. I don't think we're too far off that. A couple of years and I think we might be there."
Get the latest Boston sports news
Receive updates on your favorite Boston teams, straight from our newsroom to your inbox.