Sports News
Venus Williams is back at Wimbledon at age 43 and ready to play on Centre Court again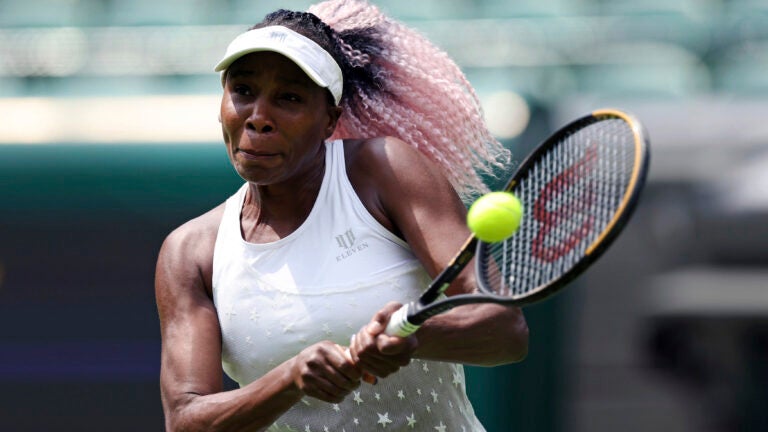 WIMBLEDON, England (AP) — Asked two days before her 24th Wimbledon begins whether she's still excited to play tennis at this level, Venus Williams quickly answered: "It's so much fun."
The next question Saturday was about being on tour without her younger sister, Serena, who wrapped up her career at last year's U.S. Open. The reply: "Not as much fun."
There is still a big-swinging, Grand Slam-winning member of the Williams family in women's tennis, and it's 43-year-old Venus, who recently returned to action after about five months away with a hamstring injury she called "a nightmare."
That followed a 2022 in which she participated in just four contests — all in August or September, meaning she missed the season's initial three Grand Slam tournaments, including Wimbledon — and a 2021 in which she accumulated only a dozen.
"I haven't played a lot of matches in the last few years, and not by choice. I wanted to be here and I couldn't," said the elder Williams, who will meet two-time major semifinalist Elina Svitolina of Ukraine at Centre Court on Monday, Day 1 at the All England Club. "So I just put my head down and put even more work in and got myself in a much better position — and that's life. And you've got to deal with life. And I've dealt with my life and, most of the time, I come out on top."
In tennis terms, that means reaching the No. 1 ranking, winning seven major singles titles, the most among active women — and five came at Wimbledon, the first in 2000, most recent in 2008 — and another 14 in women's doubles — all with her sibling. Away from the court, she learned to live with Sjögren's syndrome, an energy-sapping auto-immune disease that can cause joint pain; she announced her diagnosis in 2011.
"The most inspiring thing about her is the love that she has for tennis. I don't think that love has swayed over the course of her career. I think you can see players who are older now (and) you can have a feeling they probably don't love it as much as they did when they started it. I don't have that feeling with Venus. I hope I'm the same way," said Coco Gauff, who burst onto the scene at age 15 by beating Williams in the first round at Wimbledon as a qualifier in 2019.
"Obviously, just her grit for every match, every ball. I watched a couple of her matches last week," Gauff said. "Just the will to want every point is something that's inspiring."
Monday's match will be Williams' first in Wimbledon's main stadium since 2017, when she reached the final before losing to Garbiñe Muguruza.
Williams made her debut at the All England Club in 1997, shortly before Svitolina turned 3.
"Venus loves to play here," said Svitolina, who returned to the tour in April after having a baby last year. "It's just really impressive. She's a great champion. She achieved so much in her career. I don't know if I will be playing at (that) age and would be in this great shape, playing with such a passion. So lots of respect to her in so many ways."
The lack of wins in recent times dropped Williams out of the top 500 in the rankings; Svitolina has been as high as No. 3 and is now 75th.
Both women received wild-card invitations for Wimbledon.
The inevitable questions arose Saturday about whether Williams has planned when she might walk away from the sport ("If I did, I wouldn't tell you," came the reply) and whether she could see herself on tour at age 50 ("It's never been done before, so if there was one to try it, it would be me," she said).
One more try: Might there be the sort of announced farewell a la Serena's, allowing for a collective goodbye?
"Like I said: If I knew I wouldn't tell you," she answered with a hearty laugh.
Get the latest Boston sports news
Receive updates on your favorite Boston teams, straight from our newsroom to your inbox.