Sports News
Carlos Alcaraz beats Novak Djokovic in five sets to win Wimbledon for his second major trophy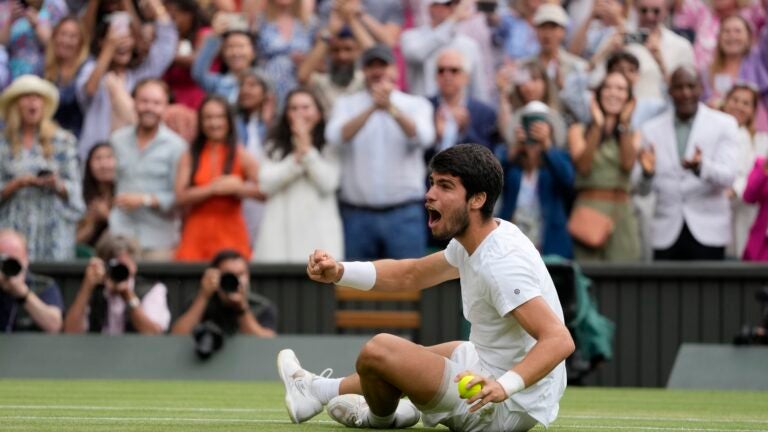 WIMBLEDON, England (AP) — Carlos Alcaraz said he wanted another shot at Novak Djokovic. Said it would make winning a Wimbledon championship more special. Well, Alcaraz got his chance to face Djokovic. And he beat him.
Alcaraz put aside a poor start and surged down the stretch to end Djokovic's 34-match winning streak at the All England Club by edging him 1-6, 7-6 (6), 6-1, 3-6, 6-4 in an engaging, back-and-forth final on Sunday, claiming his first championship at Wimbledon and second Grand Slam trophy overall.
The No. 1-ranked Alcaraz prevented No. 2 Djokovic from collecting what would have been a record-tying eighth title, and fifth in a row, at the grass-court tournament. Djokovic also was kept from earning a 24th career major.
Instead of Djokovic, a 36-year-old from Serbia, becoming the oldest male champion at Wimbledon in the Open era, Alcaraz, a 20-year-old from Spain, became the third-youngest. The age gap between the two was the widest in any men's Slam final since 1974.
So Alcaraz had youth on his side, which he also did, of course, when they met at the French Open last month. That one was extraordinary for two sets before Alcaraz cramped up and faded. This time, he had the stamina and the strokes to get past Djokovic.
Alcaraz is faster and capable of more power — serves topping 130 mph, forehands topping 100 mph — but Djokovic is equipped with an abundance of talents and so much muscle memory. He's been there, and done that, in ways Alcaraz, for now, can only dream of.
But if this victory on a windy and cloudy day at Centre Court, where Djokovic last lost in the 2013 final, was any indication, Alcaraz is on his way to achieving quite a bit himself.
Still, this is all relatively new to him: Djokovic's record 35th Grand Slam final was Alcaraz's second.
Yet it was Alcaraz who won a 32-point, 25-minute mini-masterpiece of a game on the way to taking the third set. And it was Alcaraz who was not intimidated when Djokovic forced things to a fifth set.
It was Alcaraz who moved out front for good by breaking to go up 2-1 in the fifth with a backhand passing winner. Djokovic, who fell during the point but quickly popped back up, reacted by slamming his racket into the net post, letting go on impact. He destroyed his equipment and earned a code violation from chair umpire Fergus Murphy.
They would play on for another 24 minutes, bringing the total to more than 4 1/2 hours, but Alcaraz never relented, never gave way. And it was Alcaraz, not Djokovic, who covered his face and rolled in the grass after the final point, then received the gold trophy.
Maybe it should have been expected that some jitters from Alcaraz would show up early. His shots were not landing where he wanted. Not even close. Adrenaline — the same source, likely, of Djokovic's speedier-than-usual serves at the outset — was maybe coursing a little too much, a little too quickly, for the kid to control his strokes.
Sure, Alcaraz quickly earned a break point, but a long backhand return of a 127 mph serve erased that. Another too-far backhand and a netted return gave Djokovic that game. In the next, Alcaraz missed three forehands to gift-wrap a break and a 2-0 lead to Djokovic.
The showman in Alcaraz — a guy who'll try, and often make, shots no one else even considers — emerged in the next game, when he raced back to retrieve a defensive lob by Djokovic and responded with a between-the-legs lob of his own. Djokovic let it drop. It was called in. The fans went wild. Except Djokovic immediately shook his head and waved his hand, both to indicate it was out and to challenge the call: He then had to smile at the collective "Awwww!" from the seats when the video replay on the scoreboard showed that it actually did land long.
Soon Djokovic was up 5-0. Alcaraz finally replaced the zero to the right of his name after 31 minutes, delivering a down-the-line forehand passing winner to get a game and earn a standing ovation from some folks.
Quieting them, Djokovic held at love to close that set. A telling stat until then: Alcaraz made nine unforced errors, Djokovic just two.
Alcaraz possesses a sledgehammer of a forehand, one he unleashes in such a manner as to make an observer believe every ounce of strength, indeed every fiber of his being, is invested in each swing. The smack of the racket, and his "Uhhh-ehhh!" exhale of exertion — along with the gasps of impressed onlookers — reverberated around the arena.
That's not to say, of course, that Alcaraz's attributes end at that big forehand. He is so much more than that, displaying as varied an all-court game as possible, which is why stardom is predicted of him. He does everything well, including well-disguised drop shots that helped him get back into the thick of it in the second and third sets Sunday.
Djokovic, of course, already has achieved greatness, spending more weeks at No. 1 than any man or woman in the half-century history of the computerized rankings and accumulating those 23 Grand Slam triumphs — one more than Rafael Nadal and three more than Roger Federer, the only man with eight Wimbledon titles.
So often on Sunday, Djokovic would hustle and stretch and slide nearly into the splits to get Alcaraz's apparent point-ending shots back over the net in ways no one else could.
Get the latest Boston sports news
Receive updates on your favorite Boston teams, straight from our newsroom to your inbox.