Sports News
World Cup 2023: Meet the US women's national team
Meet the 23 players representing the United States in this year's World Cup.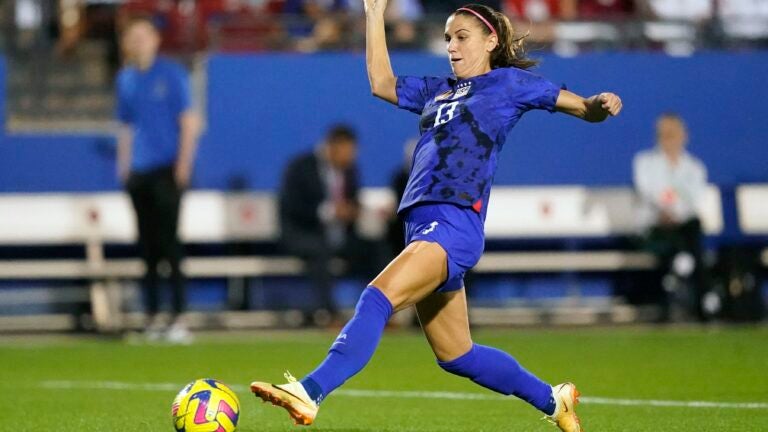 The US women's national team is chasing its third consecutive World Cup. To win it, the squad will lean on a mix of veteran staples and rising stars.
Fourteen players on the roster are competing in their first World Cup. Three — Alex Morgan, Kelley O'Hara, and Megan Rapinoe — will lace up for their fourth.
Here's a breakdown of each player selected by coach Vlatko Andonovski, in alphabetical order.
Read more about the World Cup
USWNT roster for World Cup 2023
Alana Cook
DEFENDER, AGE 26
Club Team: OL Reign
Hometown: Far Hills, N.J.
Cook, who was born in Worcester, earned her national team call-up in 2019 and led the squad with 1,286 total minutes played in 2022. She landed on the NWSL Best XI First Team in both 2021 and 2022, and was a finalist for Defender of the Year last year. Cook led Stanford to an NCAA championship in 2017 as an All-American.
Savannah DeMelo
MIDFIELDER, AGE 25
Club Team: Racing Louisville
Hometown: Bellflower, Calif.
At the time of the roster reveal, DeMelo was the only player yet to make her senior national team debut. She has since checked that box (July 9 vs. Wales) and also has loads of experience on youth national teams. DeMelo is entering the World Cup stage on fire, having been named NWSL Player of the Month in May.
Crystal Dunn
DEFENDER, AGE 31
Club Team: Portland Thorns FC
Hometown: Rockville Centre, N.Y.
Dunn has logged 132 appearances, 24 goals and 19 assists with the national team. She started six games for the 2019 World Cup champions and typically plays left-back, but can play midfield too. Dunn was also the only US player to start all six games during the Tokyo Olympics.
MIDFIELDER, AGE 31
Club Team: Angel City FC
Hometown: Mesa, Ariz.
A member of both the 2015 and 2019 championship teams, Ertz has 20 goals and six assists in 118 career games. She's a two-time US Soccer Female Player of the Year (2017 and 2019) and two-time Olympian. Her husband is Arizona Cardinals tight end Zach Ertz.
Emily Fox
DEFENDER, AGE 25
Club Team: North Carolina Courage
Hometown: Ashburn, Virginia
Fox has outstanding speed that could help her lock down a starting spot. She logged a career-high 14 games (all starts) with the national team in 2022 and was the No. 1 overall pick in the 2021 NWSL Draft. The US won the 2023 SheBelieves Cup with help from Fox, who was the only member to play all 270 minutes of the tournament.
Naomi Girma
DEFENDER, AGE 23
Club Team: San Diego Wave FC
Hometown: San Jose, Calif.
Girma is a key member of the youth influx and another former NWSL top pick, going first overall to San Diego in 2022. The daughter of Ethiopian immigrants, she was named US Soccer Young Female Player of the Year in 2020 and made her national team debut on April 12, 2022. Girma figures to anchor the defense with Cook at center-back.
Lindsey Horan
MIDFIELDER, AGE 29
Club Team: Olympique Lyonnais (France)
Hometown: Golden, Colo.
Horan has been a national team mainstay since 2013 and boasts the longest yearly goal streak on the active roster, with at least one tally dating back to 2015. She was the first American woman to sign a pro contract out of high school when she joined Paris Saint-Germain in 2012. Horan also returns from the 2019 World Cup champion squad.
Sofia Huerta
DEFENDER, AGE 30
Club Team: OL Reign
Hometown: Boise, Idaho
Huerta's father, Mauricio, grew up in Mexico, and Huerta initially played in the Mexico youth national pipeline before joining the US in 2017. She started 11 of 16 matches in 2022 and tallied 1,074 total minutes. She'll complete for playing time across the back line.
Aubrey Kingsbury
GOALKEEPER, AGE 31
Club Team: Washington Spirit
Hometown: Cincinnati, Ohio
A three-time All-American at Wake Forest, Kingsbury was named NWSL Goalkeeper of the Year with the Spirit in 2019 and 2021. She logged her first national team appearance with a clean sheet in a 9-0 win against Uzbekistan on April 12, 2022. Kinsgbury is the fifth player in team history to debut after turning 30.
Rose Lavelle
MIDFIELDER, AGE 28
Club Team: OL Reign
Hometown: Cincinnati, Ohio
Lavelle was the breakout star of the 2019 World Cup, capturing the Bronze Ball as the third-best player and scoring the clinching goal in the 2-0 final victory against the Netherlands. The former No. 1 pick to the Breakers in 2017 played just one year in Boston before the club folded. She notched a career-best six assists with the national team in 2022 to go with four goals.
MIDFIELDER, AGE 32
Club Team: Gotham FC
Hometown: Hanson, Mass.
Mewis's local connections are strong; she starred at Whitman-Hanson Regional High before heading to BC, where she ranks second in Eagles history with 116 career points. She and her sister Samantha, who was on the 2019 World Cup roster, are the first sisters to each represent the US at the World Cup. Mewis played on the national team in 2013 and 2014, but fell off the roster for five years before bouncing back in 2019 and remaining a fixture since.
Alex Morgan
FORWARD, AGE 34
Club Team: San Diego Wave FC
Hometown: Diamond Bar, Calif.
One of the nation's all-time greats shows no signs of slowing down. This will be Morgan's fourth World Cup run, and the two-time champion returns after earning Silver Boot honors in 2019. She's racked up 121 goals and 49 assists in 207 national team appearances. Morgan is still at the top of her game — she led the NWSL in 2022 with 15 goals in just 17 contests — and will lead the squad at striker once again.
Casey Murphy
GOALKEEPER, AGE 27
Club Team: North Carolina Courage
Hometown: Bridgewater, N.J.
Murphy, who is 6 feet tall, is the tallest goalkeeper in USWNT history. She is the ninth national team member to log double-digit shutouts, reaching her tenth clean sheet against Ireland on April 11. Murphy is expected to back up Alyssa Naeher, but she could still earn spot starts on the World Cup stage.
Alyssa Naeher
GOALKEEPER, AGE 35
Club Team: Chicago Red Stars
Hometown: Stratford, Conn.
One of the most decorated goalies in US history, Naeher is a two-time World Cup champion and logged four shutouts in the national team's 2019 run to glory. She's expected to hold down the net this summer, ranking third in career wins and shutouts. Her 11-year NWSL career included three seasons with the now-defunct Boston Breakers from 2013-15.
Kelley O'Hara
DEFENDER, AGE 34
Club Team: Gotham FC
Hometown: Fayetteville, Georgia
O'Hara is one of 12 US players to make four World Cup rosters and one of 25 with more than 20 career assists. She suited up for 2015 and 2019 World Cup championships and has played 157 career games for the national team. O'Hara also briefly played for the Boston Breakers from 2010-11 and scored the winning goal in overtime for the Washington Spirit in the 2021 NWSL championship game.
Megan Rapinoe
FORWARD, AGE 38
Club Team: OL Reign
Hometown: Redding, Calif.
Four years ago, Rapinoe's legendary summer helped the US win the World Cup. The forward posted six goals and three assists, won Golden Ball and Golden Boot honors, and finished off a penalty kick in the final against the Netherlands. She has publicly called 2023 her last World Cup run and won't need to shoulder the same responsibility with the team's youth movement, but Rapinoe can still be an impact player when she's on the field.
She has 63 goals and 73 assists in 199 national team games, but her legacy transcends soccer. Rapinoe has emerged as a cultural champion for increased equity in women's sports, as well as LGBTQIA+ rights, and is engaged to retired WNBA legend Sue Bird. She received the Presidential Medal of Freedom on July 7.
Trinity Rodman
FORWARD, AGE 21
Club Team: Washington Spirit
Hometown: Laguna Niguel, Calif.
One of several rising stars on the roster, Rodman made her national team debut in February 2022, and she already has four goals and three assists in 18 games. She was selected second overall in the 2021 NWSL Draft at age-18 — the youngest player in league history to be drafted at the time — and won Rookie of the Year that season. Rodman is entering the World Cup on a heater after scoring both goals for the US in a 2-0 win against Wales on July 9. Her father is NBA Hall-of-Famer Dennis Rodman.
Ashley Sanchez
MIDFIELDER, AGE 24
Club Team: Washington Spirit
Hometown: Monrovia, Calif.
Sanchez was a star at various youth national levels before making her senior national team debut in 2021. She scored 21 goals in 21 U-17 international games and 12 goals in 35 U-20 games, earning US Soccer Young Female Player of the Year in 2016. Sanchez totaled three goals and three assists at the senior level in 2022.
FORWARD, AGE 22
Club Team: Portland Thorns FC
Hometown: Windsor, Colo.
The 22-year-old is a torch-bearer for the national team's future. Smith is coming off a sensational 2022 that saw her lead the USWNT with 11 goals, earn NWSL MVP honors, and help Portland take home a championship. She was first called up to the senior team at just 16, but debuted at age-20 in Nov. 2020, and will be a surefire starter on the wing.
Emily Sonnett
DEFENDER, AGE 29
Club Team: OL Reign
Hometown: Marietta, Georgia
Sonnett is a versatile depth option on the back line and also plays some midfield with OL Reign. She played in one match during the 2019 World Cup but has 75 total USWNT appearances since 2015. Sonnett scored her first national team goal in her 69th game, the second-longest wait time in team history.
Andi Sullivan
MIDFIELDER, AGE 27
Club Team: Washington Spirit
Hometown: Lorton, Virginia
Sullivan has emerged as a quality option in the midfield post-Tokyo Olympics and started a career-high 15 games with the national team in 2022. She earned the MAC Hermann Trophy for being the best college player in 2017, when she led Stanford to an NCAA title.
Alyssa Thompson
FORWARD, AGE 18
Club Team: Angel City FC
Hometown: Studio City, Calif.
The 18-year-old is ascending the US soccer hierarchy at a remarkable pace. Thompson made her first national team appearance on Oct. 7, becoming the youngest player to debut since 2016. Angel City selected her first overall in the 2023 NWSL Draft, making Thompson the youngest draft pick in league history and the first high-school-aged player chosen. Even if she doesn't play much right away, Thompson is a noteworthy option at forward and a must-watch name for the future.
Lynn Williams
FORWARD, AGE 30
Club Team: Gotham FC
Hometown: Fresno, Calif.
Williams missed the entire 2022 NWSL season with a hamstring injury but still has 60 regular season goals in her league career, tied for second-most all-time. She was Pepperdine's first-ever All-American and is a former NWSL MVP and champion (2016). Williams is another member of a deep, talented forward group and has 15 goals and 12 assists in 53 national team contests.
Get the latest Boston sports news
Receive updates on your favorite Boston teams, straight from our newsroom to your inbox.