Sports News
Head of the Charles entry came together to honor late Phillips Exeter coxswain
The Directors' Challenge entry, assembled from around the country, rowed together in memory Alex Manfull and to help raise awareness of PANDAS/PANS.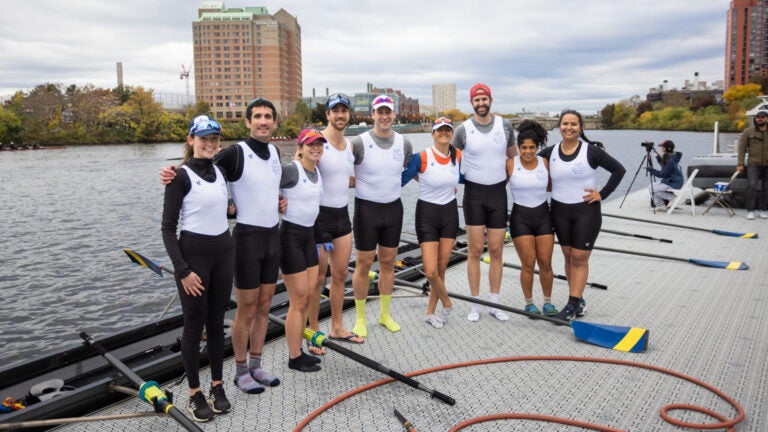 In the final race of the 2023 Head of the Charles Regatta, one particular entry in the Directors' Challenge Mixed Eight was comprised of a group that was rowing together for the very first time.
They represented different rowing backgrounds — including alumni from Phillips Exeter Academy, Princeton University, and members of the Boston Rowing Club — and were assembled from all over the United States.
Their unifying purpose, beyond pulling together in the race, was to honor the memory of a friend.
Alex Manfull, a New Hampshire native, was just 26 when she died in 2018 from complications of an autoimmune disorder called PANDAS (Pediatric AutoImmune Neuropsychiatric Disorders Associated with Streptococcal Infections). It is placed under the overarching category of PANS (Pediatric Acute Onset Neuropsychiatric Syndrome).
Manfull had attended Phillips Exeter, where she first discovered her talent as a coxswain with the crew program.
"She took to it like a fish to water, and loved it, loved being a coxswain," recalled her mother, Susan.
Manfull went on to attend Princeton, where she coxed for the men's varsity lightweight crew.
"She was very assertive and driven and focused both in crew and outside of that," recalled Andrew Wenstein, who rowed in boats that Manfull was coxswain for at both Phillips Exeter and Princeton.
"She was very good at just getting people to kind of trust her and listen to her," he said.
"Alex was vibrant, healthy, had no history of psychiatric illness," her mother recalled. "She was healthy in general, confident, smart, all the qualities that one would aspire to have."
At the age of 19, she was diagnosed with streptococcus. Soon after being treated, she developed "unambiguous OCD symptoms."
For years afterward, Manfull sought a clearer medical explanation of what was happening to her, but the exact nature of her condition remained unclear. It wasn't until she came upon a description of PANDAS that she began to unravel the mystery herself.
Even then, Manfull did not receive a formal diagnosis until several weeks before her death.
"The lack of knowledgeable physicians or other medical providers and mental health providers is a huge obstacle because the disorder is not usually recognized," Susan explained. "It's frequently misdiagnosed as OCD, or ADHD. And when that happens, of course they don't get the treatment that they should."
Given that PANDAS wasn't first identified until 1998 (in a study from Dr. Susan Swedo), the problem of misdiagnoses remains intrinsically connected with a lack of awareness.
As a result, Manfull's parents established The Alex Manfull Fund to help support research, treatment, and to elevate public knowledge about its identifiable symptoms.
In the ongoing effort to raise awareness, they decided that assembling a representative entry at this year's Head of Charles was a way to achieve that goal at an event their daughter loved.
Testament to her spirit, current and former rowers from around the country answered the call.
"We started thinking about doing this about a year and a half ago, and it took a while to kind of figure out all of the logistics and pull it together," said Wenstein. "She was on teams at Exeter and at Princeton and at Boston Rowing Club in the summer in between. So it felt like we should have people from a few different areas of the rowing world."
The final result was a respectable 14th place among the 31 Directors' Challenge entries. Considering their lack of preparation, it was a job well done. And of infinitely greater importance, the Manfull Fund, both through its participation in the race as well as a tent at Reunion Village, was able to help share information about PANDAS/PANS and provide access to experts.
Newsletter Signup
Stay up to date on all the latest news from Boston.com