Sports News
Legacy of 'Toucher and Rich' should be the many years of laughs, not the recent drama
Their skills were distinct, but together they had what program directors constantly seek and rarely find: a chemistry that raises the show to a level even higher than the sum of the hosts' talents.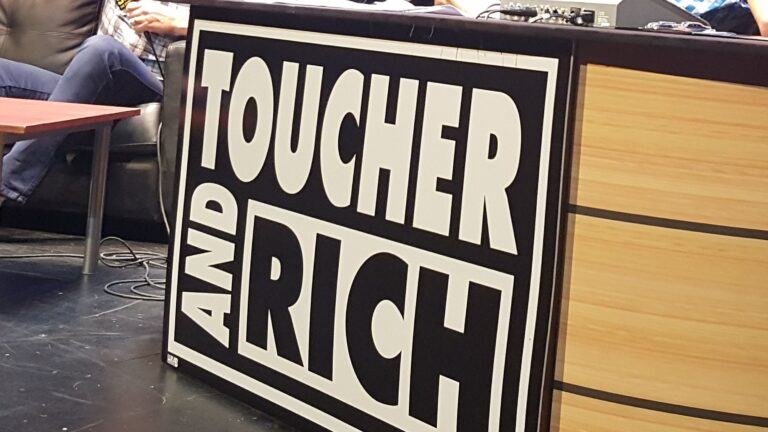 Confession: When I first heard the "Toucher and Rich" program, upon the launch of 98.5 The Sports Hub on Aug. 13, 2009, I had a tough time distinguishing between the voices of hosts Fred Toucher and Rich Shertenlieb.
Oh, I knew who they were from their three years at legendary station WBCN. But I was new to the sports media beat, and one of the reasons I was assigned was because I was known to listen to a lot of sports radio. These rock radio refugees who were seeking to mix sports and pop culture on this fledgling station were new to me.
It's almost comical to look back now, 14 extraordinarily successful years after their launch, and recall that I thought they sounded alike.
Even as I was struggling to distinguish their voices, other differences were obvious. Toucher was the droll, gifted ad-libber, Shertenlieb the energetic master of cooking up and producing humorous bits. Their skills were distinct, but together they had what program directors constantly seek and rarely find: a chemistry that raises the show to a level even higher than the sum of the hosts' talents.
Better still, something Toucher and Shertenlieb had in common — a desire, above all else, to make their listeners laugh — was a welcome contrast to rival programs that attempted to pass off chronic mean-spiritedness as humor or truth.
Which is why the developments of the last several months — which culminated with Friday's announcement by Toucher at the top of the program that Shertenlieb was no longer part of the show — were such a bummer.
Toucher and Shertenlieb met at 99X in Atlanta when they were in their early 20s, reconnected at WBCN before the shift to The Sports Hub, and shared 17 years of success. Much like Mike Francesa and Chris "Mad Dog" Russo at WFAN in New York a decade ago, they made radio magic together — but in the end, their differences pulled them apart.
I'll spare you the full rehash of the drama over the last year, since Toucher laid it all out — and confirmed previous reporting here — on Friday's show. The condensed version: Toucher, while off the air for five weeks this year while receiving treatment for a throat and voice problem, accused Shertenlieb and others on the show of failing to check in on him. It was not true. In a meeting in May, Shertenlieb accused Toucher of creating a hostile work environment. They barely spoke off the air since.
The tenuous future of the show became clear when Toucher signed a contract extension in October — the hosts had never negotiated separately until that point. Shertenlieb, who had briefly turned the "Toucher and Rich" Twitter account to a personal account, was not mentioned in the release, nor was the name of the show. In recent days, he started his own Twitter account that made no mention of the show.
The end actually arrived Thursday morning. According to sources with knowledge of the situation, when the show ended at 10 a.m., Shertenlieb went about his business as if it were a normal day. Sometime in the 10:15-10:30 range, communication between Shertenlieb and show management resulted in the end of his time at the station. Sources I spoke with believed management informed him that it was over. Toucher found out around 10:30 a.m. and the show's production staff was told in a 2 p.m. Zoom meeting.
The news was greeted with sadness, but there was palpable relief that the tension was over. "As talented as they are, having two hosts that don't speak to each other off the air doesn't work," said one source.
During Friday's show, which included third voice Jon Wallach, Toucher sounded invigorated about what's to come. "When it became apparent that there were some hurdles in [Rich's] negotiation," he said, "I've talked to management and some people around the industry about the future of this show, and I have to be honest. I'm extraordinarily excited."
The most sensible move would be to shift Rob "Hardy" Poole from middays on the "Zolak and Bertrand" show to the mornings. He's a creative producer like Shertenlieb but has a broader sports knowledge. And he wouldn't hesitate to go toe to toe with Toucher. Another good fit? Rich Keefe, who has been relegated to nights on WEEI despite having arguably the sharpest sense of humor of any of its hosts. Keefe formerly worked at The Sports Hub and still has his fans at the station.
It seems certain that The Sports Hub will keep the remaining on- and off-air staff of its morning show intact. That includes producer Mike Lockhart, whose salary was being paid by Shertenlieb. (Shertenlieb picked up the tab to keep him on the show after Lockhart was laid off by parent company Beasley Media Group in October 2022.) Management has assured Lockhart that his contributions are valued and that the station intends to keep him.
As for Shertenlieb, he has not responded to interview requests other than to provide a statement thanking Sports Hub listeners, noting that he wasn't expecting Thursday to be his last day, and saying he will be heard from soon. Speculation among his former Sports Hub colleagues is that he already has something lined up.
Rival station WEEI might seem a logical destination. Mike Thomas, who in a previous job was instrumental in assembling the original Sports Hub lineup, is now Audacy's vice president and market manager in Boston, overseeing WEEI, among other stations. When asked if he would pursue Shertenlieb, Thomas said, "No comment." Sources that were at WEEI Friday morning said rumors that Shertenlieb had visited the station were untrue as far as they knew and that the building was a "ghost town." It should be noted that WEEI's current morning program, "The Greg Hill Show," has made notable progress in the ratings, earning a strong 11.6 share to "Toucher and Rich's" 15.3.
Toucher said on the air Friday that the new Sports Hub morning show will launch at the end of the year. If Hardy is the choice, with Wallach remaining in his role, it should continue to draw big laughs and high ratings. But the breakup of "Toucher and Rich" is disappointing. Their personalities were different, and yes, so were their voices. But their shared sensibilities for what makes entertaining radio provided countless laughs, and that, not the recent melodrama, should stand as their legacy.
Get the latest Boston sports news
Receive updates on your favorite Boston teams, straight from our newsroom to your inbox.