Sports Q
Where does Super Bowl 51 rank among Boston's recent championships?
Debate the answer with Chad Finn and Boston sports fans at The Sports Q.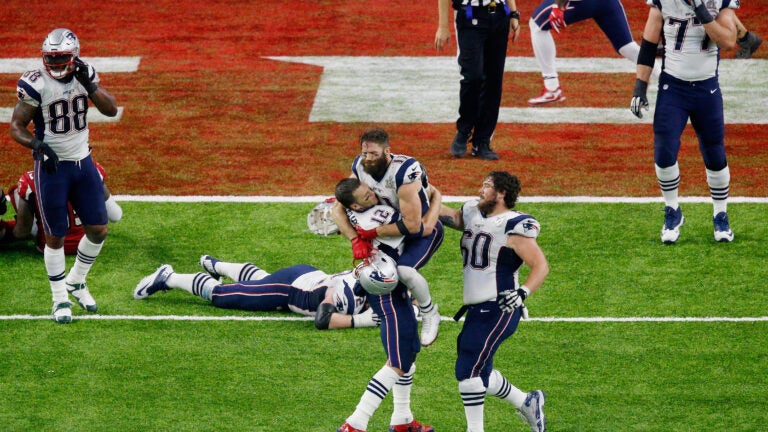 Welcome to Boston.com's Sports Q, our daily conversation, initiated by you and moderated by Chad Finn, about a compelling topic in Boston sports. Here's how it works: You submit questions to Chad through Twitter, Facebook, email, his Friday chat, and any other outlet you prefer. He'll pick one each weekday to answer, then we'll take the discussion to the comments. Chad will stop by several times per day to navigate. But you drive the conversation.
All right, Finn! Rank 'em! The championships! Go! – Matty G.
That's not a question, silly, that's a demand. This is the Sports Q, not the Sports D! But I'll make the exception just this once, since New England's comeback pretty much ended all questions (greatest QB of all time, greatest coach of all time, greatest football dynasty of all time, most-booed NFL commissioner of all time, etc.).
I assume you mean rank the Boston sports championships since 2001, a total that reached an unfathomable and almost unfair 10 with the Patriots' 34-28 victory against the Falcons in February, the greatest comeback in anything I have ever seen, with one possible exception that I'll get to in a minute.
If you meant just rank the Patriots' five titles — I'm going to pause here and stare at that five for a minute — that will be sorted out in the ranking of all of them. Here goes, top of my head, with my head still spinning.
2004 Red Sox: The greatest macro comeback of all time, 86 years, beat the Yankees, all of that catharsis and amazement.
2016 Patriots: The greatest micro comeback of all time. I need to watch this on DVR to see how they did it, beyond doing about 30 different things that had to happen in the fourth quarter for them to even maintain hope. Plus, it made history in every breathtaking, fulfilling way.
2001 Patriots: The one that started it all. I'll never watch the final 1 minute 23 seconds without a smile.
2014 Patriots: "Intercepted!" [Al Michaels's happily incredulous voice:] "Malcolm Butler!"
2007-08 Celtics: I'm a basketball guy at heart, and Paul Pierce deserved it.
2013 Red Sox: The Red Sox are always part of the fabric of the community. But never more so than that season.
2003 Patriots: Proved '01 was no one-time magic trick.
2004 Patriots: A truly great team — but so much crazy stuff happened to the teams higher on the list.
2007 Red Sox: See 2004 Patriots.
2010-11 Bruins: Yep, a Game 7 shutout on the road to win the first Cup in 39 years, and this dummy has it last. You're the one who made me choose among our children.
Anyway, I'd be up for a Patriots-Falcons rematch next year.
So how do you rank them? Can you put what we witnessed Sunday night into context yet? Talk to me in the comments or on Facebook. I don't want to stop talking about this. Let's not stop talking about this.