Sports Q
Which recent championship parade was the most enjoyable?
Debate the answer with Chad Finn and Boston sports fans at The Sports Q.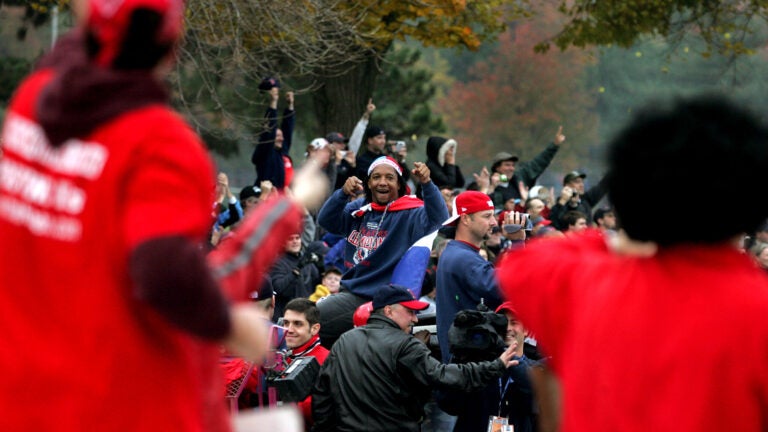 COMMENTARY
Welcome to Boston.com's Sports Q, our daily conversation, initiated by you and moderated by Chad Finn, about a compelling topic in Boston sports. Here's how it works: You submit questions to Chad though Twitter, Facebook, email, his Friday chat, and any other outlet you prefer. He'll pick one each day (except for Saturday) to answer, then we'll take the discussion to the comments, where the mission is to have a sports conversation with occasional controversy, but without condescension or contrarianism. Chad will stop by the comments section several times per day to navigate. But you drive the conversation.
I still can't believe we've won TEN championships since 2001. No wonder everyone hates us. So here's a question that will make them hate us because they ain't us even more: What parade or rolling rally was the most fun out of the nine before [Tuesday's]? You'd better give the Bruins some respect here. That was an awesome day.  – Dave P.
Well, you know Tom Brady's line when he's asked which ring is his favorite: The next one. Seems appropriate for parades, too.
Yeah, I took some heat in Monday's giddy aftermath of the Super Bowl (Joe Buck really should have borrowed his old man's "I can't believe what I just saw!" call for James White's last touchdown, IMO) when I had the Bruins' 2010-11 title 10th among the recent titles.
I get it — their entire playoff run was one prolonged and amazing achievement, including the Game 7 win over Montreal en route, and that was as likable a team as any we have had around here recently, in any sport. My basketball bias is in effect with that one — seemed like hockey nuts flipped that one and the Celtics, which is cool. Probably should have had it above a couple of the Pats' Super Bowl wins and maybe one of the Red Sox World Series wins, and no, my bitter 1999 self would not believe that this is a sentence we would write someday.
I can remedy that honestly with parade rankings. Top four:
2010-11 Bruins:  Beautiful June day, huge, overjoyed crowd, with the Stanley Cup as a hell of a hood ornament. Boston at its best right there. Ah, remember the good times, Claude.
2004 Red Sox: This was the one we'd waited to see forever, and it was cathartic and fulfilling. But the weather was lousy, and I kept waiting for Pedro or Manny to topple off a duck boat while in the Charles and have the whole thing somehow turn tragic. Guess we hadn't shaken the cynicism quite yet.
2001 Patriots:  Special because it was first one since the 1985-86 Celtics, and no, Avalanche defenseman Ray Bourque's City Hall salute does not count. Plus, the Robert Kraft/Ty Law dance-off has become a nice little tradition between them.
2007-08 Celtics: Confirmation that the new Big Three belonged to the city and vice versa. Loses points for burning the image of a shirtless Glen Davis into our brains.
Just caught up on Tuesday's parade late last night. Between the Gronk antics (plucking Bud Lights out of the air like King Kong swatting helicopters, nearly dropping 20 to 40 percent of the Lombardi Trophy haul) and Belichick missing the irony of trying to get a bunch of people skipping work to chant "No days off!" — hell, Belichick trying to get any chant going at all — this one might slide into the No. 5 spot.
Which was your favorite? And don't give me the '13 Red Sox. Too much Jonny Gomes.