Sports Q
Did Danny Ainge blow it by not trading for Serge Ibaka?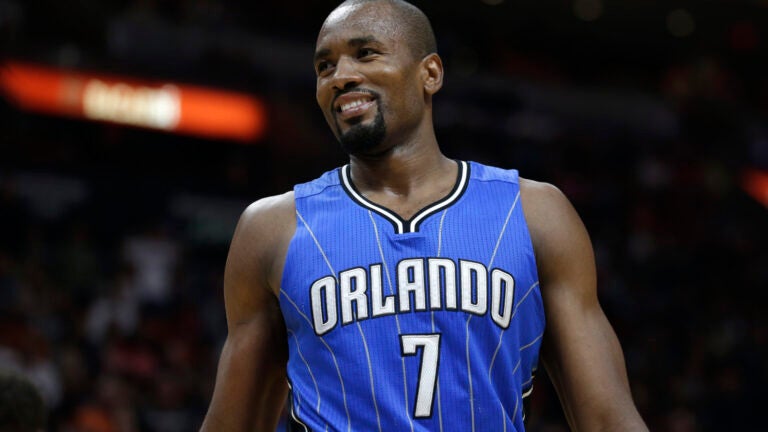 COMMENTARY
Welcome to Boston.com's Sports Q, our daily conversation, initiated by you and moderated by Chad Finn, about a compelling topic in Boston sports. Here's how it works: You submit questions to Chad through Twitter, Facebook, email, his Friday chat, and any other outlet you prefer. He'll pick one each day (except for Saturday) to answer, then we'll take the discussion to the comments, where the mission is to have a sports conversation with occasional controversy, but without condescension or contrarianism. Chad will stop by the comments section several times per day to navigate. But you drive the conversation.
I just need you to agree with me that Danny Ainge blew it on not making this Serge Ibaka trade. – Ryan M.
Well, that's kind of a loaded question. Almost sounds like you have some skepticism of Ainge's ability to do his job, which would make no sense to me considering that the Celtics are a wildly entertaining team that is currently two games out of first place in the Eastern Conference and may well end up with the No. 1 pick in the draft.
There are some surface reasons to be envious of the deal that sent Ibaka — who was averaging 15.1 points and 6.8 rebounds per game in his first season with the Magic — to the Raptors for Terrence Ross and a first-round pick. He's a good ballplayer — he's shooting a career-high 38 percent from 3-point range — who is joining one of the Celtics' primary conference rivals. It is not difficult to see how his game would fit with the Celtics. He'll fit with the Raptors, too.
But … blew it? I mean, we need to see how all of this plays out, don't we? This is what we know right now: The Raptors had to do something. They had lost 10 of 14 games and Kyle Lowry was on record as saying changes needed to happen. They were reeling.
The Celtics? They are rolling. They've won 10 of 11, and have gone 23-7 in their last 30. Mavs coach Rick Carlisle said the other night that the Celtics have "a legitimate chance" to get to the NBA Finals. Their chemistry couldn't be better. I'm glad they didn't want to part with Terry Rozier. He plays fast and with an edge, and with Avery Bradley a question mark, trading quality guard depth probably isn't wise right now.
The Celtics could use another rebounder, but Ibaka has regressed there and as a defender. I'm not sure he's what a lot of fans think he is. This is a guy who griped about shots while playing with Kevin Durant and Russell Westbrook. He's a high-end role player, but he thinks he's more than that. And in the final year of his deal, I'm skeptical he's going to be as selfless in Toronto as the Celtics would require him to be here.
No, Ainge didn't blow it. Disagree? Join me in the comments and I'll set you straight.