Sports Q
Should the Patriots use the franchise tag on Dont'a Hightower?
Debate the answer with Chad Finn and Boston sports fans at The Sports Q.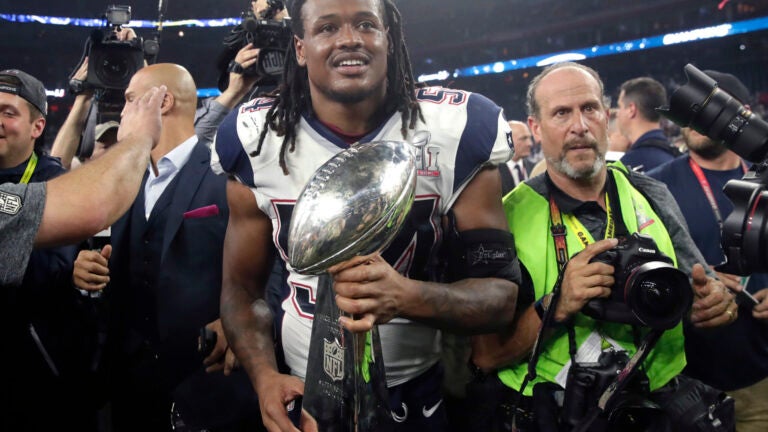 Welcome to Boston.com's Sports Q, our daily conversation, initiated by you and moderated by Chad Finn, about a compelling topic in Boston sports. Here's how it works: You submit questions to Chad through Twitter, Facebook, email, his Friday chat, and any other outlet you prefer. He'll pick one each day (except for Saturday) to answer, then we'll take the discussion to the comments. Chad will stop by several times per day to navigate. But you drive the conversation.
Getting worried that [Bill] Belchick and [Nick] Caserio are going to let Dont'a Hightower get to free agency, and then some team will make him a huge offer that the Patriots won't match. Shouldn't they just use the franchise tag on him now to make sure he sticks around? – Peter C.
Well, it would definitely be a heck of a lot more reassuring, Peter. The deadline for the franchise tag is 4 p.m. Wednesday, and we've already seen several teams use it — the Cardinals on Hightower's fellow 2012 Patriots first-round pick Chandler Jones, the Giants on Jason Pierre-Paul, the Panthers on Kawann Short, and so on.
I'm no salary-cap whiz by any means, but the Patriots have mucho cap room, and from what I've read Hightower would cost slightly more than $14 mil to franchise. That seems reasonable. That would also mean it would cost two first-round picks for any team to sign him away, a prohibitive-and-beyond cost that would severely limit his options.
Ideally, though, they'd sign him long-term at a mutually satisfying rate for one of their core players in terms of performance and leadership. Yes, he's had injuries — he plays football for a living, after all. Everyone is an injury risk on every play. He's an excellent, smart, versatile linebacker, and one who owns a streak of two Super Bowls in which he's made an absolutely game-altering play. They need to keep him around if for no other reason than to see if he can make it three.
I worry that they'll let him get to free agency, he'll get a bold offer, and then he'll have a decision to make. Sometimes they come back even after getting deep into free agency — Devin McCourty did. But other times they move on. I'd just as soon avoid that risk. I hope the Patriots sign Hightower to a multi-year contract before the franchise tag deadline. But if they don't? Tag him, get the assurance that he'll be here this season, and sort it out from there.
You? What should the Patriots do with Dont'a Hightower? And is there anyone who actually thinks they should let him walk? I'll catch you in the comments. Maybe by the shoelace, like you're Marshawn Lynch.