Sports Q
When will Tom Brady play his last game as a Patriot?
Debate the answer with Chad Finn and Boston sports fans at The Sports Q.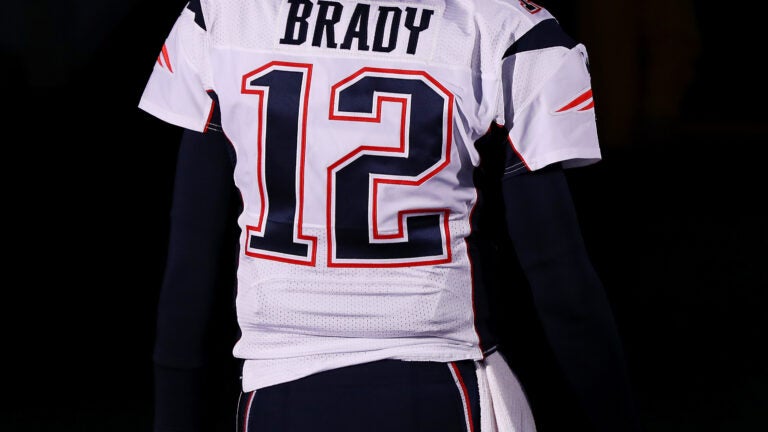 Welcome to Boston.com's Sports Q, our daily conversation, initiated by you and moderated by Chad Finn, about a compelling topic in Boston sports. Here's how it works: You submit questions to Chad through Twitter, Facebook, email, his Friday chat, and any other outlet you prefer. He'll pick one each day (except for Saturday) to answer, then we'll take the discussion to the comments. Chad will stop by several times per day to navigate. But you drive the conversation.
All anyone writes is about how Tom Brady wants to keep playing.  Must be more to it than that. What if it's not his decision? I'm guessing two more years from Tom and then Jimmy [Garoppolo] gets a big contract for '18 with the understanding that he is the man is 2019. But where is all of this going? More to the point, when does Brady play his last game as a Patriot? – Marty B.
Let's be clear: This isn't something I'm endorsing now, and I'm not sure I'll endorse it in, oh, three years, when Brady is just beginning to show signs of real decline, Jimmy Garoppolo is thriving in Chicago, Jacoby Brissett has been traded for two first-round picks to the St. Louis Rams (who have moved again), and Patrick Mahomes is itching for his chance to be Brady's successor.
But as hard as it is to fathom as we sit here and wait for the Super Bowl LI DVD to come out Tuesday, we must admit the end for Brady is somewhere on the horizon. It may be on the distant horizon. Maybe we can't even see a glimmer of it yet. But it's there. He's 39, and is probably already the most successful "old" quarterback in NFL history. He's slowed time. But not even Brady can stop it.
Bill Belichick has had fleeting moments of sentimentality — I'll long believe he gently nudged Tedy Bruschi into retirement rather than forcing him to face a cold alternative — but not one has interfered with long-term roster building. With the Krafts' clearance, I have no doubt he would trade Brady in the next few years if he felt it were the right thing to do.
Brady knows this, too. Perhaps it's because he remembers a certain time when a scrawny, determined and underestimated sixth-round pick beat out a popular incumbent with a new nine-figure contract, but he's always been publicly practical about his time with the Patriots. He knows Joe Montana was a Chief, Johnny Unitas a Charger, and Dan Marino damn near a Viking. He played against Brett Favre, Jet. He's readily acknowledged that he may want to play beyond the point that the Patriots want him to play for them, as strange as that sounds. Even the greatest sometimes end up in unfamiliar colors at the end.
So as we wait to find out what the Patriots will do with Garoppolo — who could fetch a bushel of draft picks that could be converted into the next generation of core Patriots with the right offer, or whom may already be entrenched in Belichick's mind as his next quarterback — it's impossible not to wonder when the end as a Patriot actually comes for Brady, even if it's something no one who remembers the days of Tommy Hodson, Scott Secules, and Jeff Carlson wants to ponder.
I'm setting the over/under at three years. I'm taking the over at four. Mahomes is going to have to wait. How about you? When will Brady play his final game as a Patriot? I'm claiming Super Bowl LV for myself. Let's talk about it in the comments.