Sports Q
Would the Celtics trade Jaylen Brown for Ben Simmons?
Debate the answer with Chad Finn and Boston sports fans at The Sports Q.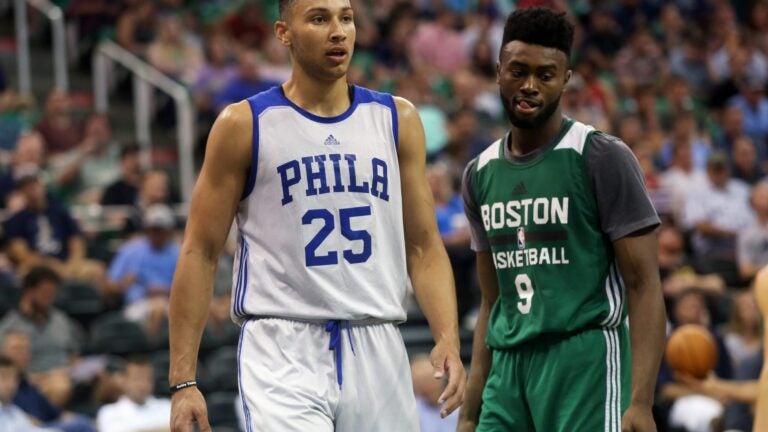 Welcome to Boston.com's Sports Q, our daily conversation, initiated by you and moderated by Chad Finn, about a compelling topic in Boston sports. Here's how it works: You submit questions to Chad through Twitter, Facebook, email, his Friday chat, and any other outlet you prefer. He'll pick one each day (except for Saturday) to answer, then we'll take the discussion to the comments. Chad will stop by several times per day to navigate. But you drive the conversation.
You should take your question from Sunday [would the Celtics trade Jaylen Brown for Brandon Ingram right now?] and take it another step: Would Danny Ainge trade Brown for Ben Simmons? I think they would, but obviously there's high risk with Simmons missing his whole rookie year with a foot injury. – Not Danny Ainge
Have to admit, I was surprised so many who checked into the comments section on the Brown/Ingram Q said the Celtics wouldn't trade the player picked third in this past June's draft for the player picked second. I strongly suspect some of them — some of you — griped that it was a two-player draft when the Celtics ended up with the third pick. I also suspect some of you wouldn't have given a second thought to trading him in a Jimmy Butler blockbuster two weeks ago.
Of course, what has become obvious in recent weeks — especially during his 16-point, 8-rebound, 3-crazy-highlight performance against the Lakers Friday — is that Brown is way ahead of where he was supposed to be as an NBA freshman.  There will be hiccups — he had 14 points in a weird loss to the Suns on Sunday, but did miss some key free throws. He's a good NBA player already, with a chance to be much more. It's nice that the vast majority of Celtics fans are catching on. I don't know, maybe don't jeer their first-round draft pick this year?
But to actually answer the question: Would they trade him for Simmons? I think so, yes, even with the risk that he has Andrew Toney's feet. Simmons supposedly can't shoot, but the same thing was said about Brown; if he works at it, he'll improve. It's the easy thing to fix in the NBA. He's an otherworldly passer with the kind of court sense that can't be taught. And he's 6-foot-10. Anything to help this crew grab a few more rebounds.
For what it's worth, I don't think the Sixers would consider trading him for Brown. But that we can even ponder the possibility without seeming too parochial is a tribute to how far Brown has come already.
So what do you say? Would the Celtics trade Brown for Simmons? Let's crash the boards in the comments.