Sports Q
Should Rajon Rondo invite Ray Allen to the 2008 Celtics reunion?
Debate the answer with Chad Finn and Boston sports fans at The Sports Q.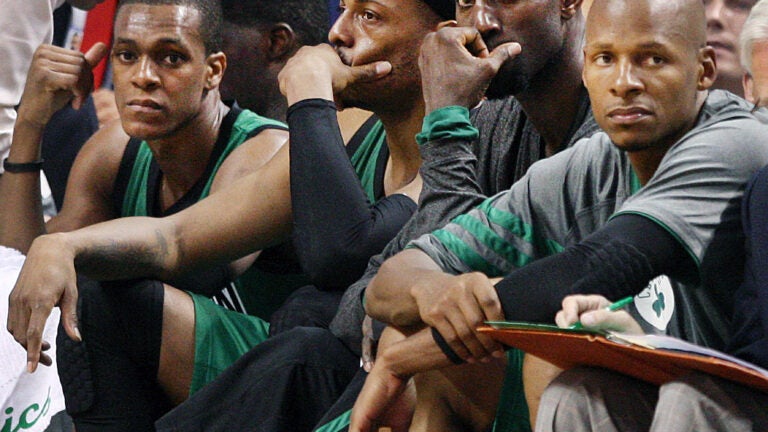 Personal differences aside, it's a total bush move of Rajon Rondo to leave Ray Allen out of the reunion of the 2008 Celtics, even if it's something he's putting together on his own. Rondo wouldn't have a ring without Shuttlesworth's help. Thoughts? – Rondo Got No Game
Well, being deliberately ignored is better than being forgotten altogether, I guess. Poor Scot Pollard must be wondering how Gabe Pruitt got an invite and he didn't.
Yes, it's a bush move by Rondo, and totally fitting, and I kind of love it. I was a Ray Allen guy during his five years here. Paul Pierce never had to sacrifice a thing when the New Big Three united. Allen sacrificed the most, especially in terms of usage and shots, and it wasn't close. Yet he delivered some incredible moments in his five years in green …
… and Banner 17 would not be in the rafters without his contributions. (Another truth to consider: the yet-to-be-won Banner 18 might already be there as well had he shot better than 36.7 percent from the field and 29.3 percent from 3 in the 2010 Finals. But oh well.)
But part of what made those Kevin Garnett/Kendrick Perkins/Pierce/Allen/Rondo Celtics so admirable was their fierce sense of unity on the court. They bought into Ubuntu. A collection of remarkably strong personalities became a true team.
Allen shattered that when he unofficially ended that era by signing with the rival Miami Heat after the 2011-12 season. It was the best career move for him. It was also a petty move, apparently sparked by his frustrations with Rondo and the Celtics' decision to give young Avery Bradley starts at his expense.
His teammates — his former teammates — were angry and hurt. For Rondo this is some kind of small vengeance. Maybe it's petty. But it fits, and you can understand Rondo's thinking. He chose to leave us. The hell with inviting him back.
What do you guys say? Should Ray Allen get an invite to the party? And will anyone recognize Scot Pollard if he shows up? Let's chat in the comments.