Sports Q
Who was a better player for the Red Sox, J.D. Drew or Trot Nixon?
Debate the answer with Chad Finn and Boston sports fans at The Sports Q.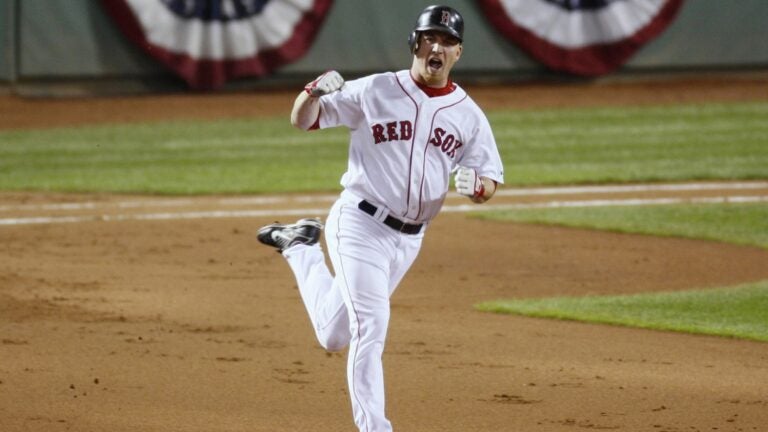 Welcome to Boston.com's Sports Q, our daily conversation, initiated by you and moderated by Chad Finn, about a compelling topic in Boston sports. Here's how it works: You submit questions to Chad through Twitter, Facebook, email, his Friday chat, and any other outlet you prefer. He'll pick one each day (except for Saturday) to answer, then we'll take the discussion to the comments. Chad will stop by several times per day to navigate. But you drive the conversation.
Today's question comes from something of a running gag around here: My appreciation for J.D. Drew, his brother Stephen, and the entire Drew family catalogue, really.
That appreciation is real – I do honestly believe the Drew brothers far much better players with the Red Sox than the general public around here chooses to believe — though the level of it is exaggerated.
When I tweeted …
Your move, Red Sox. https://t.co/eA1dpmPTC0

— Chad Finn (@GlobeChadFinn) March 27, 2017
… at the news that Florida State would retire J.D.'s number, it was not an honest suggestion that the Red Sox should retire his number. A statue on Van Ness Street will suffice just fine. But it did devolve into a conversation that led to today's question:
Who was the better player for the Red Sox, Drew or the stylistically opposite player who preceded him in right field and in the No. 7 jersey, Trot Nixon?
I suspect Red Sox fans will vote heavily in Nixon's favor.  He played eight full years for the Red Sox, hitting 133 home runs, including 28 in the 2003 season. He slashed .278/.366/.478 with a 116 adjusted OPS. He hit a memorable regular season home run off Roger Clemens once, and had a huge hit in Game 4 of the 2004 World Series, though he was hurt for much of that season. He had a dirty hat, played with a scowl, and was perceived as a Dirt Dog. He was very popular.
The laconic Drew was not. But he was a superior all-around player. He was a much smarter baserunner than Nixon, who for his hard-hustling image cost the Red Sox a run more than once because he jogged home while a teammate made the third out on the basepaths. Drew was a superb outfielder, rarely out of position, whereas Nixon got off scot-free for doing a rain dance on Derek Jeter's double to start the infamous eighth inning of Game 7 of the 2003 ALCS. Drew slashed .264/.370/.455 in five seasons with the Red Sox, with a 114 adjusted OPS and 80 homers. He had back-to-back seasons with an OPS of .914 or higher, and hit a grand slam that changed the course of the 2007 ALCS en route to the World Series title.
Offensively, Nixon and Drew were pretty similar. Overall, Drew was superior. A vote for Nixon relies too much on perception and image. His scowl masked the fact that he made the second-most bonehead plays among Red Sox in that era to Manny Ramirez. I challenge his supporters to make a case for him without bringing up unquantifiable words like grit, fire, and swagger.
I'd agree he wasn't HOF worthy but he had grit and fire, he brought a swagger that I admired.

— Jamey Locastro (@jplocastro1970) March 27, 2017
I SAID NO GRITFIRESWAGGER, DAMMIT!
Nixon was a good player here. He was a likable one. But boring ol' clean-hatted J.D. Drew was a better one. I welcome you to agree with me in the comments or on Facebook.