Sports Q
Who wore No. 24 best? Dwight Evans or Manny Ramirez?
Debate the answer with Chad Finn and Boston sports fans at The Sports Q.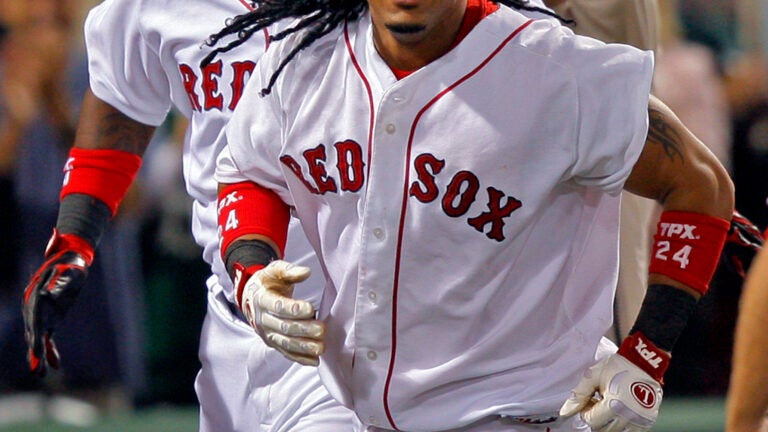 Welcome to Boston.com's Sports Q, our daily conversation, initiated by you and moderated by Chad Finn, about a compelling topic in Boston sports. Here's how it works: You submit questions to Chad through Twitter, Facebook, email, his Friday chat, and any other outlet you prefer. He'll pick one each day (except for Saturday) to answer, then we'll take the discussion to the comments. Chad will stop by several times per day to navigate. But you drive the conversation.
Nice job trolling us (good naturedly, of course) with the J.D. Drew/Trot Nixon question the other day. I think I've got a better one in the same genre. Who is more deserving of having the No. 24 retired in his honor, Dwight Evans or Manny Ramirez? You can't say both. We're making the rules now, Finn – Erik H.
I can't say both? C'mon, how much fun would a dual Manny/Dewey number retirement ceremony be? You could even invite random No. 24s through the years to be part of it – Joe Lahoud, Shane Mack, Fireball Fred Wenz, even David Price. Are we sure there's no way of making this happen? It's gotta be Manny or Dewey?
All right, then there's only one way to solve this. Tale of the tape:
Dwight Evans: Nineteen seasons with Red Sox (1972-1990) … One season in the bright orange of Baltimore (1991) … Slashed .272/.369/.473 with 379 homers with Red Sox … 127 adjusted OPS … Eight Gold Gloves in right field … He's 65, looks 45, and would still cut your sorry butt down trying to go from first to third if you were so foolish as to try … Had three seasons with an OBP over .400 … Led the American League in walks three times … Broke into majors at age 20 in '72 after putting up .300/.409/.482 slash line at Triple A … Would have been a darling of the prospect mavens had there been any besides Gammons in those days … Had a mustache that made Burt Reynolds sad with envy … Better all-around player than longtime teammate and Hall of Famer Jim Rice … Lasted just three years on the Hall of Fame ballot, which is equal parts shameful and ridiculous.
Manny Ramirez: Seven-and-half-seasons with the Red Sox (2001-2008) … Spent eight seasons with Cleveland prior to signing an eight-year, $160 million deal with the Red Sox in December 2000 that is one of the few successful big-ticket free agent deals in baseball history … Bounced from the Dodgers to the Rays to the White Sox and even the A's Triple A club late in his career, leaving a couple positive PED tests in his wake … Slashed .312/.411/.588 with a 155 adjusted OPS in Boston … Hit 274 regular-season home runs, including more than 40 in a season three times … Won the 2002 AL batting crown (.349) … Drove in 155 runs in 2005 … Was MVP of franchise's first World Series title in 86 years, which was kind of a big deal … Blasted a walk-off home run off Francisco Rodriguez in Game 2 of the 2007 ALDS that has never returned to earth and has thus far passed three undiscovered planets ….
… Was probably the goofiest player ever to wear a Red Sox uniform … Cut off a throw from center fielder Johnny Damon, disappeared behind the Wall another time, high-fived a fan while making a catch, and at his best played with a joy that teetered on cluelessness … A hitting savant who also worked hard at his craft … Poor defender, poor baserunner, and a poor teammate during petulant times … Will probably not make it into Cooperstown because of PED links, though he'd get this vote.
Verdict: Are we sure I can't say both? I want to say both. Hell, I want to say both for Cooperstown. But if you're making me pick one … Manny. Evans was one of the most admired players in Red Sox history. Manny helped changed Red Sox history. I suspect there will be disagreement – and maybe a vote or two for another No. 24, ol' Don Buddin – in the comments.