Sports Q
Which all-time Red Sox closer would you want on the mound with everything on the line?
Debate the answer with Chad Finn and Boston sports fans at The Sports Q.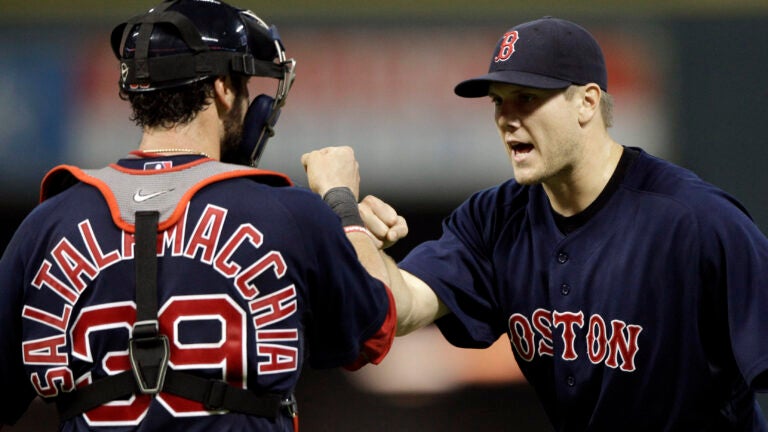 Welcome to Boston.com's Sports Q, our daily conversation, initiated by you and moderated by Chad Finn, about a compelling topic in Boston sports. Here's how it works: You submit questions to Chad through Twitter, Facebook, email, his Friday chat, and any other outlet you prefer. He'll pick one each day (except for Saturday) to answer, then we'll take the discussion to the comments. Chad will stop by several times per day to navigate. But you drive the conversation.
Game 7 of the World Series, bases loaded, two outs, ahead by a run, best hitter on the other team is at the plate, highest-leverage situation imaginable. Which Red Sox closer of all time would you want on the mound? Don't say Heathcliff Slocumb, [wiseguy]. – Dan B.
Well of course I wouldn't say Heathcliff Slocumb, silly. He was long ago sent to Seattle in a deal that brought the catcher who is trying to help the pitcher navigate out of this mess. In such a tense scenario, we definitely want Jason Varitek behind the plate, right?
I think this is an easy one, but first, let's eliminate a couple of guys.
Kimbrel wouldn't be the choice. That 14.1 K/9 rate in 2016 is superb, but he also walked 5.1 batters per nine. He might just walk in the winning run.
Jeff Reardon, Lee Smith, Rick Aguilera, and Bill Campbell, among others of note, are all eliminated in the first round.
Calvin Schiraldi and Bob Stanley? Get out of here with that. Who are you, Keith Hernandez?
Tom Gordon? He did convert 45 straight save opportunities in '98, but then blew a big one to the Indians in the playoffs. And as a Yankee, he was quite helpful to the Red Sox in '03. Sorry, Flash.
Dick Radatz? A little too wild. Plus, his arm was probably throbbing after throwing 150 pitches over three days. Sorry, Monster.
Jonathan Papelbon is the second runner-up. Had killer stuff, pounded the strike zone, and got it done in '07 (though with a little drama at the end of Game 4).
First runner-up: Koji Uehara. He had a 0.81 WHIP during his four seasons with the Red Sox. He wasn't walking anyone, and no one was hitting him. The man eliminated drama; no closer ever put Red Sox fans more at ease. Man, I wish he was still here.
But doesn't the choice have to be Keith Foulke? He got arguably the biggest outs in contemporary Red Sox history, over the final four games of the 2004 ALCS and the four-game sweep in the World Series. He was utterly fearless and should have been the '04 World Series MVP. With everything on the line, I want the ball in his hand. And hell, give me Mike Timlin setting him up, too.
You with me? Would Keith Foulke be your closer choice in theoretically the tensest moment in Red Sox history? Or would you give it to Koji, Pap, or perhaps even Mark Clear? (Definitely not Mark Clear.) I've set you up here. Let's finish the conversation in the comments or chime in on Facebook.