Red Sox
Should the Red Sox fast-track Rafael Devers to the majors?
Debate the answer with Chad Finn and Boston sports fans at The Sports Q.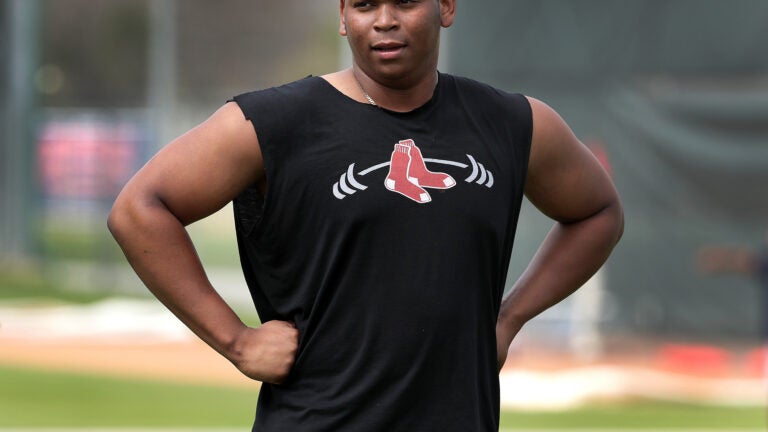 Welcome to Boston.com's Sports Q, our daily conversation, initiated by you and moderated by Chad Finn, about a compelling topic in Boston sports. Here's how it works: You submit questions to Chad through Twitter, Facebook, email, his Friday chat, and any other outlet you prefer. He'll pick one each day (except for Saturday) to answer, then we'll take the discussion to the comments. Chad will stop by several times per day to navigate. But you drive the conversation.
Should the Red Sox fast-track Rafael Devers to the majors? He's their best prospect, he's crushing it in Portland and third base is a dumpster fire. It worked with Andrew Benintendi. Why not be aggressive? It can't be worse. – Rich O.
Yeah, we got into the disastrous state of the Red Sox' third base situation here at the Sports Q on Thursday. There may have even been a Wilton Veras reference, which tells you the level of desperation we're dealing with here. Maybe Luis Ortiz is still in Pawtucket? Ted Cox? Cole Liniak? Someone should check on this.
So yesterday I dismissed the idea of bringing up Devers, the 20-year-old third baseman and a consensus top 20 prospect in baseball, even though he's raking in Portland (.333/.366/.590) and is reputed to be an excellent defensive third baseman.
I've thought about it more — the prospect of a Josh Rutledge/Chase D'Arnaud platoon make a man contemplate things — and I'm sticking with the belief that it would be a mistake to rush Devers, even though I do understand why fans might want to accelerate him.
That fast track has worked with Benintendi, who has a .300/.362/.452 slash line as a major leaguer and looks like he's been here for a decade. But he was a more polished prospect, with the potential to possibly become a generational talent. He set a bar that few prospects should attempt to reach, let alone are capable of achieving.
Instead, consider Mookie Betts, who is a decent ballplayer himself. In 2014, he played 53 games at Portland as a 21-year-old, slashing .355/.443/.551 before moving up to Pawtucket. In 45 games there, he continued to rake: .335/.417/.503. The final third of his season, essentially, was spent in Boston, where he again succeeded, delivering a .291/.368/.441 line in 52 games.
His success on that rapid path might look like a reason to speed Devers along. I don't think it is. Betts and Benintendi were both a year older than Devers is now when they got to Boston. They also were much more patient at the plate — Devers has just 4 walks to 17 strikeouts this season in 82 plate appearances — and better-conditioned athletes.
It's easy to forget now, but Betts did struggle initially, hitting .228 through his first 63 plate appearances while taking a couple of trips on the Pawtucket shuttle while learning how to play the outfield. There's no doubt in my mind that the Devers, who has spent a season of developmental time at each level so far, would struggle right away.
You know what the big promotion for Devers should be this year? To Pawtucket, maybe midway through the season, presuming he keeps hitting like this.
I suppose the argument can be made that the Red Sox' third base situation can't be worse. But it can. Devers could be hurried to the big leagues, only to fall on his face initially and have to deal with failure and self-doubt.
He's the long-term solution at third base, if Dave Dombrowski doesn't trade him and six other Sea Dogs for Todd Frazier or Mike Moustakas. Let's be patient in the short-term until we know for sure he's ready.
What do you guys say? Should the Red Sox fast-track Devers? Or is patience the way to go? Take your cuts in the comments.