Sports Q
How should the Celtics use the No. 1 pick?
Debate the answer with Chad Finn and Boston sports fans at The Sports Q.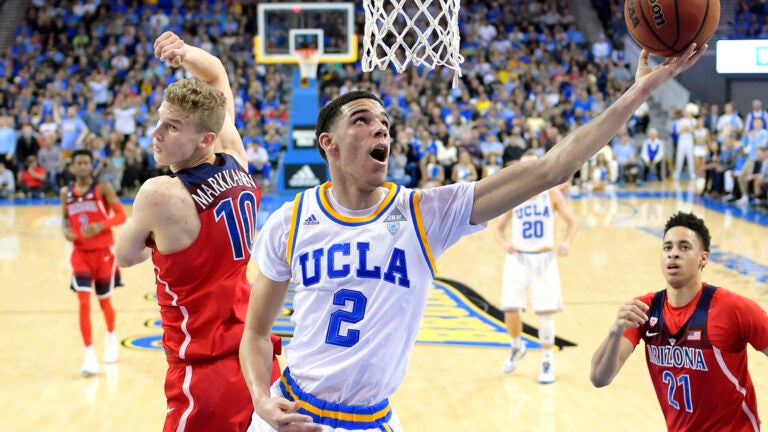 Welcome to Boston.com's Sports Q, our daily conversation, initiated by you and moderated by Chad Finn, about a compelling topic in Boston sports. Here's how it works: You submit questions to Chad through Twitter, Facebook, email, his Friday chat, and any other outlet you prefer. He'll pick one each day (except for Saturday) to answer, then we'll take the discussion to the comments. Chad will stop by several times per day to navigate. But you drive the conversation.
Who's it going to be, Danny? Markelle Fultz? Lonzo Ball? A trade? And do you think we'll know who the pick is for sure before the draft? – Keith D.
Man, it still seems surreal that the Celtics actually won the lottery, doesn't it? Thought for sure the Lakers were going to end up with that No. 1 spot when we saw Magic standing there grinning alongside Joel Embiid (who should host the thing — he was hilarious) and Celtics owner Wyc Grousbeck. Doesn't quite make up for 1997 and 2007, but it will do.
It's gotta be Fultz, doesn't it? I don't think they're trading the pick — we saw Jimmy Butler's flaws in the Bulls series, and Paul George wouldn't be here long. The conventional wisdom pretty much all season has been that Fultz is clearly the best player in a talent-rich top of the draft, a complete package offensively whose skill-set is an ideal fit in today's NBA. I saw one mock draft that got cute and had the Celtics taking Duke's Jayson Tatum. I'm pretty sure Ainge likes him, but I doubt he'd take him over Fultz.
That said, Ainge had better call Magic and tell him he's taking Lonzo Ball. Let's see what Magic offers. It starts with Brandon Ingram and the No. 2 pick, Earvin.
What do you guys think? What will the Celtics do with the No. 1 pick? Let me know in the comments.