Sports Q
Is Jackie Bradley Jr. the best defensive center fielder in Red Sox history?
Debate the answer with Chad Finn and Boston sports fans at The Sports Q.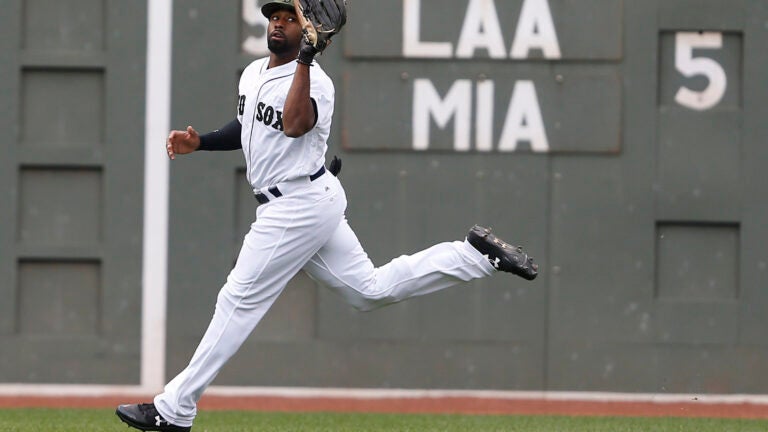 Welcome to Boston.com's Sports Q, our daily conversation, initiated by you and moderated by Chad Finn, about a compelling topic in Boston sports. Here's how it works: You submit questions to Chad through Twitter, Facebook, email, his Friday chat, and any other outlet you prefer. He'll pick one each day (except for Saturday) to answer, then we'll take the discussion to the comments. Chad will stop by several times per day to navigate. But you drive the conversation.
I was pretty sure of it already, but the three great catches on Saturday convinced me even further. Jackie Bradley Jr. is the best defensive center fielder the Red Sox have ever had. Agreed? – Tim O.
Agreed, at least among those I have seen, which goes back to 1978. I'm just going to have to assume he was better than Dom DiMaggio and the rest of the old-timers.
Bradley is obviously a streaky hitter, but I don't get Sox fans who want him moved. His defense is extraordinary, and isn't that fun to watch? I saw enough Dwayne Hoseys in center field at Fenway through the years to appreciate a defensive genius when I see one.
Here are the top-five best defensive center fielders the Red Sox have had in my lifetime.
5. Coco Crisp, 2006. Or was it '07? I think it was '06. He had one absolutely brilliant season with the leather here, but loses points for the noodle arm. That's also why Johnny Damon and Jacoby Ellsbury aren't on the list.
4. Darren Lewis. Steady as it got, and backup Damon Buford was also excellent.
3. Ellis Burks. Had the additional obstacle of having to dodge lunatic left fielder Mike Greenwell.
2. Fred Lynn. For someone perceived as fragile, he was as fearless as he was graceful in running down fly balls.
1. Bradley. And it's not close.
You with me? Or is there someone I forgot. Have at it in the comments.