Sports Q
Who are the three best outfielders in Red Sox history?
Debate the answer with Chad Finn and Boston sports fans at The Sports Q.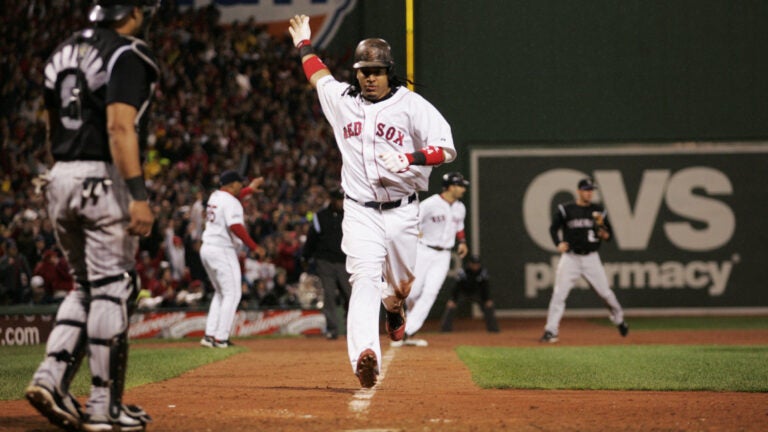 Welcome to Boston.com's Sports Q, our daily conversation, initiated by you and moderated by Chad Finn, about a compelling topic in Boston sports. Here's how it works: You submit questions to Chad through Twitter, Facebook, email, his Friday chat, and any other outlet you prefer. He'll pick one each day (except for Saturday) to answer, then we'll take the discussion to the comments. Chad will stop by several times per day to navigate. But you drive the conversation.
I was kicking around a topic with a friend and figured I'd pass it along. What would be the all-time Red Sox outfield, disregarding center, left and right distinctions? I'd imagine Ted Williams is unanimous, but who joins him? Carl Yastrzemski? Jim Rice? Tris Speaker? Manny Ramirez? Someone I'm missing? – Drew B.
Yeah, there's someone you're missing. This is obvious: It's Ted, Yaz, and David Jonathan Drew. You know him as J.D.
Easiest Sports Q ever. Now on to more pressing topics.
So do you think the Celtics can put together a package for Porzing …
.. oh, all right, I hear you out on other non-J.D. options, I guess. We'll take a break from the NBA chatter for a day.
There are a couple of ways we can go with this beyond  Williams and Yastrzemski, who locked down left field at Fenway consecutively for roughly 40 years and are 1-2 in franchise history in Wins Above Replacement.
If you're just basing it on WAR, Dwight Evans would be the third choice: He's sixth in Red Sox history at 66 WAR, behind Williams (123!), Yaz (96), Roger Clemens, Wade Boggs and Cy Young.
If you want to pay homage to the left-field lineage, Jim Rice is a decent choice (47). I'm partial to Manny (33 WAR — defense matters, kids), but he is worth fewer WAR than the underrated Reggie Smith (38). Speaker and Harry Hooper are also worthy of consideration. Dwayne Hosey is not.
I think I'd go with Rice as the third option, because of that left-field tradition, his Hall of Fame status, and because he signed a baseball card for me when I was 8. Hey, I admit my biases.
But what do you guys say? What is the all-time Red Sox outfield, ignoring positional designations? Anyone who says Trot Nixon gets beaned. I'll hear you in the comments.