Sports Q
Should the Red Sox try to trade for Giancarlo Stanton?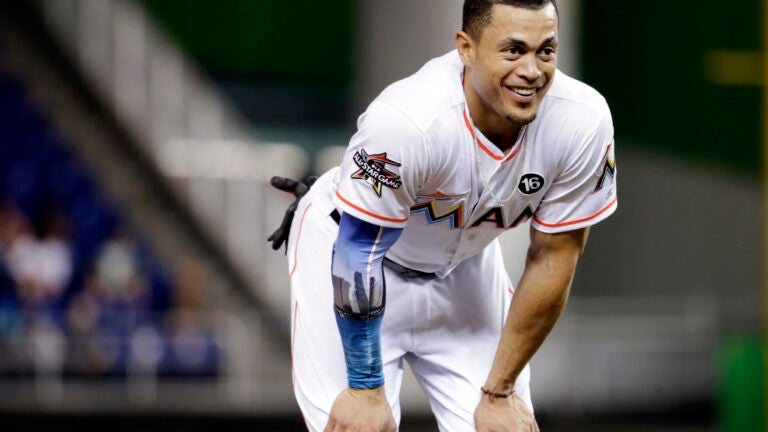 Welcome to Boston.com's Sports Q, our daily conversation, initiated by you and moderated by Chad Finn, about a compelling topic in Boston sports. Here's how it works: You submit questions to Chad through Twitter, Facebook, email, his Friday chat, and any other outlet you prefer. He'll pick one each day (except for Saturday) to answer, then we'll take the discussion to the comments. Chad will stop by several times per day to navigate. But you drive the conversation.
Since Giancarlo Stanton has cleared waivers, I thought of you because you wrote 5,000 columns about him a couple of years ago. Think there's any chance the Red Sox will go after him now? And what would they give up? I'd give up Xander Bogaerts for starters. – Pat T.
Um … thanks? I'm pretty sure I wrote only 4,000 or so, for the record. And maybe only a couple of hundred when he was still going by Mike. You find a cause, you gotta be loyal to it, man.
That was an interesting time, post-2013. I had heard from a very good source that Ben Cherington's long-term plan was to acquire either Stanton or Jason Heyward (yikes) and build around either of them and Bogaerts.
You have to figure now it's a blessing it didn't happen, if only because Mookie Betts presumably would have been one of the prospects headed to the Marlins.
Stanton certainly seems like someone Dombrowski would covet – he wouldn't be the first prime-of-career Marlins slugger he acquired, and the Miggy Cabrera blockbuster worked out rather well for the Tigers. And Stanton went Full Beast this year, slugging 59 homers, which felt like about as many as the Red Sox had as a team. (They actually had 168).
Can't see how it happens, though, unless Derek Jeter is as bad at running the Marlins as he was at going to his left. Stanton's famous $325 million contract isn't going to look terrible in a couple of years when Mike Trout or Bryce Harper gets a half-billion, and yet I can't see the Red Sox taking on that kind of financial commitment now, with so many quality young players due to get salary bumps a few years from now. Plus, you know Jeter would put a Red Sox tax on any deal and ask for the likes of Andrew Benintendi, Rafael Devers and more in return.
I'm glad Stanton is having a huge year. It would be cool to see him on the Red Sox. But this is not the time. Now watch Jeter trade him to the Yankees …