Sports Q
Do you approve of the Celtics' trade for Kyrie Irving?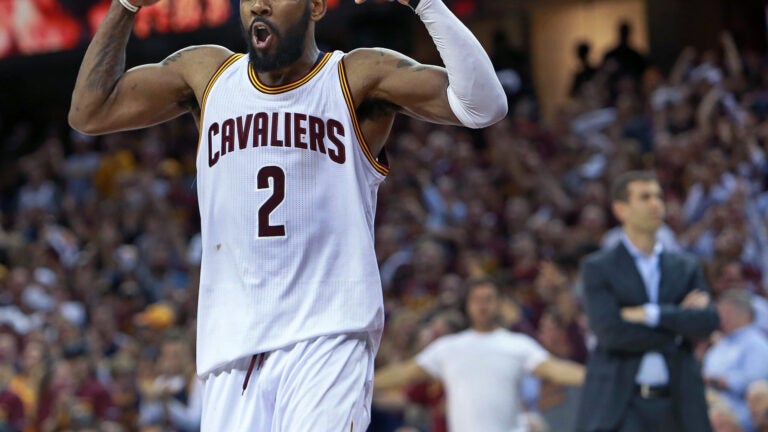 Welcome to Boston.com's Sports Q, our daily conversation, initiated by you and moderated by Chad Finn, about a compelling topic in Boston sports. Here's how it works: You submit questions to Chad through Twitter, Facebook, email, his Friday chat, and any other outlet you prefer. He'll pick one each day (except for Saturday) to answer, then we'll take the discussion to the comments. Chad will stop by several times per day to navigate. But you drive the conversation.
Thoughts on the trade? I feel like the Celtics won it because they got the best player. But they gave up a lot and it hurts to see Isaiah Thomas go. You like the deal? – Josh P.
I like the deal, as much as they gave up (gonna be weird rooting for the Nets to win for once) and as admirable as Isaiah Thomas is on and apparently off the court.
I won't get too deep into it here since I wrote about it at length in a column this morning. But here's the gist of why I can't wait to see how Brad Stevens utilizes Kyrie Irving:
Irving is a slightly superior player to Thomas, and he's certainly a more conventional star. He's also three years younger, is signed two years longer, has made four All-Star teams, won an Olympic gold medal, and a championship too. He's the most creative finisher in traffic I have ever seen among guards, and he literally won the championship, burying the winning jumper in Steph Curry's face to defeat a 73-win team in the seventh game of the 2016 Finals. Thomas might be capable of the same thing. But Irving has done it. In pure talent and achievement so far, Irving is an upgrade.
We won't really know who won the trade for a couple of years, of course. Who will the Cavs get with that Nets pick? Is Thomas's hip healthy? Will he stay with the Cavs beyond this season? Will Irving commit to defense here?
Can't wait to start getting some answers. What do you guys think? Do you approve of the Celtics' trade for Kyrie Irving?