Sports Q
Did the Red Sox make a mistake in not recalling Bryce Brentz?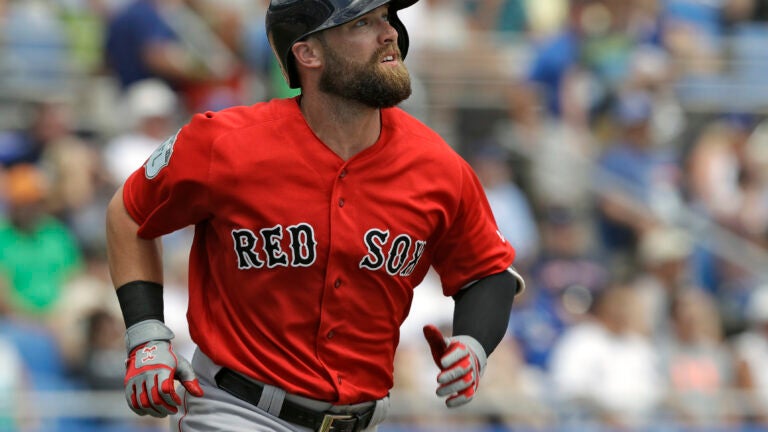 Welcome to Boston.com's Sports Q, our daily conversation, initiated by you and moderated by Chad Finn, about a compelling topic in Boston sports. Here's how it works: You submit questions to Chad through Twitter, Facebook, email, his Friday chat, and any other outlet you prefer. He'll pick one each day (except for Saturday) to answer, then we'll take the discussion to the comments. Chad will stop by several times per day to navigate. But you drive the conversation.
Why didn't the Red Sox call up Bryce Brentz? It makes no sense. Makes you wonder about their sense of urgency. Starting to get a September 2011 feel from this team. – Kevin S.
Well, if Brentz is the difference between winning the division – and they do have a 2½ game lead despite their sluggish recent play — and another all-time of a collapse, they're probably doomed. The regulars who have been here all along – Mookie Betts, Xander Bogaerts, Andrew Benintendi, and so on – are going to determine their fate.
I do agree that Dave Dombrowski's decision not to recall Brentz when the rosters expanded is a curious one. They'd have to add him to the 40-man roster, but removing Henry Owens or Kyle Martin shouldn't be an issue. Those are not ghosts capable of haunting if they got claimed on waivers. The once-promising Owens has become Bobby Sprowl.
The Red Sox have struggled against lefties this year, particularly the hitters (Hanley Ramirez, Chris Young) who are supposed to mash southpaws. Young is on this roster to hit lefties, and as Peter Abraham pointed out, he has four RBIs against them this year. Four. That's a joke.
Perhaps Brentz could run into one and deliver a big hit against a lefty at some point over the next couple of weeks. But let's not exaggerate what he is as a player. He's a 28-year-old one-dimensional Quadruple A slugger who has spent parts of six seasons at Pawtucket. He was a prospect once, back when Will Middlebrooks was considered the future at third base. That was a long time ago.
In more than 1,500 plate appearances in Triple A, he owns a .255/.318/.463 slash line. Yes, he hit 31 homers this year. That's a lot. But you know who owns the single-season PawSox home run record? It's not some slugger en route to stardom like Jim Rice, Fred Lynn, or even Hanley Ramirez. It's three guys: Earl Snyder (2004), Jack Baker (1976), and Izzy Alcantara (2001), each with 36. That's Brentz's company: He's a little too good for Triple A, but not good enough to take the next step.
Dombrowski should have added him to the roster, just to see if there's some bottled lightning in his bat in a spot against a lefty. But the decision not to won't affect the season. That's up the players who have made 2017 successful and frustrating at once, with the final verdict on who they are coming soon.
What do you guys think? Did the Red Sox make a mistake in not recalling Bryce Brentz? I'll see you in the comments.