Sports Q
With a strong playoff performance, can David Price win over Red Sox fans?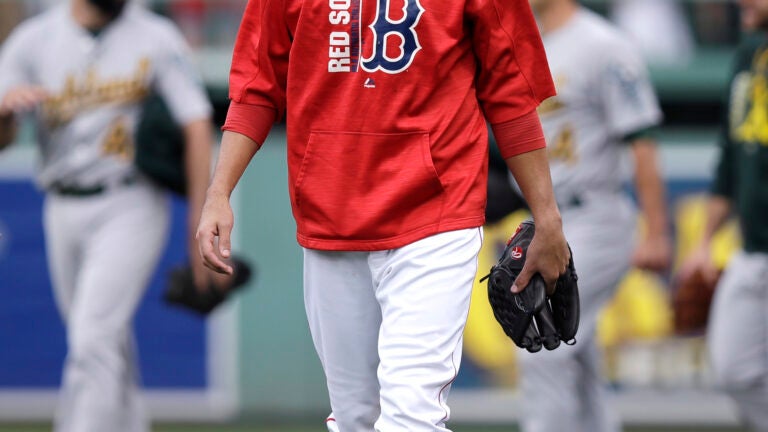 Welcome to Boston.com's Sports Q, our daily conversation, initiated by you and moderated by Chad Finn, about a compelling topic in Boston sports. Here's how it works: You submit questions to Chad through Twitter, Facebook, email, his Friday chat, and any other outlet you prefer. He'll pick one each day (except for Saturday) to answer, then we'll take the discussion to the comments. Chad will stop by several times per day to navigate. But you drive the conversation.
If David Price comes back and pulls a Lackey in '13, Do you think people are still going to hate him? – Jamie F.
I suppose now he would have to pull an Andrew Miller in '17 to win the majority of the fans over, since the plan is to pitch him out of the bullpen going forward. It's going to be fascinating to see how this plays out, because there is a chance that he can be an enormous help.
He was pitching very well right up until his last start before he went on the disabled list, and his stuff looked as good as it has since he's been here. If he's really healthy, maybe he can dial it up even more than he did as a starter. That's an incredible weapon to have in the bullpen, provided – and I know, this is a big factor – that John Farrell uses him correctly. Hey, he might be 0-8 as a starter in the playoffs. But he does have two wins in relief!
To actually answer the question, though: The only thing we like nearly as much as parades around here is telling each other what a tough place this is to play. You've got to prove it to us! It's kind of absurd, really.
John Lackey has been a bulldog his entire career. He won Game 7 of the World Series as a rookie. The reason he flopped when he got here is that his elbow was falling off its hinges. He got healthy, and he got good again. His personality didn't change. We didn't harden him. And he always seemed to resent that he had to win fans over in '13.
Price's personality is more in question, but ask J.D. Drew if he can get big outs in the playoffs. If he's healthy, he'll help a lot. But he's not going to entirely convince his naysayers that he can make it work here until he does it as a starter. And let's face it, there are a lot of fans who resent him for reasons beyond his performance, starting with his massive salary. He's still going to have a lot of haters, unless he pulls a Miller and the Sox win the World Series.
What do you guys think? If David Price excels in the playoffs, like John Lackey did in '13, will that win fans over? I'll hear you in the comments.