Sports Q
Which NBA player past or present does Jayson Tatum remind you of?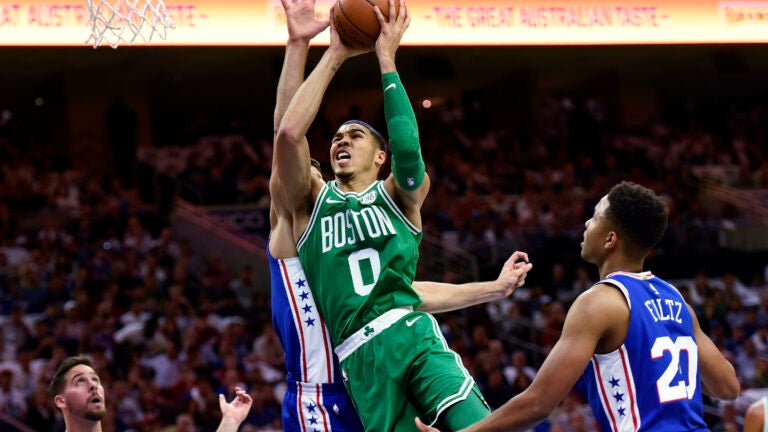 Welcome to Boston.com's Sports Q, our daily conversation, initiated by you and moderated by Chad Finn, about a compelling topic in Boston sports. Here's how it works: You submit questions to Chad through Twitter, Facebook, email, his Friday chat, and any other outlet you prefer. He'll pick one each weekdayto answer, then we'll take the discussion to the comments. Chad will stop by several times per day to navigate. But you drive the conversation.
Question: Which current or former NBA player does Jayson Tatum remind you of?
This one doesn't come from a reader, but rather from a discussion (a civil one, too!) on Twitter after the Celtics rookie's 22-point, 4-rebound, 4-steal gem against the Knicks Tuesday night.
It's pretty easy to get carried away projecting greatness on the 19-year-old out of Duke. He's averaging 14.8 points per game, and he's playing with a confidence and poise that suggests a player who has been succeeding in the league for years rather than weeks. His playing style is the embodiment of that John Wooden adage, be quick but don't hurry.
The last Celtics rookie I remember fitting in so quickly was Joe Johnson in 2001-02, and Tatum is surpassing his performance. Johnson averaged 6.3 points per game with the Celtics – you thought it was more, didn't you? – before he was traded to the Suns for Tony Delk and Rodney Rogers after 48 games.
Some of the suggested comps for Tatum on Twitter: Jamaal Wilkes (the smoothness is reminiscent, though Tatum's shooting form is less distinctive than Silk's behind-the-ear shot), James Worthy (he was longer and more explosive), Alex English (aesthetically, this one fits really well), Carmelo Anthony (more herky-jerky pure-scorer power in Melo's game), and Paul Pierce (the stepback and the poise are reminiscent, though the young Truth was more physical).
As you can see, the bar is not being set especially low for young Mr. Tatum four games into his NBA career. He does look like a future star, and he's already showing flashes of being one in the present. But the comps to NBA all-time greats are just a bit premature. They're also irresistible.
So who do you have? Who does Jayson Tatum remind you of? I'll stick with the English comp for now, until you guys give me something better. I'll hear you in the comments.