Sports Q
Who would you rather have on the Celtics, Jayson Tatum or Jaylen Brown?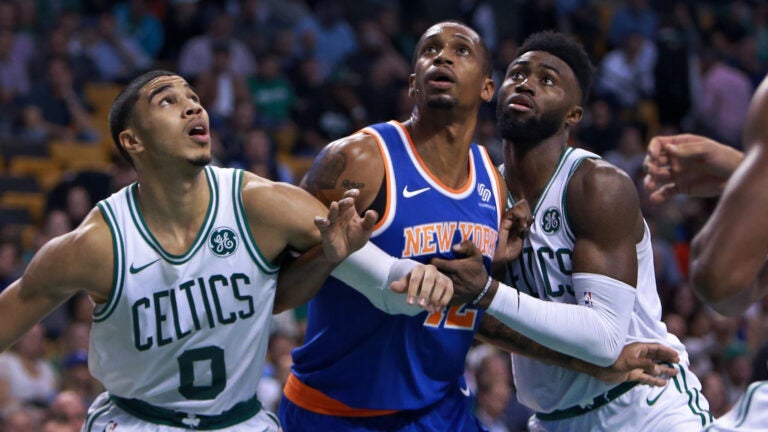 Welcome to Boston.com's Sports Q, our daily conversation, initiated by you and moderated by Chad Finn, about a compelling topic in Boston sports. Here's how it works: You submit questions to Chad through Twitter, Facebook, email, his Friday chat, and any other outlet you prefer. He'll pick one each weekday to answer, then we'll take the discussion to the comments. Chad will stop by several times per day to navigate. But you drive the conversation.
Jayson Tatum and Jaylen Brown both look like they'll be part of the next great Celtics team. Good job, Danny. But if they could keep only one for the next six years or so, who would it be? Has to be Tatum, right? – Kevin R.
"Good job Danny" is right. Turns out the guy is pretty good at utilizing No. 3 overall picks.
Yeah, I think it's Tatum. He's just 19, and he's already so poised and polished. When he adds strength and a little more of that Paul Pierce savvy, he's going to be a perennial All-Star. I hope Markelle Fultz has a great career and doesn't turn out to be, you know, Antonio Daniels or someone like that. (And I don't think he will. He's going to be fine once he can lift his shooting arm above his head.) But there will never be any second thoughts about Ainge's decision to target Tatum. He's the real deal, and a big reason this team is the real deal.
Say this for Brown, though. He's more athletic than Tatum, he's bright, and he works hard. If he keeps progressing year-to-year at a rate even slightly resembling his leap from his first NBA season to his second, he's going to be an All-Star, too. He's a live wire right now, capable of posterizing any big man in the league, but he still needs to tighten up his ballhandling and let the game come to him a little more. In terms of development, he's come a long way already, yet he's less refined than Tatum. He seems like the younger player.
Like 'em both a lot. But if I have to choose one, give me Tatum. Suspect many of you will agree. But I'll hear you in the comments.