Sports Q
Will the Red Sox sign J.D. Martinez?
Debate the answer with Chad Finn and Boston sports fans at The Sports Q.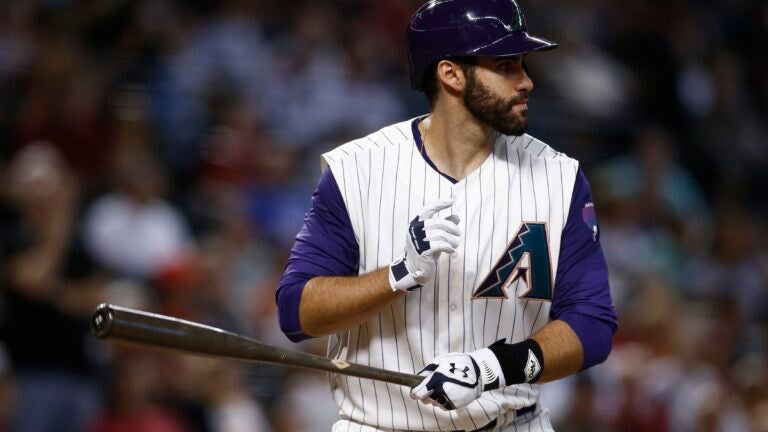 Welcome to Boston.com's Sports Q, our daily conversation, initiated by you and moderated by Chad Finn, about a compelling topic in Boston sports. Here's how it works: You submit questions to Chad through Twitter, Facebook, email, his Friday chat, and any other outlet you prefer. He'll pick one each weekday to answer, then we'll take the discussion to the comments. Chad will stop by several times per day to navigate. But you drive the conversation.
Are the Red Sox going to sign J.D. Martinez or not? I'm starting to get nervous that Dave Dombrowski is overplaying his hand and the Red Sox are going to get stuck with a big hole in the middle of the lineup again. –Pat B.
I see it sort of the opposite way, Pat. The longer this goes on, the better I like their chances. That's not how I felt at the beginning of free agency. We're well aware of Dombrowski's usual approach to free agency: target a few specific players, then go out and pay them the expected going rate, if not a little more. It was unexpected that he didn't take a similar approach at the beginning of the month, when the Red Sox have typically made their biggest moves in recent years. I took it as a sign that they weren't going to be especially active.
Instead, it's starting to look like patience might have been the right approach to take. Yes, Scott Boras, Martinez's agent, is typically patient himself until he gets what he wants. But given that many of the league's highest-payroll teams are either trying to get under the luxury tax threshold or would consider Martinez a luxury rather than a necessity, I'm not sure the market for Martinez is going to develop beyond the Red Sox and the Diamondbacks, and the latter would probably have to clear salary to bring him back.
I'm sure Dombrowski would love to sign him. He knows the player well, having salvaged him in Detroit after he was released by the Astros. But the presumed 7-year, $200-million-plus deal that Martinez is reportedly looking for is too steep for a player entering his age-31 season. The market really hasn't developed for many free agents so far this winter. Carlos Santana ($60 million, Phillies) and Zach Cozart ($38 million, Angels) are the only hitters  who have received decent money by MLB standards to change teams this winter. I don't think it's collusion. I think it's that front offices have gotten smarter and more patient.
I'm sure Boras will do his Mystery Team routine with Martinez sometime soon. But I don't think his ultimate destination will be any mystery at all, unless he decides to stay with Arizona for far less money than he was expecting to get when he hit the market. I like the Red Sox' chances and believe he will end up here. I think they do too, even as they play it patiently for once.
What do you guys think? Will J.D. Martinez sign with the Red Sox? I'll hear you in the comments.