Sports Q
Who was the most important player from the champion 2008 Celtics?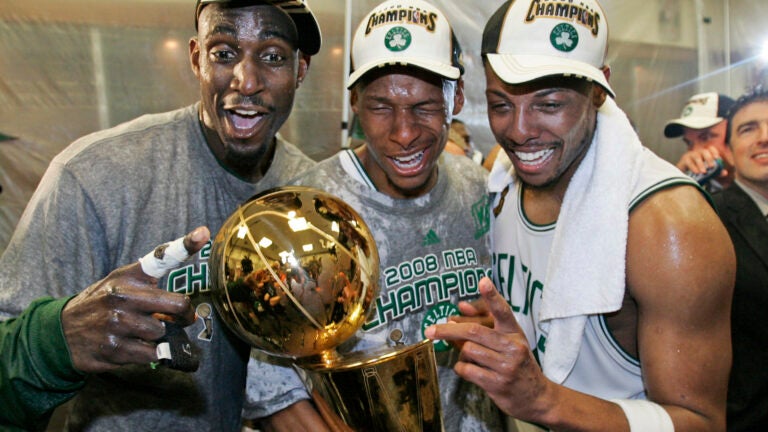 Welcome to Boston.com's Sports Q, our daily conversation, initiated by you and moderated by Chad Finn, about a compelling topic in Boston sports. Here's how it works: You submit questions to Chad through Twitter, Facebook, email, his Friday chat, and any other outlet you prefer. He'll pick one each weekday to answer, then we'll take the discussion to the comments. Chad will stop by several times per day to navigate. But you drive the conversation. 
"Carried" is too strong of a term, but [Rajon] Rondo has just as much to do with [the 2007-08 Celtics' championship] run than any of the big 3. — Tim K (via Twitter)
I know, this is a statement rather than a question. But the genesis of that comment will bring us to the question, and it's an interesting one to explore.
Sean Deveney, the Sporting News's excellent NBA writer, dropped a couple of Celtics-related tidbits from Ray Allen's new book on Twitter this morning, including this gem:
Ray Allen has a lot of interesting things to say in his new book, but mostly about the drama that ended his time in Boston, including the time Rajon Rondo told the team, "I carried all of you to the championship in 2008."https://t.co/xNhjqsYbU2

— Sean Deveney (@SeanDeveney) March 12, 2018
That's typical Rondo right there. His brashness was part of his appeal — he never backed down from anything — and one of the reasons he could drive fans, teammates, and coaches nuts.
He is also wrong, of course. But that leads to the question: Who was most responsible for the Celtics' championship run 10 years ago? (Yes, it has been that long.)
I'd break it down into tiers:
Tier A: Paul Pierce, Kevin Garnett. Garnett was the player who changed the culture with his obsession with winning, his ferocious defense, and his unselfishness. But they wouldn't have won without Pierce, either. Not many players stare down LeBron James in a big moment and come out on top. Pierce did in Game 7 of the Eastern Conference Finals. Garnett and Pierce needed each other, and the title wouldn't have been possible without them.
Tier B: Ray Allen. He had his inconsistent moments (he shot 4 for 13 in a Game 5 loss to the Lakers in the Finals), but he bounced back with 26 in the clincher. Allen sacrificed the most to become one of the big three — Pierce got many of the shots that Allen had been accustomed to getting in his previous stops — but the Celtics don't win without him, either. Plus, he nearly made Sasha Vujacic cry. He gets bonus points for that.
Tier C: Rondo, James Posey. Rondo supplied 21 points, 8 assists, 7 rebounds, and 6 steals in the clincher, Game 6 of the Finals, but he also shot 20 for 53 overall in the Finals while playing just 17 minutes in Game 4 and 14 in Game 5. He wasn't as good in the Finals as he remembers. Posey hit some huge shots along the way and became a respected emotional leader, along with Garnett.
Tier D: Kendrick Perkins, Eddie House. Two players who couldn't be more different. But they were both important in their specific roles: Perk as the banger, House as the designated gunner.
Tier E: P.J. Brown, Leon Powe. Brown was Mr. Dependable and hit a couple of huge shots against the Cavs in the East finals. Powe scored 21 points in 15 minutes in Game 2, making Lakers coach Phil Jackson very sad.
Tier F: Everyone else but Gabe Pruitt.
Tier G: Gabe Pruitt.
Sorry, Rajon, but Garnett and Pierce were the co-most important players in '08. But you mattered too, and the memories of that team only grow fonder as the years pass.
But what do you think? Who was the most important player on 2008 Celtics? I'll hear you in the comments.