Sports Q
Will David Price ever win over Red Sox fans?
Debate the answer with Chad Finn and Boston sports fans at The Sports Q.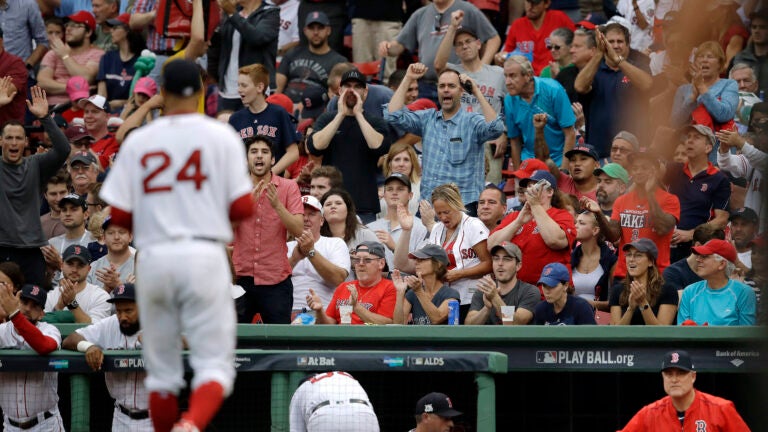 Welcome to Boston.com's Sports Q, our daily conversation, initiated by you and moderated by Chad Finn, about a compelling topic in Boston sports. Here's how it works: You submit questions to Chad through Twitter, Facebook, email, his Friday chat, and any other outlet you prefer. He'll pick one each weekday to answer, then we'll take the discussion to the comments. Chad will stop by several times per day to navigate. But you drive the conversation.  
Pablo Sandoval comes close, but I can't think of a recent Boston athlete who has given fans more of a reason to dislike him than David Price. Can you imagine Jon Lester missing a start against the Yankees because he got a minor injury that might have come from playing a video game? Or having to come out of a start against the Yankees because his hand was cold? I really thought he'd turned a corner with his great work out of the bullpen in the playoffs last year, but it's back to the same old weird stuff with him. Do you think he ever wins over Red Sox fans again?
Sure he can win over fans. All it should take is playing on their team for a turn in Fortnite. Victory Royale for everyone! Actually, he'd probably bow out once he saw the storm coming.
The solution for Price to win over the fans is obvious, because we've already seen it before, briefly. He needs to pitch well in big moments, like he's being paid a lot of money to do.
Remember, he got huge cheers at Fenway last October after pitching so well out of the bullpen in Game 3 against the Astros. He'd get them on his side again if he can somehow start to perform like he did … well, basically every year until he joined the Red Sox.
Listen, Boston sports fans (and media) like talk about how tough it is to play here, and that's mostly true. But Boston fans also love a good redemption story, and there are few better redemption stories than watching a player who had it tough here push through the bad times to become a well-liked and even beloved player.
I'm not saying Price can become Derek Lowe '04. But if he can somehow avoid mild carpal tunnel and Chilly Hand Disease to blow away the Yankees once in a while and generally perform like a pitcher who annually received Cy Young votes not that long ago, Red Sox fans will grow to like him.
But he's got a long way to go to get there, and it doesn't look like he's even on the right track yet.
One last thought:  As beloved as Jon Lester is around here, he's probably not the best example of someone who did everything right given that he was a prime culprit in the chicken-and-beer saga in 2011.
What do you guys think, fans? Can David Price win you over? What would it take? I'll hear you in the comments.