Sports Q
Should the Celtics pursue LeBron James, given the likely cost?
Chad Finn votes yes.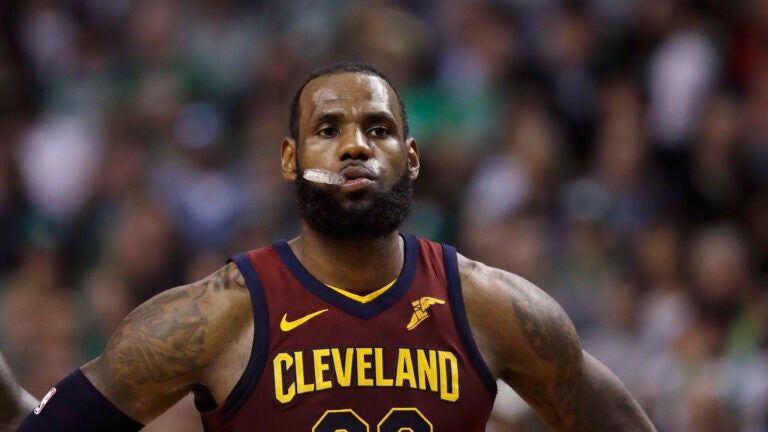 Welcome to Boston.com's Sports Q, our daily conversation, initiated by you and moderated by Chad Finn, about a compelling topic in Boston sports. Here's how it works: You submit questions to Chad through Twitter, Facebook, email, his Friday chat, and any other outlet you prefer. He'll pick one each weekday to answer, then we'll take the discussion to the comments. Chad will stop by several times per day to navigate. But you drive the conversation.  
The Celtics have a good thing going. Maybe a great thing. I love the team they have now. But these rumors that LeBron will at least consider the Celtics are tempting. Should we want the Celtics to go after him, considering what it would probably cost? – Pat N.
The answer is a ridiculously simple one: Hell, yes, you should want LeBron James on your basketball team, always.
Are you nuts? It's the easiest Celtics-related answer since the summer of 2007 when Kevin McHale presumably asked Danny Ainge on a golf course somewhere, ''So do we have a deal? You'll give me that for KG? Better say yes before I change my mind."
This is an amalgam of Michael Jordan and Magic Johnson, a guy who has gone to the NBA Finals every year this decade whether he's playing with Dwyane Wade and Chris Bosh or three guys who made it to second-to-last round of cuts with the Washington Generals that one time.
I know he's annoying at times, his flights of ego always revealed whenever he refers to the Cavaliers as "my team" rather than "us."
I know it would be hard to accept him because he was a rival for so long — or hard to accept him, at least, right up until, his face beaming, that first time he stood behind a dais and held up a green and white Celtics jersey.
He's the best basketball player I've ever seen, a one-man Hamptons Five.
LeBron on the Celtics? OF COURSE YOU WANT THAT.
Oh, and by the way: There's a real chance of it happening.
I'm not talking about Stephen A. Smith suggesting with his standard bellowing of wordy wind that James will meet with the Celtics when he hits free agency this offseason. His bluster may be informed — he was right about the LeBron-Wade-Bosh uniting in Miami eight years ago when the notion seemed just south of absurd. But given that he blusters for a very well-compensated living, it's hard to tell whether this is a sourced opinion or a hot take that isn't actually close to being a fire. (I reached out to ESPN to talk to Smith about this, but his schedule, I was told, was full.)
What we know, thanks in large part to an intriguing and informative piece by Jonathan Tjarks for The Ringer this morning, is that the Celtics could make it happen without gutting the roster.
Tjarks writes:
LeBron would need to take the same path to Boston that Chris Paul took to Houston. He could opt into the final year of his contract at $35.6 million, and the Celtics could trade for him with a package based around either Hayward or Irving. …
The simplest deal would be trading LeBron for Hayward, Marcus Morris, and a first-round pick. Cleveland, as much as they might hate to trade LeBron within their conference, would have to do it. 
I recognize that there are some, well, complications here. There's the Kyrie-LeBron factor — and wouldn't it be something if LeBron were so ruthless that he identified Boston as the place to be in part to gain revenge on Irving for leaving Cleveland? It's silly, sure, but there's a lot of stuff about the NBA that's silly and also hilariously real. Ask Bryan Colangelo about that.
Speaking of ruthless, we know it's one adjective that describes Danny Ainge's approach to his job. (While we're asking NBA people things, ask Isaiah Thomas about that). It's also why he's had an Auerbachian run lately — he'll do anything to make the Celtics better. I suspect Brad Stevens would have a very difficult time trading Gordon Hayward after all he's gone through in the past several months. Based on history, I don't believe it would be nearly as difficult for Ainge.
Hey, I do get why some Celtics fans don't want LeBron. Loathing him, at least as a rival, is ingrained around here. And the Celtics finally seem to be on the path to conquering him in the next year or two. Why let him join you when you might just be able to beat him?
Plus, this Celtics team is as likable as it is promising. Ignoring sentiment and trading Thomas after the fun 2016-17 season was one thing – yeah, that was a fun team, but they weren't winning a title. It feels different with this group. Let's see if they can hang a banner and become a Celtics team forever remembered.
That notion makes sense. But … it's LeBron, man. The best there has been, still in his prime at 33 years old. If he comes here, he's bringing Banner 18 with him. You may loathe him now. He's given you reason to feel that way, multiple reasons over many seasons, from Game 6 of the 2012 Eastern Conference Finals on, really.
But once he puts on that green and white, once the old enemy puts on your colors … well, let's just say you'd love him the moment Eddie Palladino introduces him as a member of the home team at the Garden in October, and good health willing, all the way through the parade in June.
But what do you guys think? Would you want LeBron James on the Celtics? I'll hear you in the comments.