Sports Q
Who has been the Red Sox' most unsung player this season?
Mitch Moreland probably would get some votes here, but he's been pretty sung, you know?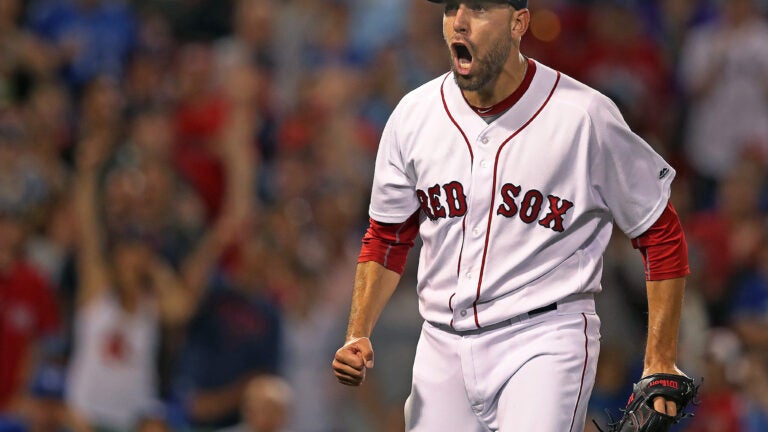 Welcome to Boston.com's Sports Q, our daily conversation, initiated by you and moderated by Chad Finn, about a compelling topic in Boston sports. Here's how it works: You submit questions to Chad through Twitter, Facebook, email, his Friday chat, and any other outlet you prefer. He'll pick one each weekday to answer, then we'll take the discussion to the comments. Chad will stop by several times per day to navigate. But you drive the conversation. 
Had no idea until a few days ago that Eduardo Rodriguez already has nine wins this season. It's been kind of overlooked because of all of the talk about the obviously good things about this Red Sox team (Mookie, J.D., Sale) and the bad (JBJ, 2B, the catchers). Do you think E-Rod is the most unsung success story on this team so far? Or am I missing someone else? – Matt T.
Rodriguez, who has basically stepped up the way Drew Pomeranz did last year, would be on the short list for sure.
Probably a couple of other starting pitchers have a case too. It's hard to call a guy who has won a Cy Young Award underrated, but Rick Porcello has been steady-to-excellent (9-3, 3.44 ERA, 3.23 FIP). And Hector Velasquez, who I guess you'd call a staff super-sub, is 5-0, meaning he somehow has two fewer wins than Chris Sale.
Mitch Moreland probably would get some votes here, but he's been pretty sung, you know? I mean, they released their No. 3 hitter in order to get him more at bats. That's a pretty good sign your contributions have been noticed.
Anyway, here's my top three in unsung Sox, in reverse order:
3. Brock Holt: I've always thought of him as one of the more overrated Sox, to be honest. He became a fan-favorite with his All-Star season in '15, which was really a reflection of how lousy they were. He always plays hard, but his production is sometimes exaggerated. This year, though, he's been huge, slashing .294/.372/.412 while playing five positions. He's been especially steady at second base in the absence of Dustin Pedroia and Eduardo Nunez's aversion to catching baseballs.
2. E-Rod: He's struck out 92 in 81.1 innings and has a better K/BB ratio than David Price.
1. Matt Barnes: He gets an inordinate amount of grief whenever he loses command or ends up blowing a lead. I'm not sure why – maybe it's because he was a first-round pick. But he's treated like he's Way Back Wasdin, and he's actually been even better than Joe Kelly this year. He does walk too many batters – 17 in 33.2 innings. But he's whiffed 45 (12.0 per 9 innings), allowed just 19 hits, and given up 1 homer. That's a pretty dominant season so far.
But what do you guys think? Who is the most unsung Red Sox player this season? I'll hear you in the comments.