Sports Q
Is Adrian Beltre a Hall of Fame lock?
Debate the answer with Chad Finn and Boston sports fans at The Sports Q.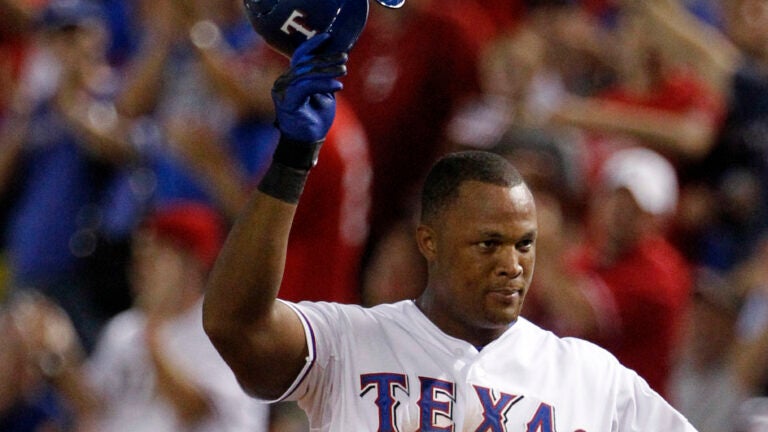 Welcome to Boston.com's Sports Q, our daily conversation, initiated by you and moderated by Chad Finn, about a compelling topic in Boston sports. Here's how it works: You submit questions to Chad through Twitter, Facebook, email, his Friday chat, and any other outlet you prefer. He'll pick one each weekday to answer, then we'll take the discussion to the comments. Chad will stop by several times per day to navigate. But you drive the conversation.
During Adrian Beltre's season with the Red Sox I don't think anyone thought of him as a future Hall of  Famer. But he's going to get in pretty easily, isn't he? He ended up having as great career. Wish they'd kept him.  – Mike B.
Let's put it this way. If he doesn't get in on the first ballot, they must have changed the voting procedures so that only one player per year gets in, or something equally ridiculous. Beltre is an absolute lock, and anyone who disagrees needs to look at his numbers and get back to me.
Beltre slashed .286/.339/.480 in his 21-year career, with 3,166 hits and 477 home runs. He's 16th all-time in hits, 30th in homers, and is the only third baseman in baseball history to be in the 3,000/400 club. He also won five Gold Gloves, was arguably the best defensive third baseman of his generation, and ranks behind only Mike Schmidt and Eddie Mathews in career Wins Above Replacement at the position. He was also an absolute joy to watch – there probably wasn't a more GIFable player in baseball over the last 10 years.
As for why he wasn't considered a future Hall of Famer during his one season with the Sox (2010), part of it was that he was coming off a big contract with the Mariners that felt unfulfilled, even though he had a three 25-plus homer seasons, two five-plus WAR seasons, and won a pair of Gold Gloves during his five years there.
His best season came during 2004 when he hit 48 homers and contributed 9.6 WAR for the Dodgers. But his one season with the Red Sox was outstanding (.919 OPS, 28 homers, 49 doubles), and he basically had the same season for another half-dozen years after signing with the Rangers.
Beltre is a Hall of Famer in every way, the kind of player baseball fans should always celebrate.
But I'll play along. What do you guys think? Is Adrian Beltre a Hall of Fame lock? I'll hear you in the comments.