Sports Q
Sports Q: Is dropping Blake Swihart and bringing up Sandy Léon the right move for the Red Sox?
Discuss the possible effect on the Sox' pitching staff and Swihart's future with Chad Finn and other Red Sox fans.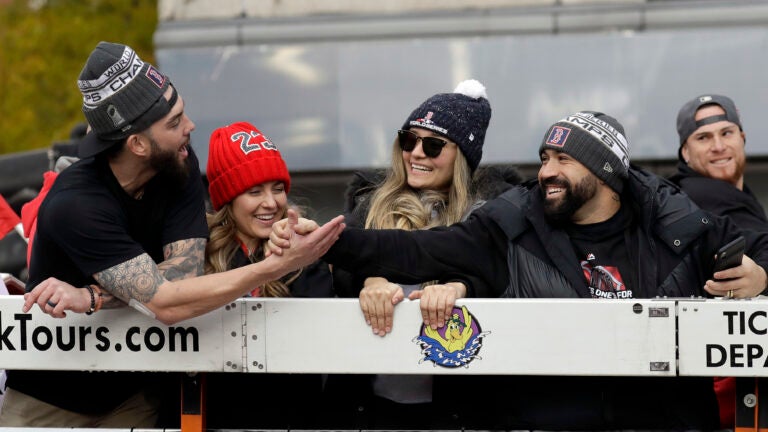 Welcome to Boston.com's Sports Q, our daily conversation, initiated by you and moderated by Chad Finn, about a compelling topic in Boston sports. Here's how it works: You submit questions to Chad through Twitter, Facebook, and email. He'll pick one each weekday to answer, then we'll take the discussion to the comments. Chad will stop by several times per day to navigate. But you drive the conversation. 
The Red Sox dumped Blake Swihart and brought back Sandy Leon? Sorry to see Swihart go, but maybe Leon will help the pitching staff. Thoughts?  — Will B.
There is nothing I like about this. Not a thing.
It feels panicky, like the lousy start has something to do with the performance of, what, the 23d or 24th man on the roster? C'mon.
It's also a lame excuse for the embarrassing failure to perform by the pitching staff – at least Chris Sale, Rick Porcello, and Nathan Eovaldi. That's not going to be solved by bringing up a catcher they prefer to throw to.
Swihart isn't the reason Sale is throwing 91 miles per hour fastballs and flat sliders, that Eovaldi is walking the ballpark, that Porcello can't retire Chris Freaking Davis. Sale pitched seven years in the majors and Porcello six, often at a successful to extraordinary level, before they ever threw a pitch to Leon. Their problems are their own, not the catcher's.
Further, this is the culmination of the Red Sox royally screwing up Swihart's career. I can't think of a prospect whose career the franchise bungled so completely, other than maybe some young pitchers in the Don Zimmer years.
He was a No. 1 pick (26th overall) in the 2011 draft, and progressed well enough that he was considered the No. 17 prospect in the game by Baseball America and Baseball Prospectus entering the 2015 season. Here's part of BP's writeup in the 2015 annual:
"… has everything you want in a prospect, with plus defensive ability up the middle, a major league caliber bat, and elite makeup. … While not necessarily a middle-of-the-order slugger, Swihart will hit enough to be a first-division regular. … He should be an everyday catcher for the better part of a decade, and could be the best player on a contending team."
Swihart reached the majors that season at 23 and hit .274 with a .712 OPS in 84 games. In the second half, he hit .303 with an .804 OPS in 44 games. Perhaps his defensive prowess was exaggerated – he remains a work in progress – but he was well on his way to fulfilling his promise.
Then the Red Sox stuck him in left field, an unfamiliar spot, early in the 2016 season. He messed up his ankle, missed most of the season, and has been jerked around by the organization since.
Last year, they kept him on the roster out of spring training as sort of a modern-day Roger LaFrancois (the '82 Sox' rookie reserve catcher, who got 8 at-bats all season), keeping him around because they didn't want to lose him but having no role for him to play. Talk about mishandling an asset.
Maybe Leon, who is hitting .080 at Pawtucket, will make the pitchers feel better about the meatballs they have been delivering to the plate. But the Red Sox just dumped a one-time top prospect – who, by the way, always handled his situation with class – for nothing and for a misguided, desperate reason, a one-time top prospect whose value they systematically reduced with their mishandling.
There's a reason Leon ended up in Pawtucket – he cleared waivers at the end of spring training. There should be a dozen teams that put in a claim on Swihart in the next several hours.
What does everyone else think? Should the Red Sox have DFA'd Blake Swihart to bring back Sandy Leon? I'll hear you in the comments. Red Sox starting pitchers in need of an excuse aren't permitted to vote.