Sports Q
Sports Q: Who is the worst defensive outfielder in Red Sox history?
Chad Finn's answer lies in recent history.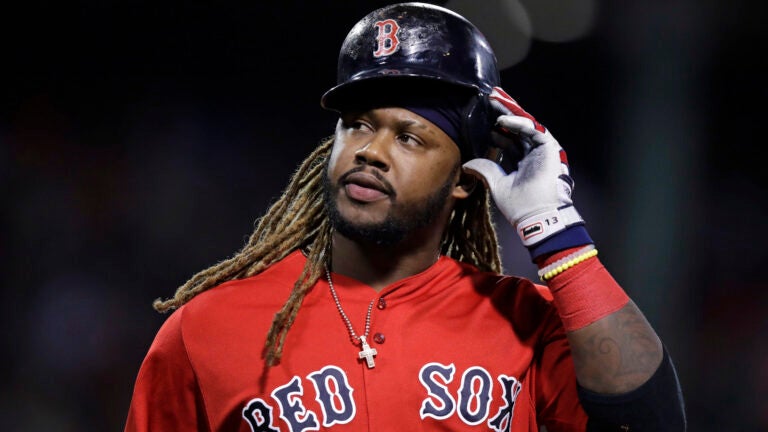 Welcome to Boston.com's Sports Q, our daily conversation, initiated by you and moderated by Chad Finn, about a compelling topic in Boston sports. Here's how it works: You submit questions to Chad through Twitter, Facebook, and email. He'll pick one each weekday to answer, then we'll take the discussion to the comments. Chad will stop by several times per day to navigate. But you drive the conversation. 
I know you've had the debate about who the best defensive outfielders in Red Sox history are. How about this: Who is the worst defensive outfielder the Red Sox have had? Has to be Hanley Ramirez when they stuck him in left field, right? – Ken W.
Oh, yeah, it was Hanley, during the 2015 season. In August of that year, I wrote that he played left field like he was trying to dodge a tornado, and pleaded with the Red Sox to move him to first base. Eventually they did, for the 2016 season, and he wasn't that bad there. But in left field, the former shortstop played like he had been tipped off that David Mellor had planted random sticks of dynamite in the turf. It was 92 games of brutal, brutal defense. I'm not even sure he wore a glove.
Before that, the worst I saw was Wily Mo Pena. I think he flat-out dropped more routine fly balls than another outfielder I've ever seen, and he circled most of them like a dog trying to figure out where he wanted to lie down. When he made anything beyond a routine catch, he always looked as if he was pleasantly surprised. He did have a good arm, though.
But if the fate of the world depended on either Hanley or Wily Mo catching one fly ball, I think I'd choose Wily Mo. The world would probably end anyway, but at least he'd give saving mankind his best effort before dropping the ball.
What does everyone else think? Who is the worst defensive outfielder in Red Sox history? I'll hear you in the comments.