Sports Q
Sports Q: Who was the better Red Sox third baseman, Bill Mueller or Mike Lowell?
Debate the answer with Chad Finn and other Boston sports fans at The Sports Q.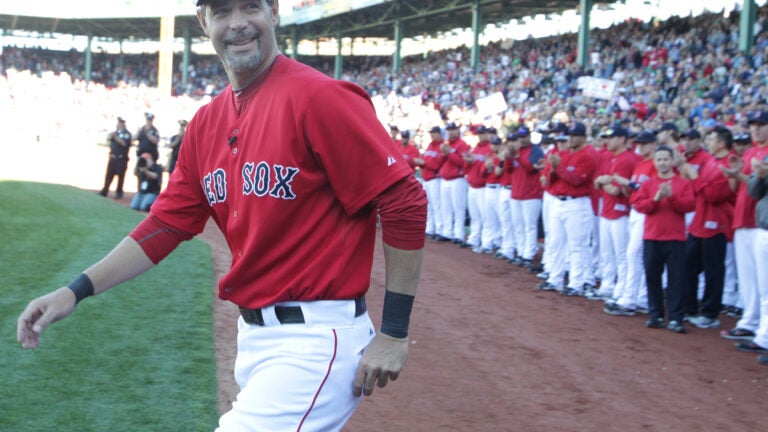 Welcome to Boston.com's Sports Q, our daily conversation, initiated by you and moderated by Chad Finn, about a compelling topic in Boston sports. Here's how it works: You submit questions to Chad through Twitter, Facebook, and email. He'll pick one each weekday to answer, then we'll take the discussion to the comments. Chad will stop by several times per day to navigate. But you drive the conversation. 
Who was the better Red Sox third baseman, Bill Mueller or Mike Lowell?
Continuing in our ongoing, organic Who Was Better? series … man, this is a tough one. Both hugely likable players, both super reliable for championship Red Sox teams.
Here are their key stats and achievements during their time with the franchise:
Mueller (2003-05): .303/.378/.474, .853 OPS, 119 adjusted OPS, 10.1 WAR, 41 homers, 204 RBIs, won 2003 American League batting title,  hit grand slams from both sides of the plate in 2003 game, 12th in 2003 AL MVP balltoting, took Mariano Rivera deep to win epic Jason Varitek/Alex Rodriguez brawl game, drove in Dave Roberts after The Steal.
Lowell (2006-10): .290/.346/.468, .814 OPS, 108 adjusted OPS, 10.6 WAR, 80 homers, 374 RBIs, won 2007 World Series MVP, fifth in 2007 AL MVP balloting, hit .324 with 120 RBIs during 2007 season, best salary-dump acquisition in Red Sox history as a throw-in in Josh Beckett/Hanley Ramirez trade.
Like I said, both great Red Sox players. Tough to choose. I suspect Lowell, who was here longer and hit with more power, will win the majority vote among readers, but I'm going Mueller. He was so great in '03 and '04 – really, the hit that knocked in Roberts in Game 4 of the 2004 ALCS doesn't get enough acclaim for its role in beginning the seismic shift in Red Sox history – and his professionalism was a factor in the culture change around the team.
Lowell didn't handle his reduced role later in his Red Sox tenure as gracefully as we might have hoped, either. But that's a small thing. They're both great players who did a lot for the Red Sox. I'm going with Mueller. But you can't go wrong with either, as we were lucky enough to find out.
What does everyone else think? Who was the better Red Sox third baseman, Mike Lowell or Bill Mueller? I'll hear you in the comments.