Sports Q
Sports Q: Who was the better Red Sox pitcher, Roger Clemens or Pedro Martinez?
Who is your pick in this matchup of contemporary aces?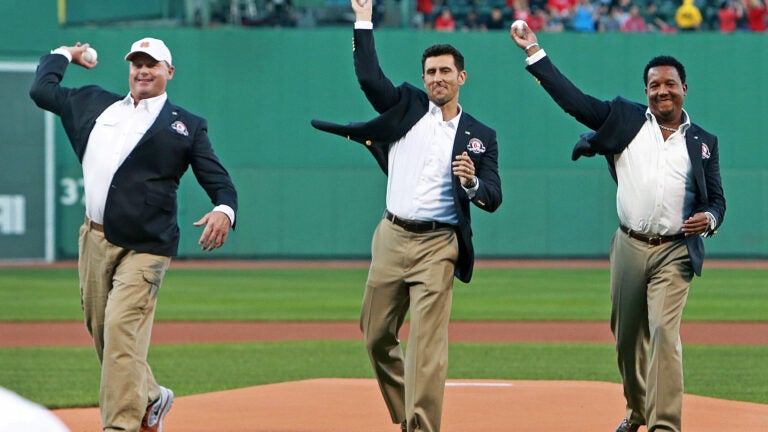 Welcome to Boston.com's Sports Q, our daily conversation, initiated by you and moderated by Chad Finn, about a compelling topic in Boston sports. Here's how it works: You submit questions to Chad through Twitter, Facebook, and email. He'll pick one each weekday to answer, then we'll take the discussion to the comments. Chad will stop by several times per day to navigate. But you drive the conversation. 
Who was the better Red Sox pitcher, Roger Clemens or Pedro Martinez?
Continuing in our ongoing, organic Who Was Better? series here at the Sports Q, today we've got a matchup of contemporary aces. I already know who I'm picking, but for protocol's sake, let's go to the stat comparison:
Clemens (1984-1996):  192 wins, 111 losses, 3.06 ERA, 80.7 WAR,  2776 innings, 2,590 strikeouts, 144 adjusted ERA, three Cy Young awards, one AL MVP award, one other top-five MVP finish, five All-Star appearances, two 20-strikeout games, probably asked out of Game 6, knew where Terry Cooney lived.
Martinez (1998-2004):  117 wins, 37 losses, 2.52 ERA, 53.8 WAR, 1,383.2 innings, 1,683 strikeouts, 190 adjusted ERA, two Cy Young awards, three other top-three Cy Young finishes, four All-Star appearances, two top-five MVP finishes, 2004 World Series champion, one 17-strikeout one-hitter against Yankees, did not know who Karim Garcia was.
All right, so objectively, the choice should be Clemens. He was with the Red Sox longer, collected more individual hardware, is tied with Cy Young for the most wins in franchise history, has the most WAR among Red Sox pitchers, is second only to Tim Wakefield in innings pitched, and is tops in strikeouts.
Good thing this isn't objective.
The best pitcher I have ever seen – for the Red Sox, or for anyone else in any era – is Pedro Martinez from 1998-2002. I'd say this is subjective, but I consider it an unassailable fact.
He electrified in an era in which the hitters and the baseballs were juiced to the gills, and he did it was style, passion, smarts, charisma, charm, and occasional viciousness. There's never been a pitcher like him, and the Red Sox haven't had a personality quite like him, either.
Clemens was truly great, but he lost points with us when he happily embraced being a Yankee later in his career, and when he was here he shriveled too often in big moments.
Even though the Yankees wiped out the Red Sox in five games in the 1999 American League Championship Series, there was some satisfaction to be found in Pedro's dominating performance in Game 3, while John Valentin and the Red Sox knocked Clemens around the park.
We had to settle for those small victories for decades. A greater satisfaction came in 2004, finally and at last, and no one deserved to be part of that more than Pedro.
No, he wasn't here as long as Clemens. He didn't accumulate as many impressive stats. But he was better. Because no one ever has been better than Pedro Martinez at his best.
But what does everyone else think? Who was the better Red Sox pitcher, Roger Clemens or Pedro Martinez? I'll hear you in the comments.
Get Boston.com's browser alerts:
Enable breaking news notifications straight to your internet browser.