Sports Q
Sports Q: Who won the James Harden trade?
The Rockets traded the disgruntled star to Brooklyn for a boatload of picks plus a few players on Wednesday.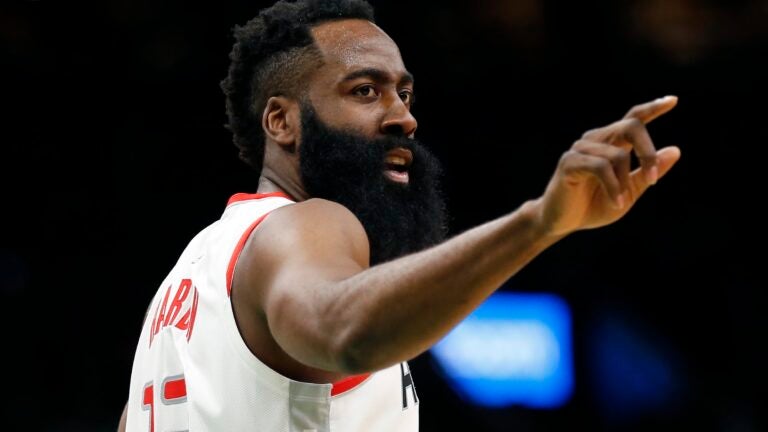 Welcome to Boston.com's Sports Q, our daily conversation, initiated by you and moderated by Chad Finn, about a compelling topic in Boston sports. Here's how it works: You submit questions to Chad through Twitter, Facebook, and email. He'll pick one each weekday to answer, then we'll take the discussion to the comments. Chad will stop by several times per day to navigate. But you drive the conversation. 
Who won the James Harden trade?
Everyone who has been rooting for the Nets implosion?
Actually, all NBA fans, no matter what their particular rooting interests, are the winners in this deal, because Kevin Durant/James Harden/Kyrie Irving is going to be as fascinating to watch as any trio of players in league history.
And it will not end well. They're three extraordinary players, but they have the combined ego of a dozen players. Durant couldn't fit in personality-wise with the welcoming Warriors. Harden is as ball-dominant as any player I the league, tends to falter in the biggest moments, and has left in his wake a string of alienated teammates glad to see him gone. And Kyrie is Kyrie, and all we can say about that is we told you so, Nets fans. It's going to be a beautiful disaster.
Who won the trade? Houston. It's Houston. The Rockets got four unprotected first-round picks (Nets picks in '22, '24, and '26, plus the Bucks' first in '22 via Cleveland), four pick swaps ('21, '23, '25, and '27), plus Dante Exum from the Cavaliers and Rodions Kurucs from the Nets.
The Rockets got Caris LeVert and wheeled him to Indiana for Victor Oladipo. I like LeVert better – he's a nice fit with the Pacers – but look at all those picks. It makes Danny Ainge's '13 deal with the Nets look like something buried in the agate type.
The Cavs also did well in the deal, adding Jarrett Allen and Taurean Prince from the Nets.
But the biggest winners of the trade? The Rockets. And fans that love watching massive egos ruin a wannabe super team. Poor Steve Nash. Poor, poor Steve Nash.
But what does everyone else think? Who won the James Harden trade? I'll hear you in the comments.
Get Boston.com's browser alerts:
Enable breaking news notifications straight to your internet browser.