Sports Q
Sports Q: Should the Celtics have kept Terry Rozier rather than acquiring Kemba Walker?
Rozier has been ridiculously good lately.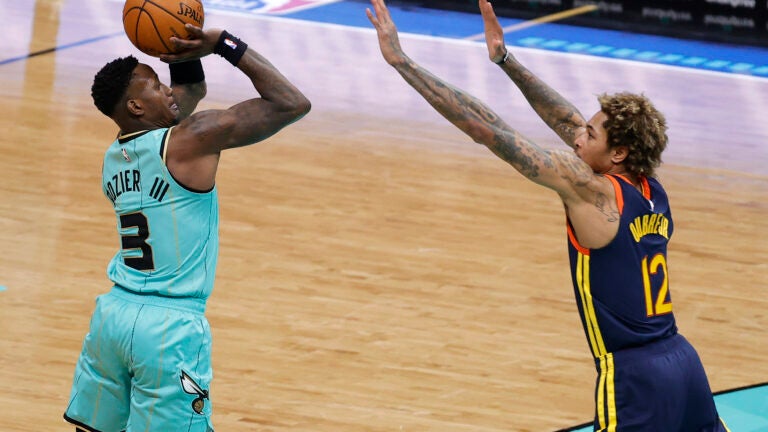 Welcome to Boston.com's Sports Q, our daily conversation, initiated by you and moderated by Chad Finn, about a compelling topic in Boston sports. Here's how it works: You submit questions to Chad through Twitter, Facebook, and email. He'll pick one each weekday to answer, then we'll take the discussion to the comments. Chad will stop by several times per day to navigate. But you drive the conversation. 
Should the Celtics have kept Terry Rozier rather than acquiring Kemba Walker?
Maybe you've been too enraged by the Celtics' performance lately to keep up with what their alumni are doing elsewhere in the league. If so, Rozier's recent performance isn't going to bring that blood pressure down any.
Rozier has been excellent in his second year with the Hornets after signing a three-year, $56.7 million deal in July 2019 as part of the sign-and-trade for Walker.  He's averaging 20.8 points per game on 49.5 percent shooting from the field and a Curry-like 45.1 percent from 3-point range for a Charlotte team that is just a game back of the Celtics in the Eastern Conference standings.
Rozier has been ridiculously good lately. He recently had a four-game stretch from February 10-20 in which he averaged 36 points per game on 60 percent shooting from the field and – this is almost hard to believe – 59.0 shooting from 3-point territory, hitting 23 of 39 attempts from long range.  He also made all 19 of his free-throw attempts.
He had some terrific moments with the Celtics, and its cool to see his belief in himself pay off with the Hornets. But should the Celtics have kept him rather than working out the sign-and-trade for the more accomplished Kemba Walker to replace Kyrie Irving?
Only if you're big into revisionist regrets.
(Unfortunately, a lot of Celtics fans sure seem to be these days. Perspective on the big-picture state of this team is so skewed toward the negative it's ridiculous.)
I get that it's tempting to look at what Rozier is doing now and wonder whether the Celtics should have just kept him. Walker has  struggled as he tries to prove, with some success but too much inconsistency, that his knee issues aren't going to permanently turn him into a less-effective player.
But to do that means you're giving in to revising history, and disregarding all context about why the Celtics preferred Walker. It was a no-brainer, really. Rozier had his moments as a Celtic, most memorably against Eric Bledsoe and the Bucks in the 2017-18 first round. But he was erratic in the disappointing season that followed, when the Celtics had so much talent that refused to mesh. Rozier was a good player, but he was also part of the problem, looking for his own offense at the expense of playing team basketball. He was not part of any solution.
Walker was the much more accomplished player, one who had made three straight All-Star teams in Charlotte and who clearly had the type of sunny personality that the Celtics needed after the frustrations of '18.
It's forgotten now, but it shouldn't be: He played so well at the start of his Celtics career that he was chosen as an All-Star starter last year. It feels like a long time ago right now, but it really is not. There are at least some signs that he can recapture that form.
Acquiring Walker after Irving departed was the right move. If only the knee issues hadn't interfered.  Yes, Rozier is having a great year. There was no reason during his last season with the Celtics to believe he would be doing the same here.
But what does everyone else think? Should the Celtics have kept Terry Rozier rather than acquiring Kemba Walker? I'll hear you in the comments.
Get Boston.com's browser alerts:
Enable breaking news notifications straight to your internet browser.