Sports
BU men's basketball looks to overcome last year's challenges caused by the pandemic, enters season with a positive mindset
The pandemic uprooted many college athletes' seasons, resulting in major setbacks both physically and mentally. This season should be more normal.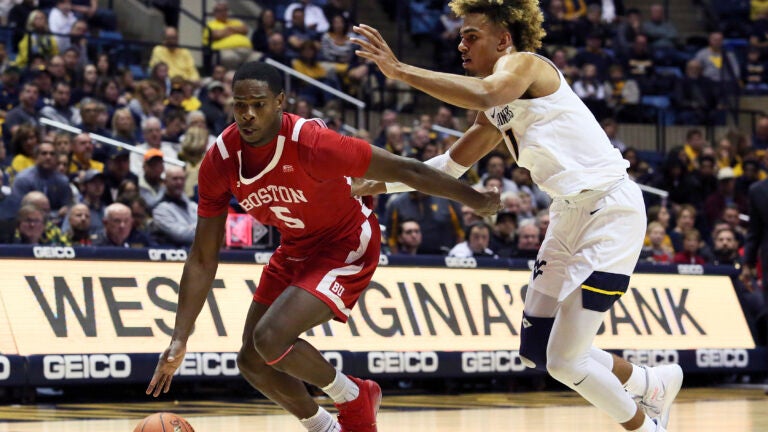 Back in March 2020, Boston University's men's basketball team had just won the Patriot League Championship game, giving them their first title since entering the Patriot League back in 2013.
This punched their ticket to the NCAA tournament.
Then the world shut down, as the coronavirus pandemic took hold.
"We just won the championship and were going to March Madness. We were riding a high and then it was over. Everything shut down," said Walter Whyte, a senior guard/forward. "It was pretty disappointing. We got to hang up the banner but didn't get to reap the benefits of [winning] it."
The pandemic has uprooted many college athletes' seasons, resulting in major setbacks both physically and mentally. Goals were put on pause for hundreds of student-athletes at Boston University.
The 2021-2022 sports season has already begun and programs are seeing a somewhat normal start to the school year. Athletes are allowed to play this year with safety precautions in place.
Looking back
Last season did not go as planned for the Terriers and they had to adjust to the new normal.
"Mapping out the plan of attack going forward was the biggest challenge with so many unknowns. We had to be adaptable," Head Coach Joe Jones said.
According to Whyte, they weren't allowed back on campus during the summer of 2020 and many of his teammates didn't have a place to train.
No gyms were open, which made it difficult to stay in shape and keep up the routine they were all used to.
They had a few virtual meetings with their coaching staff in an effort to keep each other accountable with completing home workouts, but no team gatherings were allowed.
"The connectivity as a team was non-existent and that couldn't improve because we couldn't spend time together outside of practice," said Jones, who enters his 11th year as head coach at BU.
The players had to comply with all the university protocols when they returned to school the following fall. They were one of the only teams who had to wear masks during games, get COVID tested up to three times a week, and forgo many team bonding activities.
"We take pride in our team chemistry, it's such an important part of our program — getting to know each other off the court," Whyte said.
The team struggled to get their footing and found it challenging to play without the energy of the spectators. Whyte said having fans can help a team whether they're winning or losing and the energy was so different without them.
With everything so up in the air, the anxiety of the unknown weighed heavily on the players and prevented them from achieving their goals, Jones said.
Looking ahead
So far this year, there is no mask mandate for the players on the court but the protocol could change when the basketball season starts in November.
BU's updated policy allows visitors and community members into sporting events but they must wear cloth face coverings or disposable masks at indoor games on campus.
"In addition to abiding by the regulations set by the university, guests must follow the commonwealth of Massachusetts travel-related rules. Fans are also advised to familiarize themselves with other schools' visitor policies before attending BU contests on the road," according to BU Today.
Despite all the setbacks and COVID restrictions, Whyte is optimistic about what's next and is ready to have a full season.
"We're coming in with an open mindset and have good leaders," Whyte said. "We're destined to hit it right [this year]."
Jones said his team is both physically and mentally stronger than they were almost two years ago. Now entering a somewhat normal season, he said the previous struggles have created a clearer focus as they look to tackle the upcoming season together.
"I feel great right now about where we are. My goal is to help our guys maximize their abilities as individuals and help the team's needs," Jones said. "We can be an excellent team and have formed a great brotherhood and unity [despite everything]."
Stay up to date with the men's basketball team by viewing their schedule starting in November.
Newsletter Signup
Stay up to date on all the latest news from Boston.com