Sports
New documentary explores New England's winter surfing culture
Even in the winter time, intrepid groups of New Englanders are using surfing to build a tight-knit community around the waves.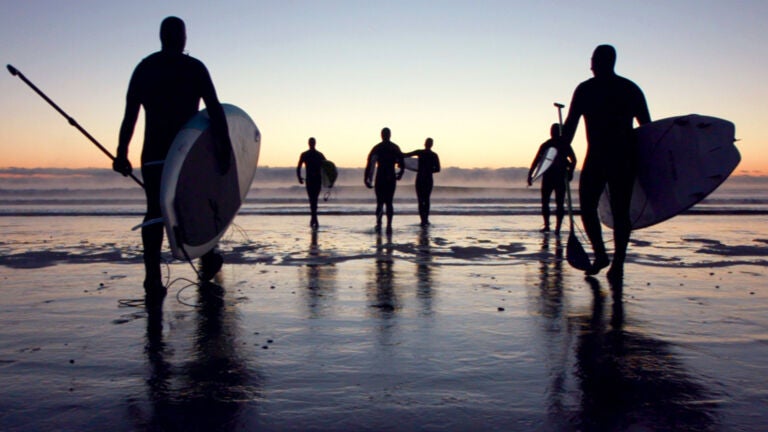 Greg Shea said it all started with a "relentless" recruiting campaign by neighbors (and close friends) Nick Lunger and Scott Reiland to get Shea to join them for some weekend surfing — in the dead of winter.
"I'm always like, 'Nah, man,'" Shea, 45, recalled. "Sunday mornings, that temperature ocean? No way."
But Lunger and Reiland kept up the requests, and Shea, a producer and director at GBH's studios in Boston, soon felt the creative gears turning in his brain.
"I always tucked away in the back of my head, you know, that's a good visual story. Especially when they texted me pictures with the frozen ice beards and stuff, I was like, that is wild that they're doing that stuff."
That curiosity led to Shea's new GBH documentary, "Winter Surfing: New England's Best Kept Secret," highlighting an intrepid culture of surfers from Maine to Rhode Island who take to the waves no matter the weather.
Armed with a wetsuit and a camera, Shea captured surfers as they braved the elements: how they suited up, how they stretched, and how they coped with surfing and toppling into the freezing ocean swells in sometimes sub-zero conditions.
But while there's plenty to say about the frigid conditions his muses surfed in and how much work it took to stay warm — from keeping hot water thermoses in their wetsuits to drinking hot chocolate after being in the water — Shea said the ties that bind the surfers are even more compelling than the act of surfing itself.
"[Nick] said something that totally stuck with me," he said. "He was like, 'Greg, New England surfing is not about the waves. It's about the community. It's about the people. We go out whether it's two feet or 10 feet.
"You're going to do it because of the people you're with, or you do it because it's how to de-stress or get away from everyday life… I love that it's a diverse cast, but they all relate to that. They all share those same things."
Shea, who hasn't been surfing before, even said working on the film has inspired him to dive into the culture himself. Last weekend, he went out to surf for the first time.
"It was intimidating and difficult," he said, "but I'm going back."
"Just go for it"
Like Shea, 32-year-old Pam Chevez of Scarborough, Maine, one of the film's central characters, didn't have much experience with surfing until fairly recently.
But for Chevez, a graphic designer who emigrated from Mexico City six years ago, water was always special.
"I did grow up going to the water a lot mostly because of my mom's job," she says in the film. Pam's mother, Blanca, frequently took her and her younger brother to Cancun while attending scientific conferences there. (Blanca is currently working on a Ph.D. in physics.)
"My mom's like, 'It's so hard to keep you out of the water,'" Pam adds.
When Chevez first came to Maine, she said she was just "trying to stay sane" as she waited for work paperwork to come through and searched for some community aside from the partner she lived with at the time. Then, one day, she recalls taking a walk on the beach in the springtime and spotting some surfers in the ocean.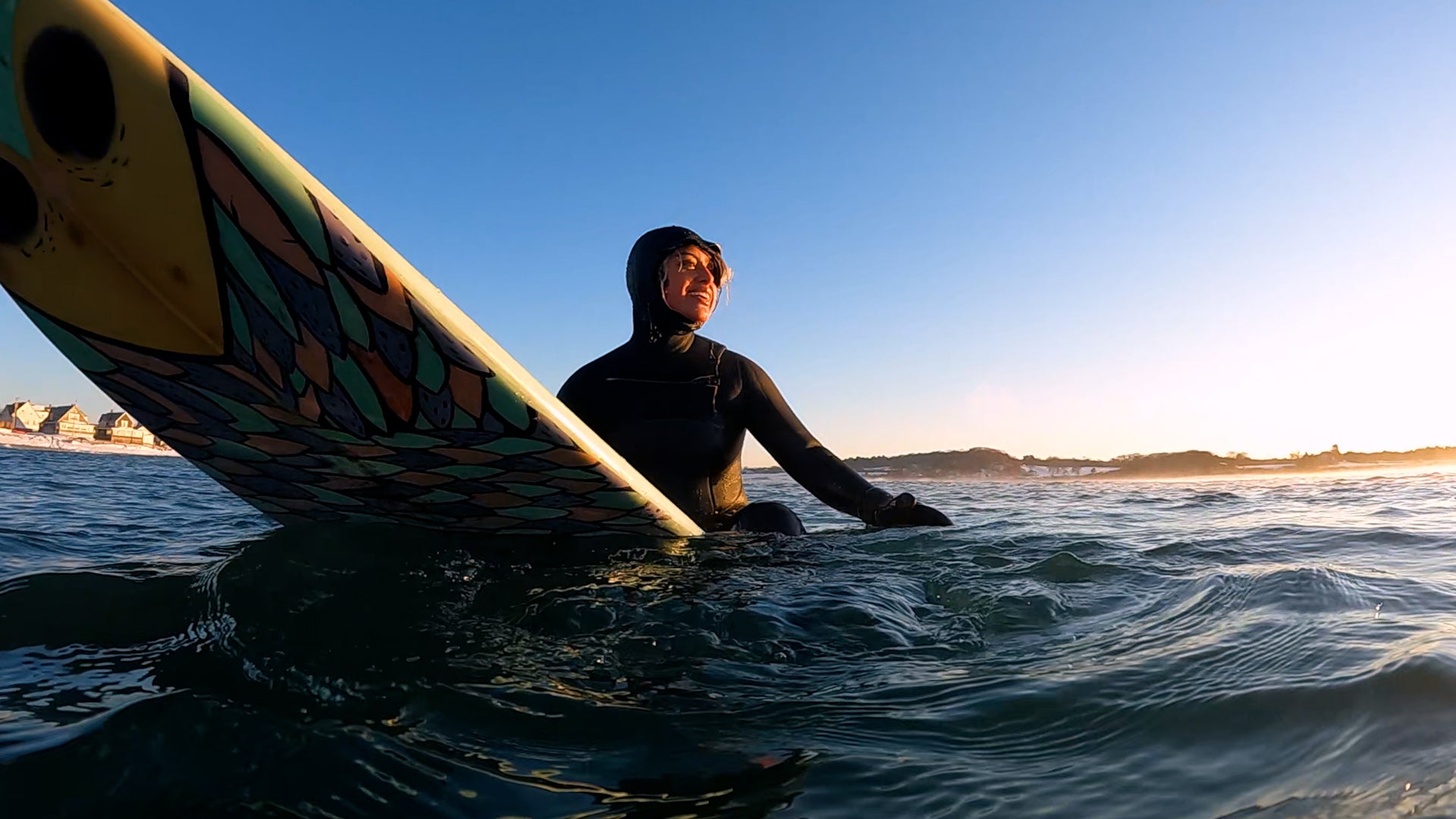 "[Surfing] had never really crossed my mind in Mexico because it's pretty unaffordable to do it, especially living in Mexico City. You have to travel to the beach," she explained. "So when I saw them, I was like, 'Well, I've got to do something. I'm going crazy. I can't work. I don't have friends. I'm pretty new here.'"
Chevez then plied her artistic trade with Black Point Surf Shop in Scarborough, painting surfboards in exchange for surfing gear of her own. Then, in 2017, she tried surfing for the first time — in the summer, though: "It took another year [to do winter surfing] because it was so cold," she laughed.
Now, she's one of the co-founders of Maine Women Surf, hoping to pay forward the community and fulfillment she found in surfing by bringing a more diverse community to the water as well.
"I am so fortunate that I found community out there that actually allowed me to be in the water. But what happens with the other people that really don't have access?" she said. "They probably don't even know the ocean quite yet. They live pretty close to it, but probably they have never seen it…There's a lot of women out there who need community or who need to see that they're not by themselves."
Chevez admits it can still be challenging at times to navigate cultural barriers and to bridge those divides to help grow the surfing community in the region. But the same spirit and creativity that led her to take a chance on surfing make her confident hers and Maine Women Surf's mission will be successful in the long run.
And for those who have trepidations about trying surfing, especially in the wintertime, she echoes the same advice she tried to live by: just take the leap.
"If you ever want to try something, go for it," she said. "It can be intimidating especially when you don't know what you're dealing with, but don't give up and just try to find a way, and if you don't like can find a way, maybe it will come at some point, but I say there's enough space for everyone to make things happen…just go for it, go do it."
Get the latest Boston sports news
Receive updates on your favorite Boston teams, straight from our newsroom to your inbox.