Sports
Marty Walsh to become executive director of NHL Players' Association, reports say
Several outlets reported Tuesday that the U.S. secretary of labor and former mayor of Boston is expected to soon have a new job.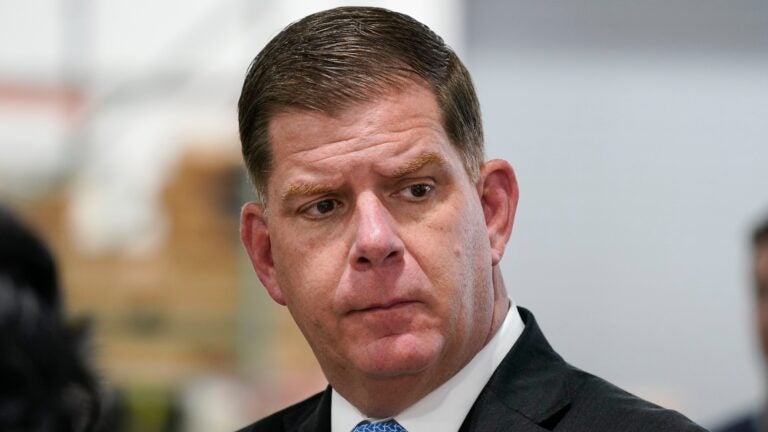 U.S. Secretary of Labor Marty Walsh, the former Boston union-leader-turned-mayor, is slated to become the next executive director of the NHL Players' Association, several news outlets reported Tuesday.
The 55-year-old cabinet head could step down from his current post sometime in the next few days, or at least following President Joe Biden's State of the Union address on Tuesday night, according to the Daily Faceoff, which first reported the news.
CNN, Politico, and Bloomberg all cited unnamed sources who confirmed the news early Tuesday afternoon.
Walsh, the former mayor of Boston and Massachusetts state representative, was named the NHLPA search committee's top choice during a meeting last Friday, the Daily Faceoff reports.
He then met over Zoom with the group's 32-member executive board, which signed off on moving Walsh along in the process, according to the outlet. A board vote still needs to take place, but that is considered a formality.
Walsh is expected to earn around $3 million annually for the job and live in Boston, not near the association's headquarters in Toronto, the site reports.
News that Walsh was a top contender for the role arrived last week.
If the process follows as expected, Walsh will succeed Executive Director Donald Fehr, who was hired in 2010.
Fehr's decisions have drawn ire from multiple players in recent years, including those around escrow, Olympics participation, and the PA's handling of Kyle Beach's allegations of sexual assault against then-Blackhawks video coach Brad Aldrich.
The current CBA between NHLPA and NHL is set to expire following the 2025-26 season.
A former Building and Construction Trades Council leader, Walsh, who also served as president of Laborers Local 223, became the first union member to serve as labor secretary in nearly half a century when the Senate confirmed his appointment to the job in March 2021.
Material from previous Boston.com articles was used in this report.
Newsletter Signup
Stay up to date on all the latest news from Boston.com